What's the best eQMS software [in 2022]? Pros and cons of the top 5 options
The electronic quality management system (eQMS) is fast becoming an indispensable tool for modern, quality-conscious life science organizations.
Listen to the audio version of this article read by a real person here (Sound on!):
eQMS software is empowering regulated companies to cut risk, standardize information and get to market at record speed - and the eQMS market is rapidly growing as the deep benefits of digital quality management are realized.
Any eQMS investment demands careful consideration of the leading software vendors and how their products can help your business.
To help your search, we've compiled a list of the top 5 eQMS software systems available right now.
Table of Contents
What is an electronic quality management system (eQMS)?
An electronic quality management system (eQMS) is the modern, digitized method for structuring and running a quality management system (QMS).
A good eQMS platform helps you centralize and automate the key, traditionally manual business processes connected to quality, compliance and product development.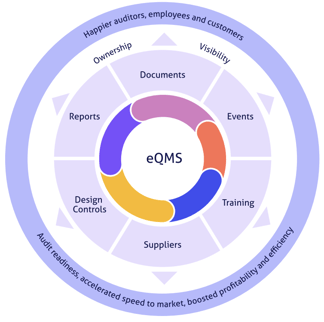 In particular, businesses turn from a QMS to an eQMS to:
Ditch cumbersome paper and spreadsheets
Connect their employees to a single source of quality truth
Unlock deeper visibility and control of their quality landscape
Save money with sharper, faster and leaner digital processes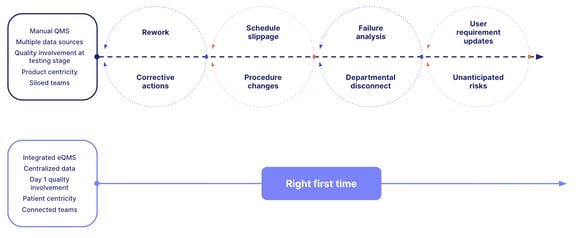 Most eQMS software is designed with a specific type of target customer in mind. Some offer specific value for life science companies, while others are favored by food and manufacturing businesses.
eQMS systems are often geared to a particular business size and shape, too. Global enterprises with an extensive product portfolio will have different eQMS needs to a pharmaceutical start-up focused on research, development and marketization.
Choosing software designed specifically for organizations like your own will translate to faster implementation, a stronger adoption, and swifter time to value.

For highly regulated companies in sectors like life science, choosing an eQMS comes with a lot of functionality considerations. Typical eQMS features include:
Document management

Design controls (for medical device companies)

Risk management

Training management

Audit management

Corrective and preventive action (CAPA) management

Supplier management
On top of this core functionality, you should consider niche features and services that could be critical to your business needs, such as:
Compliance with industry standards, like ALCOA+ or the FDA's 21 CFR Part 11 e-signature requirements

Customer support aligned to your needs

Cloud-based

access for a remote post-COVID world



Validation: how quick and easy is it with each vendor?


Your eQMS investment should be targeted appropriately to your organization's growth stage, budget, structure and industry.
Trying to adopt an eQMS that doesn't streamline efficiently or fit your use case can lead to wasted cost, non-compliance, or costly software bloat from overly extensive configurations.
We don't want that to happen to you. Dive into our recommendations of the top 5 eQMS providers on the market:
The top 5 eQMS software options

1. Qualio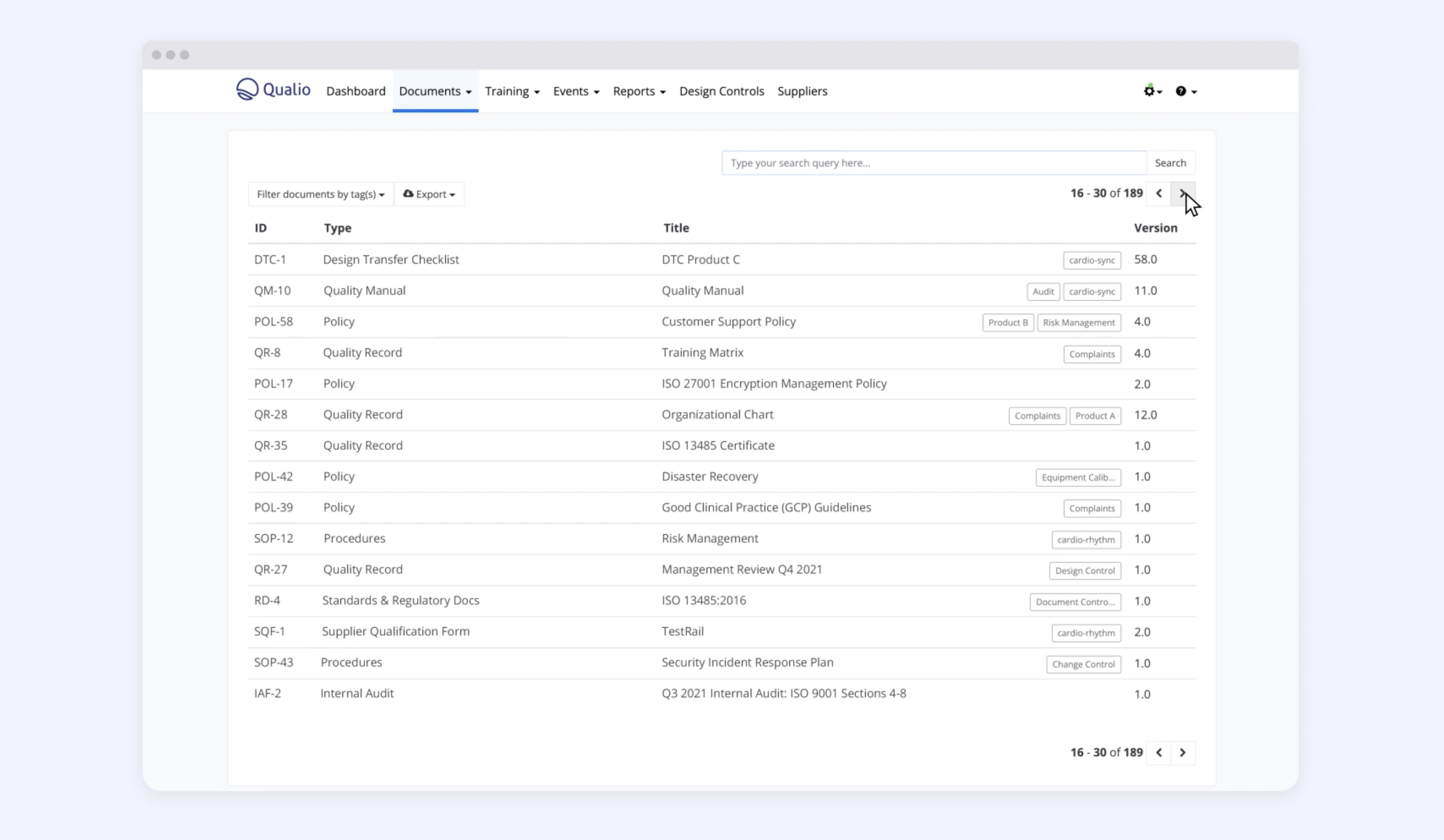 Our cloud-based eQMS software is designed to help small- to medium-sized life science companies scale and bring their products to market.
Qualio is designed specifically for businesses facing the world's tightest regulatory requirements, from FDA and ISO demands to all the 'x's of GxP, and is built to do 3 things for our customers:
1. To increase revenue through improved velocity to market
2. To slice the total cost of quality
3. To mitigate risk with improved quality processes


And more.

Best for: Small- to mid-market organizations with aggressive growth goals that want an affordable eQMS system for comprehensive quality management and compliance.
Qualio is the only eQMS designed specifically for start-ups, scale-ups and SMBs in the life sciences industry, incorporating FDA, cGMP and ISO requirements as standard for pharma, biologic and medical device manufacturers.
And we're proud of our diverse customer base stretching from America to Europe including the UK, Ireland, Sweden, Denmark, Switzerland, Norway, Belgium, Israel, Australia, New Zealand, USA and Canada.
Now, you might be thinking: this is Qualio's blog. Of course they'd put themselves #1!

This kind of caution and awareness of bias is important as you hunt for an eQMS vendor. To remedy bias, always look at customer reviews to see if a prospective vendor is really doing what they say they can do.

(Our 5 promises to our customers, and proof that we keep them, can be found here.)
Pros:
High-touch customer success support
Extra Qualio+ quality and regulatory for businesses with limited quality resource
Simple, powerful UX and usability

Cloud-based

Rapid set-up and validation timeframes
Integration with other business tools like Jira and Salesforce
Cons:
One user reported challenges importing complex database schema
No ERP integrations yet
Not designed for extensive lengthy customization
US and EMEA footprint, limited presence elsewhere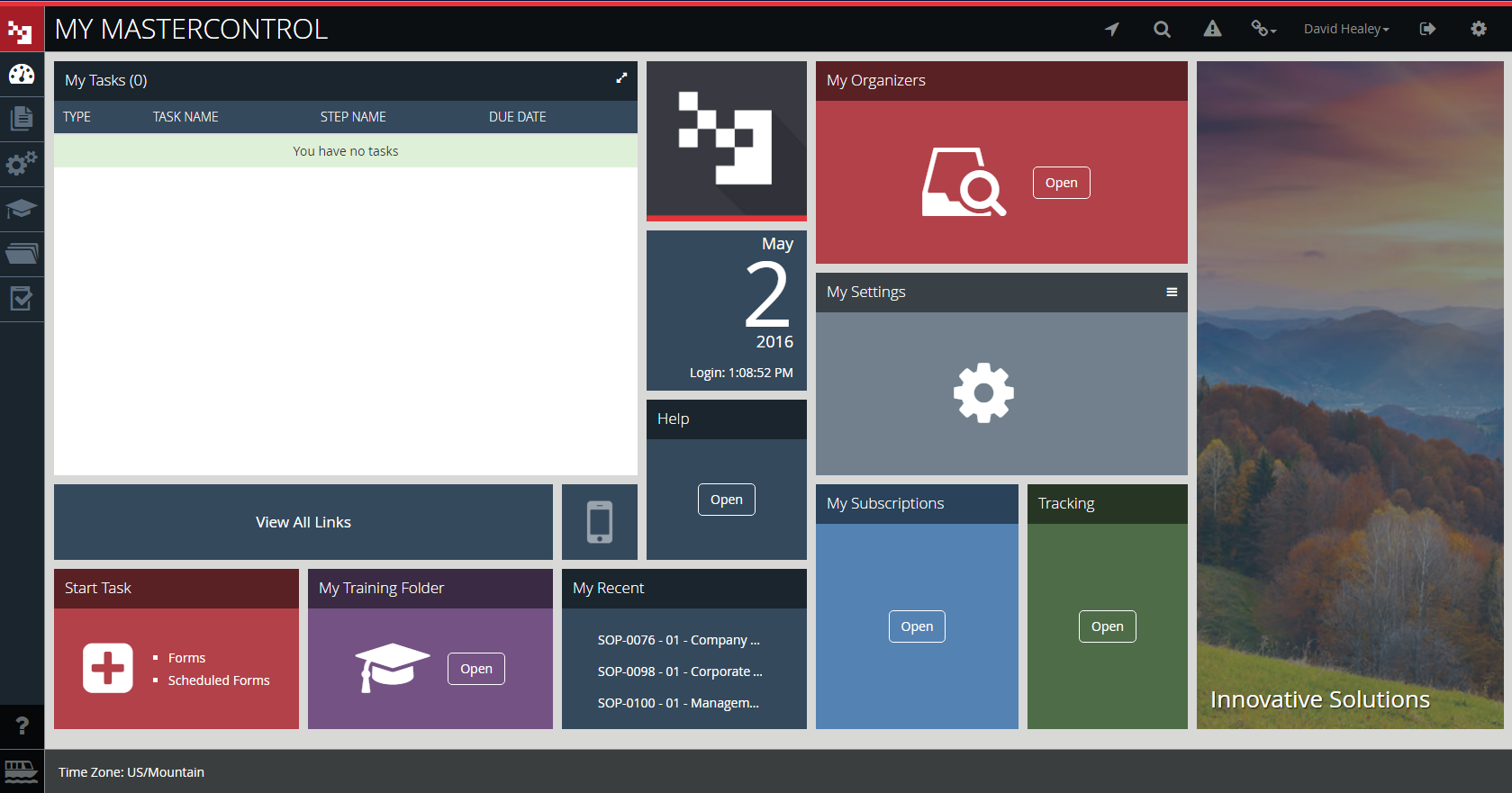 Image source: g2.com
This eQMS is a well-known brand in the life sciences industry and among the most widely adopted eQMS systems in the vertical. Current users include several major regulatory agencies and 1,000 enterprises in 30 countries.
MasterControl functionality is designed to address compliance and quality management in product development, clinical trials, supplier management, regulatory risk management, manufacturing and post-market use cases.

Best for: MasterControl is positioned as an enterprise solution for global enterprises with a large portfolio that spans the product development lifecycle. It may be right for your organization if you need a complex, highly configurable QMS and can dedicate significant resources toward implementation and customization.

Pros:
High connectivity between modules and processes
Robust features for collaboration and administration
Users report

satisfaction with efficient document management features
The newly designed user interface is accessible and intuitive
Cons:
Pricing is

described

as expensive and inflexible by adopters
Reported issues with system and search speed
Only offers exact match search functionality
The web app is only compatible with Internet Explorer
Challenging usability
3. Pilgrim
SmartSolve is an eQMS software platform by Pilgrim, an IQVIA company that is marketed as a comprehensive solution for managing compliance, risk, quality and the supplier chain in the life sciences sector. The software is built under the ISO 9001 standard for quality management systems and provides workflows, document management, and process management.
Their quality management system software can be cloud-based or installed on-premise. Additional capabilities include features and tools for electronic signatures, audits, analytics, and validation.

Best for: Enterprise organizations that can commit significant budget towards product configuration and don't need rapid implementation.
According to the vendor, current clients include some of the largest enterprises in the life sciences sector. Cited industries of focus include pharma, medical devices, combination products, and blood and tissue service organizations.

Pros:
Varied functionality applications
Change management support and efficient document updates
Clear and organized documentation management
Administrative dashboards and project management features
Cons:
Limited customer reviews available

Lacks

built-in support

for SMB organizational structures and workflows
Adopters report limited vendor resources for client education
Slow response to bug reports and client support requests
Some users say the solution is cumbersome or not very intuitive
Implementations exceeded the expected delivery time for some adopters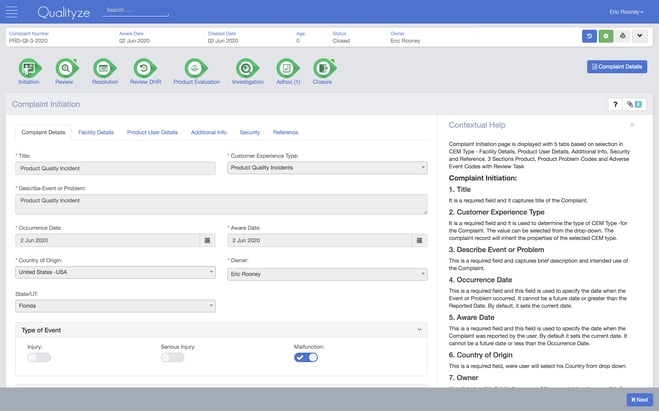 This vendor offers two distinct eQMS products with the same name, designed for the life science and manufacturing industries respectively.
This closed-loop Qualityze includes a full range of eQMS features for managing documents, non-conformances, customer complaints, suppliers, audits and other activities required to comply with FDA cGMP, ISO 13485, Pharmaceuticals and Medical Devices Agency (PMDA), and Therapeutic Goods Administration (TGA) demands.

Best for: Organizations using Salesforce or that have on-site Salesforce experts. It's also relatively unique in support of PMDA and TGA requirements. User-provided data on software review source G2 indicates Qualityze's customer base comprises primarily mid-sized and enterprise organizations.

Pros:
Built on Salesforce
Out-of-the-box functionality
Intuitive user experience
Supports the roll-out of modules based on need
Cons:
Limited user reviews

compared to other solutions

One user reported they'd like to see more customization

Not compatible with Google Drive

Users report a high cost to performance ratio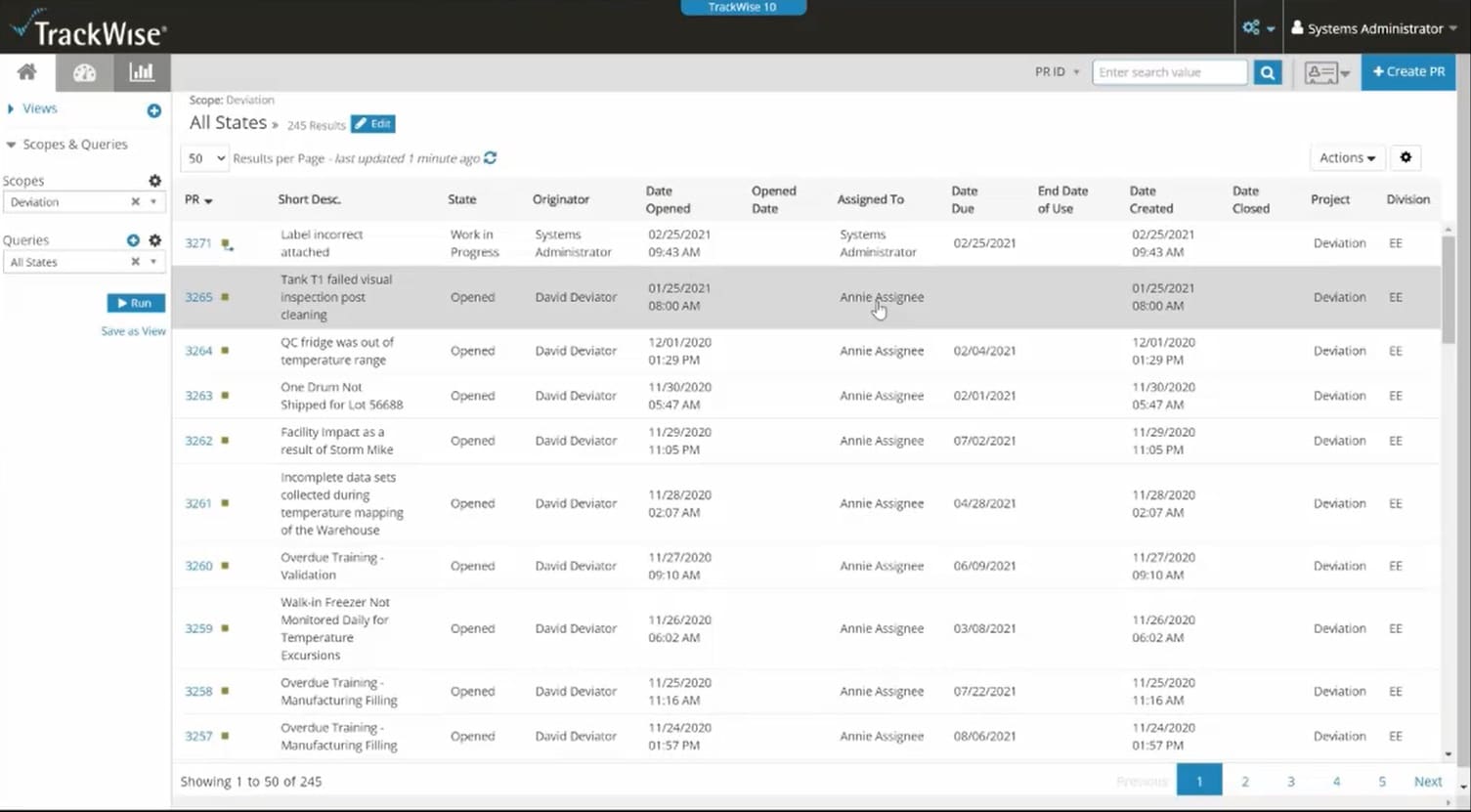 Sparta Systems' TrackWise product is an eQMS software platform designed for organizations subject to GMP requirements. The vendor positions the product as a comprehensive eQMS solution designed to increase visibility and improve organizational efficiency in a competitive market.
The system offers the potential to integrate into a complex software ecosystem at enterprise organizations, including real-time integration with ERP, CRM, laboratory information management (LIMS), and manufacturing execution system (MES) applications.

Best for: Organizations seeking a robust solution for enterprise quality management should consider TrackWise. G2 user-reported data indicates the majority of TrackWise adopters are very large organizations. TrackWise's potential for integration is a significant strength, but also a necessity for highly regulated businesses: the software's features are not sufficient on their own to embed compliance with ISO 13485 and other life science standards.

Pros:
Wide range of workflows and modules
Scalable and designed for multi-site implementations
Extremely flexible system supports extensive customization
Cons:
Does not include archiving or retention features
Does not include controls testing
High training barrier, confusion, and functionality issues reported by users

User experience is

not very intuitive




Finding the right eQMS system for your business
Your organization doesn't need to settle for eQMS software that's designed for different verticals, exceeds your budget, or demands extensive configuration.
Today's top eQMS systems are flexible, cloud-based platforms designed for highly specific business scenarios. The best eQMS for your company is the one that most closely aligns with your needs and growth goals.
Ready to research the next steps?