What Is The Best eQMS Software [2022]? Pros and Cons of the 5 Top Options
What is an Electronic Quality Management System (eQMS)?
An Electronic Quality Management System (eQMS) or enterprise quality management system software is a new digitalized approach to Quality Management Systems (QMS). It helps manage and document business processes for quality, compliance, and product development across the entire value chain.
The best quality management software is designed to offer deep value for specific life sciences companies, such as global enterprises with an extensive product portfolio or pharmaceutical startups focused on research and development. Choosing software designed specifically for organizations like your own can translate to faster implementations, stronger adoption, and faster time-to-value.

For companies in life sciences such as pharmaceuticals, medical device manufacturing, biotech, and cannabis, choosing a QMS software comes with a lot of considerations. You'll want a QMS that offers several capabilities, especially one that's easy to implement across teams and that integrates easily with tools like Jira and Github.
Other
features to be mindful of:
Document management

Design control

Risk management

Training management

Audit management

Corrective actions and preventative actions (CAPA) management

Support of all other quality processes

Compliance with 21 CFR Part 11

Strong customer support team

Cloud-based

software options that add more security

End-to-end traceability
An electronic QMS (eQMS) should be right-sized to your organization's growth stage, budget, structure, and industry. Trying to adopt a QMS that doesn't streamline efficiently or fit your use case can lead to wasted cost, non-compliance, or costly software bloat from overly extensive configurations. To be an agile startup, you need a QMS software that won't come in modules—you need one that will help prevent bloat from happening. With that in mind, here's an overview of some of the top options available for quality management software so you can determine which is best for your life sciences company.
A Quick Glance at The Top 5 QMS Options


1. Qualio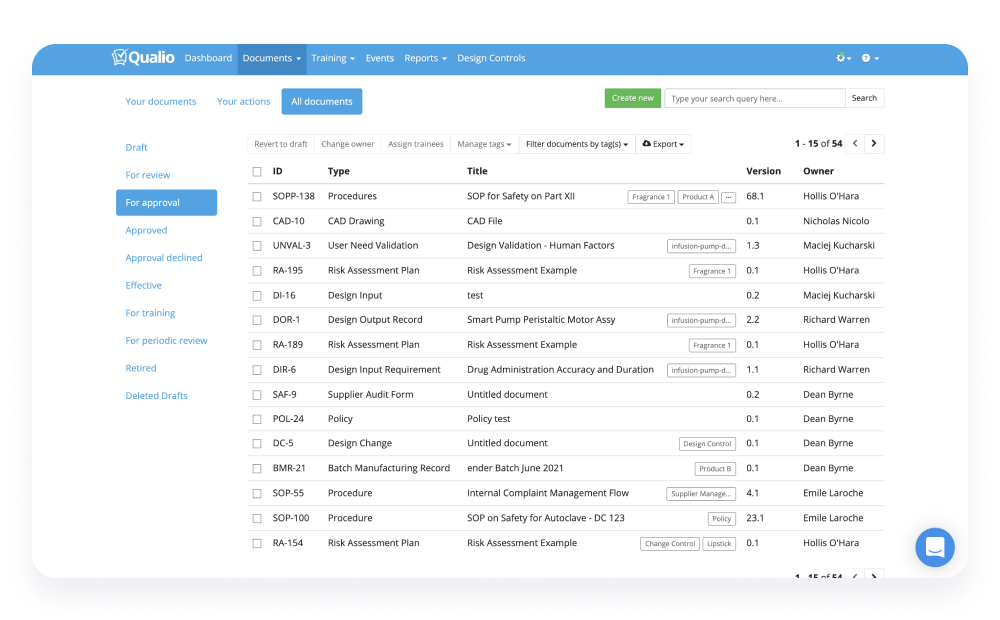 cloud-based eQMS is designed to help simplify comprehensive sciences organizations involved in the development, production, and distribution of pharmaceuticals, medical devices, and biotechnology products. The solution includes all of the tools needed for fast-growing organizations to excel at audits, proactively eliminate defects, and achieve the business benefits of quality-driven growth. Qualio is designed specifically under regulatory requirements, including FDA, ISO, and GxP.

Qualio offers closed-loop insight for continuous improvement and risk management, as well as robust features for automation to bring products to market quickly. Software features include document control, training, non-conformances, CAPA, audits, suppliers, complaints, and more. Customers can access flexible, transparent pricing models designed to accommodate the needs of organizations from startup to enterprise.

The Best Fit: Qualio is best for small to mid-market organizations with aggressive growth goals that want an affordable solution for comprehensive quality management and compliance. Qualio is the only eQMS designed specifically for startups, scaleups, and SMBs in the life sciences industry per FDA cGMP and ISO requirements for pharma, biologics, and medical device manufacturers. Qualio helps companies across the world from the US, UK, Ireland, Austria, Germany, Norway, Finland, Sweden, Belgium, Israel, Switzerland, France and Spain.
Pros:
High customer satisfaction (

4.5 out of 5 stars on G2 Crowd)
Responsive staff and customer support team

Qualio Plus provides customers with counsel from regulatory and compliance experts

Simple, powerful administration and metrics

Cloud-based option provides added security

Offers a comprehensive system for QMS and EDMS
Strong user adoption and satisfaction reported by customers
Cons:
One user reported challenges importing complex database schema
Does not include ERP or CRM functionality
Does not support multi-user document ownership during the drafting phase
Demo/Trial: Prospective customers are offered a form to request a demo and product trial opportunities.
2. MasterControl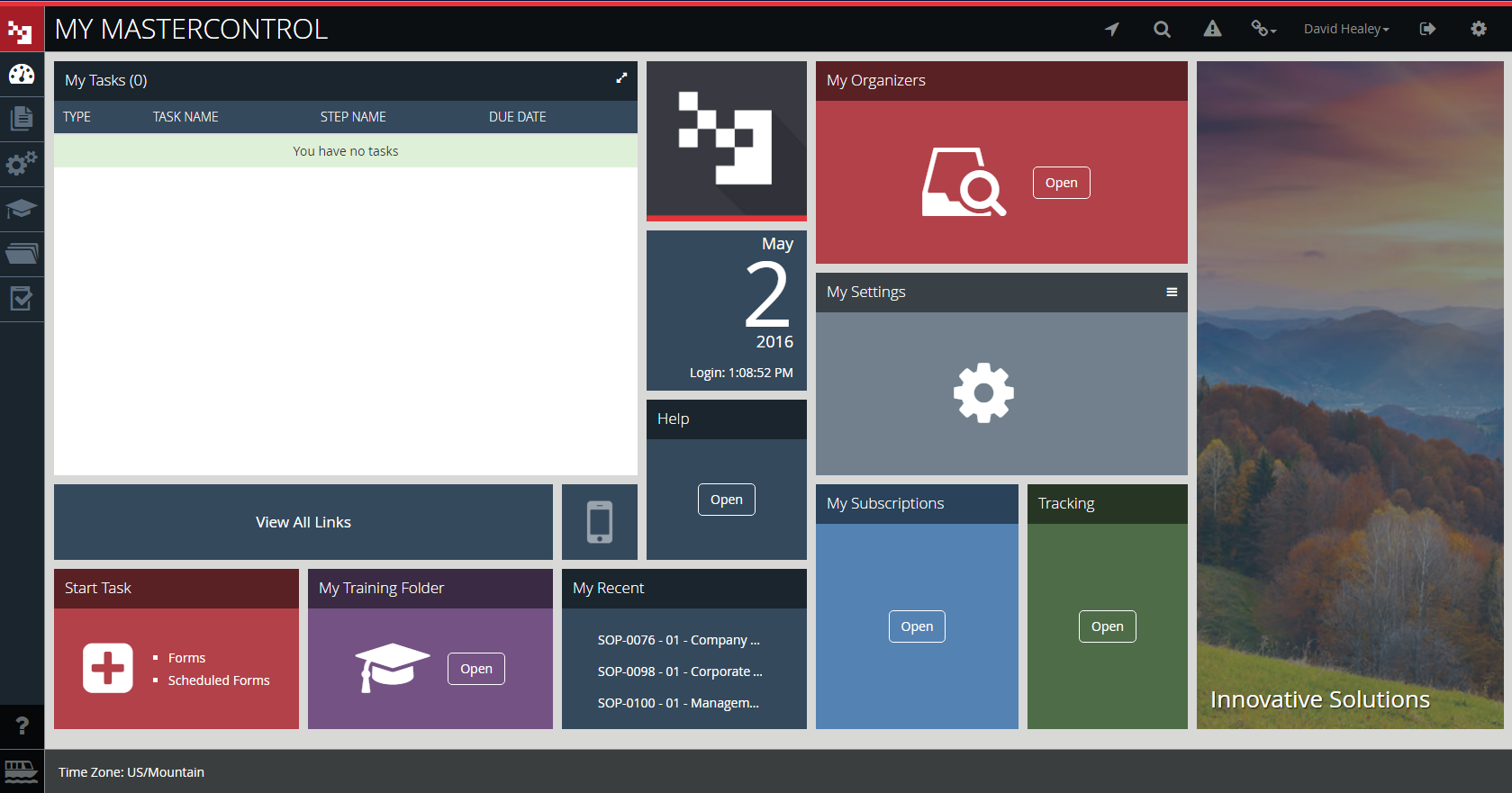 Image source: g2.com
This QMS is a well-known brand in the life sciences industry and among the most widely adopted solutions in the vertical. Current users include several major regulatory agencies and 1,000 enterprises in 30 countries. Solutions offered within MasterControl are designed to address compliance and quality management in product development, clinical trials, supplier management, regulatory risk management, manufacturing, and post-market use cases.

The Best Fit: MasterControl is positioned as an enterprise solution for global enterprises with a large portfolio that spans the product development lifecycle. It may be right for your organization if you need a complex, highly configurable QMS and can dedicate significant resources toward implementation and customization.

Pros:
Connectivity between modules and processes
Robust features for collaboration and administration
Users report

satisfaction with efficient document management features
The newly designed user interface is accessible and intuitive
Cons:
Pricing is

described

as expensive and inflexible by adopters
Reported issues with system and search speed
Only offers exact match search functionality
The web app is only compatible with Internet Explorer browser
Challenging user governance
Demo/Trial: Resources for prospective customers include several demo videos and a phone number to contact the sales team.
3. Pilgrim
SmartSolve is a QMS software solution by Pilgrim, an IQVIA company that is marketed as a comprehensive solution for managing compliance, risk, quality, and the supplier chain in the life sciences sector. The software is built under the ISO 9001 standard for quality management systems and provides workflows, document management, and process management. Their quality management system software can be cloud-based, hosted on the cloud, or installed on-premise. Additional capabilities include features and tools for electronic signatures, audits, analytics, and validation.

The Best Fit: Pilgrim is designed for enterprise organizations that can commit significant budget towards product configuration and are prepared for a potentially lengthy implementation phase. According to the vendor, current clients of this software include some of the largest enterprises in the life sciences sector. Cited industries of focus include pharma, medical devices, combination products, and blood and tissue service organizations.

Pros:
Lots of different functionalities
Change management support and efficient document updates
Clear and organized documentation
Administrative dashboards and project management features
Cons:
Limited customer reviews available

Lacks

built-in support

for SMB organizational structures and workflows
Adopters report limited vendor resources for client education
Reported slow vendor response to bug reports and client support requests
Some users say the solution is cumbersome or not very intuitive
Implementations exceeded the expected delivery time for some adopters
Demo/Trial: Prospective customers are encouraged to complete a Pilgrim web form to request a call with a sales representative.

RELATED READING: How Much Does eQMS Software Cost?
4. Qualityze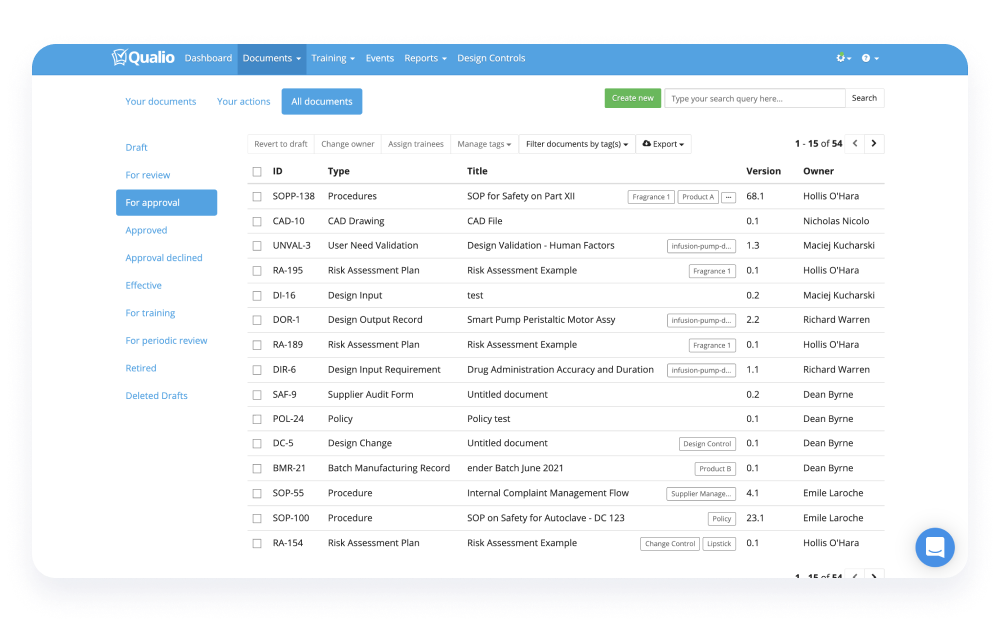 Image source: g2.com

This vendor offers two distinct QMS products with the same name, designed for the life sciences industry and the manufacturing industry. This closed-loop Qualityze includes a full range of QMS features for managing documents, non-conformances, customer complaints, suppliers, audits, and other activities required to comply with FDA cGMP, ISO 13485, Pharmaceuticals and Medical Devices Agency (PMDA), and Therapeutic Goods Administration (TGA).

The Best Fit: This solution may be a viable choice for organizations that are using Salesforce or have on-site Salesforce experts. It's also relatively unique in support of PMDA and TGA requirements. User-provided data on software review source G2 Crowd indicates Qualityze's customer base includes primarily mid-sized and enterprise organizations.

Pros:
Built on Salesforce
Offers out-of-the-box functionality
Intuitive user experience
Supports the roll-out of modules based on need
Cons:
Limited user reviews

compared to other solutions

One user reported they'd like to see more customization

Not compatible with Google Drive

Users

report a high cost compared to its performance
Demo/Trial: A web form is provided on the vendor website to schedule a demo and receive a 1-week product trial.
5. TrackWise
Sparta Systems' TrackWise product is a QMS software designed for organizations that are subject to GMP requirements. The vendor positions the product as a comprehensive QMS solution designed to increase visibility and improve organizational efficiency in a competitive market. The solution offers the potential to integrate into a complex software ecosystem at enterprise organizations, including integration with ERP, CRM, laboratory information management (LIMS), and manufacturing execution system (MES) applications. TrackWise can integrate with your ERP, CRM, LIMS, and MES systems and ensures real-time interoperability among all your enterprise systems.

The Best Fit: Organizations that are seeking a robust solution for enterprise QMS may want to consider TrackWise. G2 Crowd user-reported data indicates the majority of TrackWise adopters are very large organizations. TrackWise's potential for integration is a significant strength and a requirement since the software's features are not inherently sufficient to comply with ISO 13485 and other regulatory requirements.

Pros:
Wide range of workflows and modules
Scalable and designed for multi-site implementations
Extremely flexible system supports extensive customizations
Cons:
Does not include archiving or retention features

suppliers

Does not include controls testing
High training barrier, confusion, and functionality issues reported by users

User experience is

not very intuitive
Demo/Trial: Demos are offered and can be requested by filling out a form on the Sparta Systems website.

RELATED READING: 6 Essential Qualities of the Best eQMS Systems

Finding the Right QMS Software Fit
Your life sciences organization doesn't need to settle for a QMS that's designed for use at manufacturing organizations, a solution that exceeds budget, or an application that requires extensive configuration. Today's top eQMS are flexible, cloud-based solutions that are designed for highly specific business scenarios. There are several great solutions for life sciences organizations, but the best QMS for your company is the one that's right-sized to your needs and growth goals.

When you've compiled a list of software options that fit your budget and company's needs as a customer, verify a prospective vendor's compliance with FDA, ISO, and GxP requirements. Work to understand how solutions can create efficiency in your current organization and scale to meet your needs.

How does your organization stack up against best-of-class companies in the life sciences vertical for quality best practices, readiness to scale, and risk of adverse findings? Take a short, self-guided assessment to learn what you need to become quality-driven. Contact us today if you would to learn more about how our eQMS can help your business.