We're Dedicated to Customer Success
Our best-in-class software is backed by a best-in-class team committed to your success.
Qualio offers flexible packages, configured for your organization to accelerate your journey to becoming quality-driven. Our experienced team works hand-in-hand with you, aligning business goals and objectives to the Qualio Platform. Our commitment to your success begins on day one when we closely partner with you to deliver leading software, quality best practices, effective change management, and training.

Concierge Onboarding For a Smooth, Fast Start
Become quality-driven in record time with concierge onboarding, provided to every new Qualio customer. Each onboarding project is managed through a dedicated customer success manager at Qualio, whose job it is to guide you seamlessly through setup, data migration, validation, and training.

Professional Services For Expert Guidance
Ideal for teams inexperienced in regulatory processes looking for guidance. We'll provide clarity around quality best practices that you can use to tackle challenges in quality assurance, regulatory compliance, audit support, staff training, and more. For those looking to outsource elements of their QA/RA function, we can cater to that also.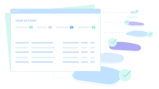 Content Packages For a Strong Foundation
Ideal for teams implementing a QMS for the first time or revamping their current QMS. Get procedures, forms, and templates that will save you of lots of effort and time during audits and inspections. You can also access training will make sure that your team is armed with best practices in quality management.