We just launched the best native document editor on the eQMS market
If documents are the lifeblood of your quality management system, then easy and logical document creation is the beating heart.
Other eQMS platforms force their customers to rely on traditional tools like Microsoft Word and Google Docs for editing, formatting and collaboration. 'Checking in' and 'checking out' drives you and your team across different systems, introducing an unnecessary layer of complexity and document integrity risk.
We've given our native document editor a major upgrade to make it even easier, richer and more intuitive, and to give our customers a true 'one-stop shop' for the entire document lifecycle.
Let's take a look!
Table of Contents
What's new?
We've added a raft of fresh features and functionality to our editor to make it the best in-app eQMS document editor on the market.
New functionality includes:
Change suggestions
Users collaborating on a document can now suggest edits, which are color-coded by addition, removal or format suggestions.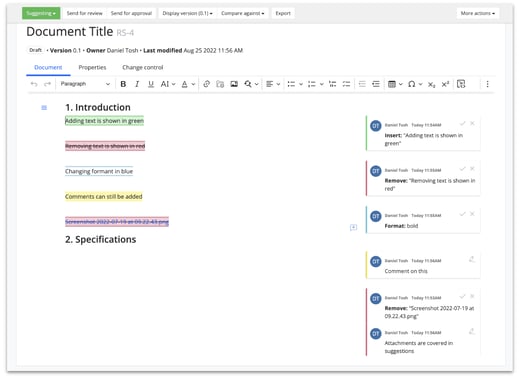 Sharper collaboration
In-line commenting now allows real-time discussion of documents.
Add and reply to comments quickly and easily.


Upgraded toolbar
The editing toolbar now 'floats' with you as you scroll down a document, meaning you no longer need to scroll back to the top to use it.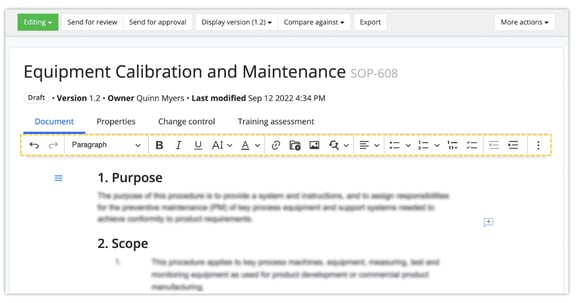 Not only that, we've added new features to the toolbar such as:
Font size editing
Scientific characters to support your technical recording needs
Block quotes
Code blocks
Drag-and-drop functionality for images (which can now include captions and have wrapped text!)
Inline attachments, that can now be added anywhere within a document
Copying and pasting of tables into documents, with color, border, alignment and column formatting
Plus, HTML coding has been removed - you no longer need it!
Easier templating
Quality users can now see the Templates section sitting pretty in the Documents tab.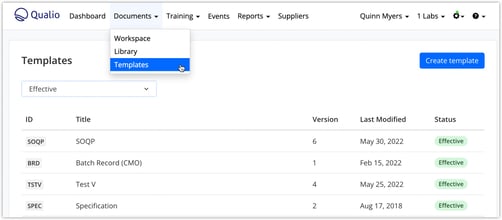 Template building and editing has now been simplified into a 4-step process to make it even easier for you.
More export options
Documents can now be exported in portrait or landscape, with an optional cover page.
New section lists
We've made multi-level section lists more robust and logical to follow, with the first number in the list dictated by the section number.


How it works: 2-minute demo!
Benefits of our new editor
We've worked hard on building a new and cutting-edge editing experience to give our customers the following benefits:
1)
A real one-stop shop
You can now build, collaborate on, finalize and cascade your quality documentation in a single area without ever relying on traditional and familiar editing tools like Word.
No other eQMS platform on the market offers a true single document management point in this way.
2)
Culture of quality
A robust quality culture requires clear, connected documents that everyone in your business understands, accesses and uses.
The sharper editing and collaboration experience of our new editor removes all operational barriers between you and a strong, centralized document stack - letting you focus on building policies and procedures that improve your business.
3)
Demolished admin time
Our customers often come to us in the first place because they're fed up of their manual, analog and time-consuming document management processes.
Our eQMS already shaves dozens of hours from their document management processes every single week.
The editor's new UX, fresh functionality, easier templating and improved section lists only boost this effect.
Less time on the nuts and bolts of quality, more time continuously improving and getting to market!
See our editor in action
See how our new editor makes document management quick, easy and painless by booking a private demo with us!
Already a Qualio customer? Dive deeper into your new editor with our complete guide.