5 secrets to securing medical device venture capital in 2023
As a founder of a medical device development company, securing medical device venture capital is one of the biggest barriers you'll need to overcome.
2023 won't the best year in history for securing medical device start-up funding. As the specter of recession hovers, the Fed continues to battle inflation and angel investors recoil from risk, cheap and easy access to money simply isn't as possible as a decade ago.
The data backs this up. Medical Device Network reported a sharp decline in healthtech VC funding in H1 2022, from $19.7bn the year before to just $11.6bn: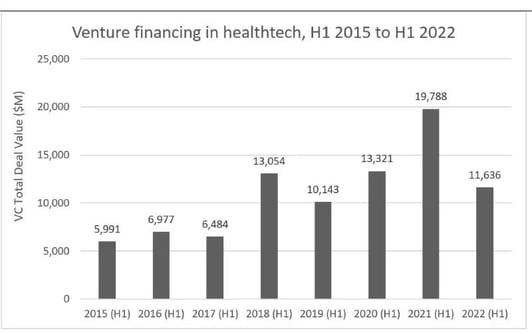 It's therefore even more crucial that you make a quick and powerful impression on medical device venture capital firms and entrepreneurs. 'Good' won't cut it: you'll need to show you're great.
Need some inspiration?

See the 25 impressive medical device startups to watch in 2023
So: you've attracted an audience of early adopters and need to show investors that you're ready to take it to the next level. Plus you need to convince VCs that their financial support will produce a real return on investment.
As an eQMS vendor with hundreds of start-up and scale-up medical device customers, we've worked with dozens of founders who've taken their companies to the next stage of business growth with medical device private equity.
Here are our five secrets for securing medical device venture capital in 2023.
How to land medical device venture capital: 5 secrets revealed
Medical device venture capital firms provide the necessary cash flow, expertise, and resources needed to bring products to market.
Medical device funding can be the lifeblood of your young company, giving you that crucial leg up to open your next stage of development and expansion.
With that in mind, here are five ways to secure medical device private equity.
Secret #1: Set up scalable systems
Investors are looking for exponential growth potential, which means your key business tools, processes and systems should be onboarded and built with one eye on long-term scalability.
That doesn't just mean getting a good CRM or HR platform in play. It's crucial that vital business drivers like your quality management system aren't crowded out by the immediate top-of-mind business processes like sales and product development.
An electronic quality management system (eQMS) platform like Qualio is designed to grow with your team, giving you a flexible long-term quality approach to guide you through the crucial early-stage start-up and scale-up steps.
This sends a crucial signal to medical device private equity investors that you've already considered and prepared for your quality and regulatory hurdles like FDA 21 CFR 820 or ISO 13485 accreditation.
Short-term solutions like paper or SharePoint might work while you're at 2 or 3 heads, but their lack of scalability and compliance place an artificial ceiling on your company's growth potential and show that you're not planning for the future.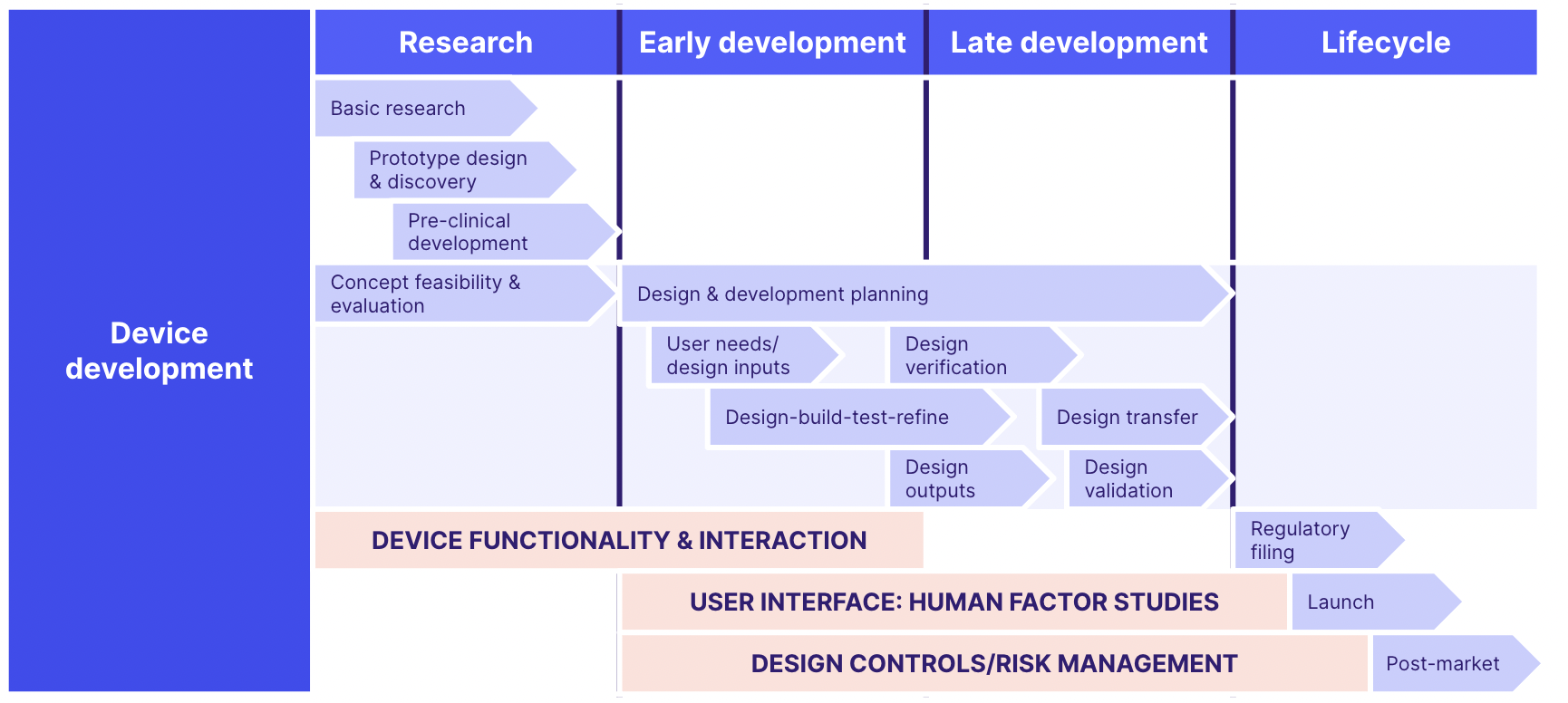 Are your processes scalable and strong enough to get you from beginning to end? Your investors will want to know!
Key regulatory processes like a 510(k) submission will also be much easier if you start them with mature, scalable processes already in place.
So when your investors begin asking how you'll execute your big business plans, make sure you have the scalable systems in place for an impressive answer.
RELATED VIEWING: A quality director explains why you should NEVER use SharePoint for your QMS
Secret #2: Look for shared values
Be selective with the firms you approach. Choose an investor with an in-depth understanding of the healthcare industry. The ideal firm should have experience working with startups like yours.
A knowledgeable firm that routinely finances startups is going to know the common problems you can expect to encounter. Their advice and guidance should help you avoid those issues and smooth the path for your success.
Don't go into business with a medical device private equity firm that doesn't mesh with your company culture. You're going to spend many hours communicating with your investors, so everyone needs to get along well.
Be sure to spend time with the associates you're going to be working closely with before you sign the paperwork and receive funding. Once a contract is signed, it can be next to impossible to get out of. Make sure you read all the fine print carefully and make sure you understand the terms of your funding completely.
Secret #3: Nail the elevator pitch
One sentence can change everything. Making a good first impression to medical device angel investors could be the difference between squandering and securing VC funding.
If you expect investors to take you seriously, you need a well-thought-out business plan with a clear picture of who your target audience is and the value you deliver.
To figure out what your pitch is, ask yourself these questions:
Who is going to buy your products?
Why will your customers want to buy them?
What problem are you helping your customers solve?
Why is your product better than your competitors?
Their answers will help you begin crafting your elevator pitch, which should be short, sweet, and to the point. A simple formula to remember when writing your pitch is this: We help x achieve y.
Don't make it too complicated by sharing too many details at once. Otherwise, a potential investor who's already busy enough may stop listening.
A great pitch grabs your audience's attention from the start and makes them want to know more.
Speak clearly and confidently when you deliver your pitch and show potential investors that you stand by your products.
RELATED READING:

Secret #4: Build a team of advisors
Great leaders build a team with varied expertise that they can rely on. VCs want to see this. Build your team with advisors who are familiar with the ins and outs of raising VC. Your team can consist of:
Board members
Accountants
Industry executives
Attorneys
Professional investors
Select people who are committed to your company's values and have the expertise you need to run your company smoothly.
Secret #5: Work your connections
Most good medical device private equity investors won't take unsolicited pitches from start-ups they've never heard of.
A good medical device consultant often has good connections. The right consultant can help you implement new software, achieve certification, seek venture capital, and improve overall quality among other things.
Read our list of the top 7 medical device consulting firms you should consider for 2023

It's crucial to find a consultant who fits your needs and has experience with companies like yours. An ideal candidate should have relevant experience in your industry, have past success designing or implementing improved management systems, a high success rate with former clients, and eQMS experience.
Top medical device venture capital firms
Ready to approach a medical device private equity investor and take the next step on your company's journey?
Here's our shortlist of the biggest and most active candidates you could reach out to:
Maryland giant, one of the world's largest medical device funding companies with $25bn in committed revenue
As the name suggests, specializes in accelerating innovative medtech products to market profitability.
We have a soft spot for them: they recently gave our valued customer EvoEndo an investment prize to speed their endoscopy product to market!
Tried and tested medical device private equity funders. Also fund pharma and biotech start-ups and scale-ups
4) USVP
Plowed almost $4.5bn into nascent medtech companies and guided 93 IPOs to commercialization
New York-based investment business with presence across the life science sector
SV want to 'transform healthcare one investment at a time' and have been investing in medical device companies that catch their eye for almost 3 decades
Domain are healthcare specialists who prefer to support companies from their very first round of funding, and often sit near the top of medical device funding VC firms in terms of committed capital
It's no surprise that the medical giant has a venture investing arm.
They're not picky about which medical sector or lifecycle stage they weigh in on, but their eagle-eyed team of former R&D industry experts could make them difficult to impress
If you're going through a 510(k) submission, the words 'de novo' might be giving you sleepless nights.
But in this context, they're not to be feared. This Californian medical venture capital firm boasts a 4x ROI from its shrewd investments, and is proud of its highly stable and successful portfolio under its wing.
ARCH are particularly on the look out for disease-busting technological breakthroughs to support. If you're an exciting SaMD company, this multinational investment firm could give you the financial support you need.
Unlocking medical device venture capital for future success
Hungry for cash? Watch our webinar on how to secure non-dilutive funding to supplement your medical device private equity hunt.
And learn more about putting your medical device company on the strongest possible footing with our guide to the essential elements of a medical device QMS.