Medical device quality management system template: 8 powerful options
Starting a medical device company is an immense task. You have plans to make, employees to hire, funding to obtain, and on top of all that, you have FDA regulations to follow. That requires a lot of documentation and quality procedures—and keeping up with those is a full-time job itself.
Using a quality management system (QMS) can help take some of that off your plate.
A great QMS can give you what you need to get a high-quality device on the market quickly and obtain FDA approval and ISO certification as smoothly as possible.
Building a quality system from the ground up shouldn't be done without some guidance. You don't need to reinvent the wheel. Quality management system templates are one approach to building a foundation of a medical device organization. Templates can form a fast-start baseline for a quality management system that meets the requirements of ISO 13485:2016 and FDA 21 CFR Part 820.
With the right medical device quality management system template, you can quickly build a quality-driven culture and produce a market-leading device. Here are some templates to help you get started.
1. PharmOut
If you want "DIY" ISO 13485 compliance without an eQMS, PharmOut offers a set of Microsoft Word-based templates to build a complete system of electronic documents. This bundle is priced at $900, and it includes 35 pre-written standard operating procedures (SOPs), 15 form templates, 12 master templates, a register, and a quality manual. You can check out a preview of the download here to see what you'll get.

Pharmout is an international consultancy that offers a diverse menu of business services in the life sciences sector. Customer reviews of the ISO 13485 product on the Pharmout website sway positive, including one purchaser who noted he found "the QMS pack for 2016 to be very helpful and easy to use."
2. 13485 Academy
Advisera is a company that specializes in providing documentation and support for a number of quality and regulatory standards and offers a complete academy for ISO 13485 implementation. Advisera states that using their web tools can net medical device subscribers a "90 percent savings compared to the cost of a consultant."

The Academy offers a number of courses and tools, including ISO 13485 documentation and templates, webinars, and guidebooks to ISO 13485 implementation. The documentation toolkit is priced at $897 and includes a total of 76 mandatory and non-mandatory document templates. In addition, the price covers up to 10 emailed questions per month, one hour of dedicated support from a consultant, and one expert document review. Document templates include:
Quality policy
Quality objectives and realization plan
Quality manual
Procedure for risk management
Procedure for document control
Procedure for human resources
You can preview each document on their site before you download it. Files are formatted in Microsoft Word and Microsoft Excel.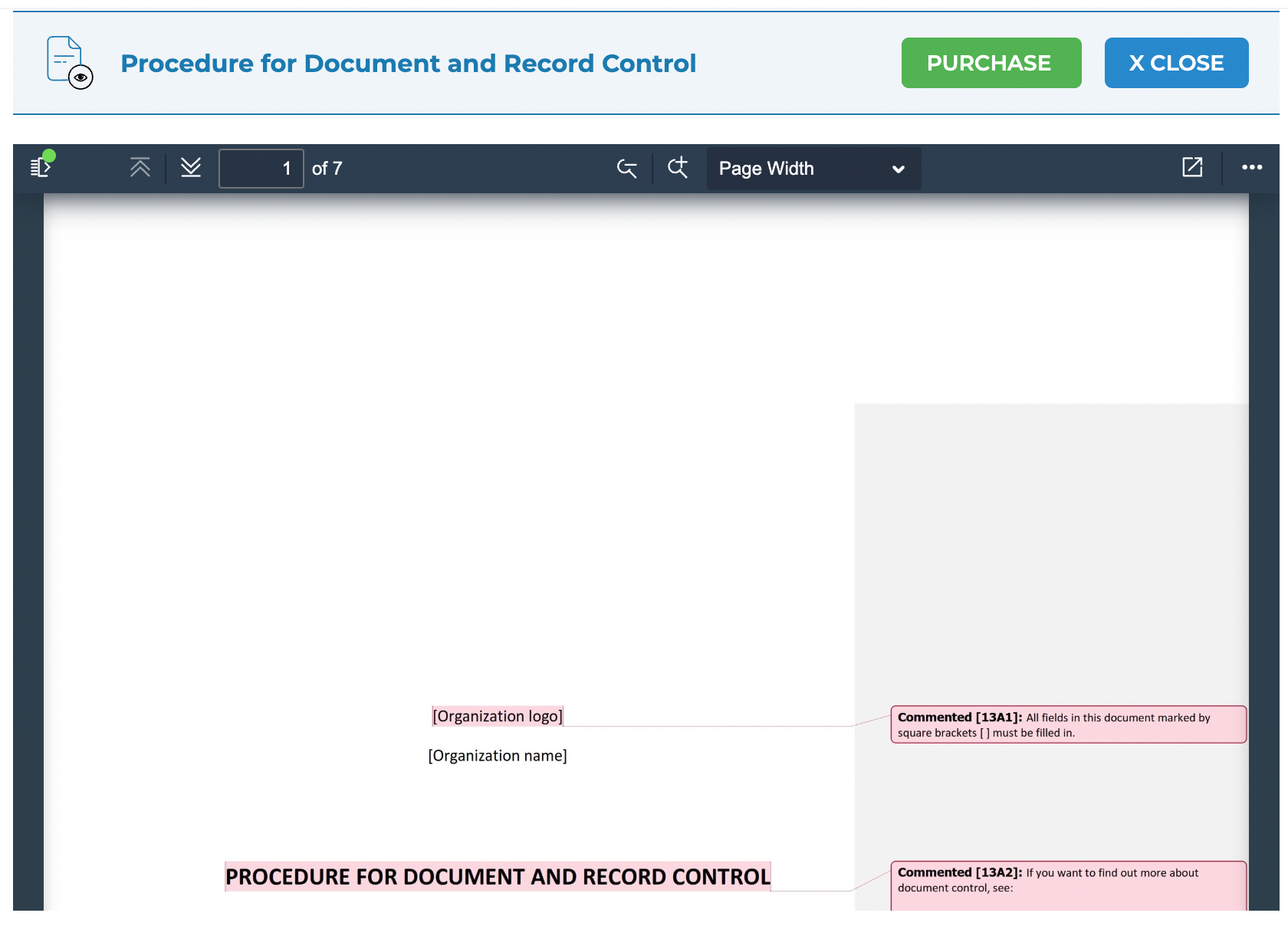 Source

Advisera's 13485 Academy toolkit can be purchased with extended support options, which offer expert consulting hours and additional document review for an upgrade fee. Prospective customers can test Advisera's products by downloading a number of free digital resources or attending webinars before making a purchase.
RELATED READING: 13 Bottom Line-Boosting Benefits of a Quality Management System
3. 13485 Store
The 13485 store, a business line of the Standards Stores, offers several template packages for ISO 13485:2016. The core product is a Quality Manual in Microsoft Word format, with editable procedures and format documents. The products include all ISO 13485 document requirements and in-text instructions written in blue text to provide guidance.

The core ISO 13485 product has processes that are created to "lead your organization to continuous improvement" and is priced at $397. It also includes a free ISO 13485:2016 online training. Additional price upgrades are available for a medical device quality management system template combination pack with both 13485 and ISO 9001 documents, as well as an upgrade to a $497 "QMS pack" with flowcharts and instructions on meeting FDA requirements. The Standards Store specializes in providing digital products for ISO standards. There are also four different all-in-one ISO 13485:2016 certification packages you can order for $997.
RELATED READING: How Much Does eQMS Software Cost?
4. IMSXpress
IMSXpress offers a starter pack of templates for ISO 13485 and FDA CFR Part 820 compliance. This packet has a total of 42 forms, which includes 35 electronic and seven manual documents. According to IMSXpress, "extensive notes, tips, and comments" are included within the documents to guide purchasers toward compliance with ISO 13485 and FDA requirements.

IMSXPress is an ISO support organization, which was among the first to provide quality management system templates and document support for ISO organizations. Pricing for IMSXPress products isn't fully listed online; however, some details are provided for potential customers who want to purchase the template kit with supporting software, such as a SQL or file database. Pricing for IMSXpress products increases if you select the option to purchase risk management, remote access, or additional user access.
5. Lean ISO Management Systems
If you want a quality management system that runs with Lean principles, then Lean ISO Management Systems could be a good resource for you. They offer a Lean Procedures Jump-Start Kit for $240 that includes a project plan, a Lean-o-Meter Excel spreadsheet that helps document your progress in making your system Lean, a template procedure, a document change checklist, and more. You're able to download each template individually and in PDF form to preview them before buying.

Lean ISO Management Systems, formerly Quality Works, is an international consultancy that provides digital products and business services to ISO organizations globally. In addition to ISO templates, they offer consulting, training, and audit support.
6. Med Dev QMS
Med Dev QMS offers templates written by quality experts who work with startups, and they claim the templates they've created have helped companies launch medical devices across the globe, including Canada, the U.S., and Europe. Their complete medical device QMS template package is available for $875, and it contains 28 quality procedures, 16 quality forms, the quality manual, and 24 other templates and logs.

As with other options, the files come in either Word or Excel format. As an added bonus, Med Dev QMS will refund the entire purchase price if you're not 100% satisfied with their templates.
7. QM-DOCs
QM-DOCs provides medical device QMS document templates for download. Unlike most of the options listed here, you have the option to download individual documents instead of an entire package. Prices vary depending on which document you need, and those documents include items such as:

Design history file SOP
Medical device human factor SOP
Risk management process
Design transfer SOP
Medical device design outputs
Medical device design validation
Other documents involved in the quality assurance process are available, too. QM-DOCs is a European company founded to help companies create their quality management systems. Their templates were built by professionals who consult in the health and pharmaceutical industries and should provide what's needed to help you comply with ISO regulations.

8. QualityMedDev
QualityMedDev is a regulatory consulting company that gives guidance to medical device companies about ISO regulations and the European Medical Device Regulation. This is another option that allows you to download documents one by one instead of as a full package. You can get documents that cover corrective and preventive action procedures, a change control template, a management review template, and many more. Below, you can see the table of contents for what's included in their design and development plan template.
source

Ensure compliance and unlock fast growth with QMS software
There are multiple ways to meet ISO and FDA requirements for a medical device quality management system. Templates can be among the cheapest and fastest ways to create a QMS, but they're not the only low-cost way to unlock value quickly.

While a template-based quality management system is one option for medical device startups and scale-ups, it's not necessarily the best approach. The FDA recommends medical device manufacturers adopt enterprise QMS software to prevent errors and help with fast growth. A cloud-based QMS like Qualio can:
Provide the structure you need to ensure company-wide quality by conducting internal audits for quality control
Remove the risks of a document-based quality management system and provide benefits such as data integrity, compliance, and linked processes for quality improvement
Offer a way to track customer feedback and document corrective action
The Qualio platform is built with the needs of medical device manufacturers with 5 to 500 employees in mind. Our eQMS is easy, fast, and scalable. For more information related to Qualio pricing, schedule a free product demonstration.