What you need to know about FDA 21 CFR Part 211
FDA 21 CFR 211 is a primary regulatory requirement for organizations manufacturing finished pharmaceuticals for sale in the United States.
21 CFR 211 compliance is your organization's stepping stone to meeting the FDA's definition of current good manufacturing practice (cGMP). Complying with 21 CFR 211 proves that your business has a safe, effective, consistent and quality-managed drug manufacturing operation in place.
Here's everything you need to know about 21 CFR Part 211 - and how to meet its many operational requirements.
Table of Contents

Introduction to 21 CFR Part 211: guidelines for pharmaceuticals


Compliance with 21 CFR Part 211

FDA inspection & enforcement
Introduction to 21 CFR Part 211: guidelines for pharmaceuticals
FDA 21 CFR Part 211 is a regulatory standard providing the minimum quality requirements for how finished pharmaceutical drug products intended for use in the United States are made.
21 CFR 211 forms part of the FDA's current good manufacturing practice (cGMP) benchmark. cGMP is an area of GxP designed to guarantee the safety and efficacy of pharmaceutical drugs by mapping out key manufacturing operational requirements.
The logic is simple: force drug manufacturers to make their products in a certain way so those drugs can be proven to be safe, potent, pure, high-quality and unadulterated.
RELATED READING: Guide to GxP compliance: processes, challenges and tools
Purpose of 21 CFR Part 211
21 CFR 211, like all FDA cGMP standards, should be seen as a protective layer separating the American public from dangerous, ineffective or faulty pharmaceutical drugs.
The FDA was instructed by Congress in 1962 to enforce cGMP as a minimum quality and compliance requirement in the wake of a series of dangerous drugs and their high-profile, disastrous impacts on public health.
Because of this protective focus on drug safety guarantee, 21 CFR Part 211 compliance, and cGMP more generally, is mandatory for pharmaceutical manufacturers looking to sell their drugs in the United States.
Failure to prove cGMP makes your product 'adulterated' in the eyes of the FDA, and could mean anything from a warning letter and Form 483 to a full-on recall, or even complete business shutdown.
Scope of 21 CFR Part 211
The very first section of 21 CFR 211 lays out the scope of the standard in its own words:
"The regulations in this part contain the minimum current good manufacturing practice for preparation of drug products (excluding positron emission tomography drugs) for administration to humans or animals."
The next paragraph then makes another exception besides PET drugs: over-the-counter drugs, if marketed and used as food, are also exempt from 21 CFR Part 211, and Parts 110 and 117 would apply instead.
In short: if your company manufactures drug products that aren't PET drugs or food, you fall within the scope of the standard and 21 CFR Part 211 will be crucial for your cGMP compliance.
Difference between 21 CFR Part 210 and 211
21 CFR Part 211 guidelines are often tackled as half of a pair, alongside 21 CFR Part 210.
What's the difference?
21 CFR 210 is a definitive standard with a broad scope, offering official definitions for key terms relevant to modern manufacturing, facilities and controls for all pharmaceutical drugs.
21 CFR 211 is tighter in focus -finished drug products only - but goes deeper into specific operational requirements for areas like personnel, equipment, labeling and specific manufacturing processes.
You'll often see both parts grouped together as a single quality and compliance objective: '21 CFR Part 210/211 compliance'.
For pharmaceutical and contract manufacturers, they're two sides of the same coin. 21 CFR 210 outlines the 'what' of cGMP, while 21 CFR 211 covers 'how' your business can comply.
You'll need both to prove to the FDA that you have cGMP in place.

RELATED READING:
Requirements of 21 CFR Part 211
While Subpart A of 21 CFR 211 lays out the general provisions of the standard, the meat and nitty-gritty of its cGMP requirements can be found in Subparts B to K.
Let's dive into the key high-level requirements of 21 CFR Part 211 and how your business can start embedding them.
Personnel
cGMP requirements like 21 CFR 211 place a heavy emphasis on people.
How your personnel and colleagues perform their daily work is, after all, the heart of your business.
Mistakes, oversight and sloppy, unsafe or unstandardized work all threaten the integrity of your cGMP - so 21 CFR 211 spells out a string of specific personnel requirements.
Qualification requirements
'Education, training and experience' are presented as the three supporting elements of your personnel qualification requirements.
In short, your team should be adequately educated, trained and/or experienced to perform their day-to-day roles competently, with the 'golden thread' objective of ultimately guaranteeing drug safety and integrity.
Crucially, these qualification requirements apply to not only your internal team, but any consultants you onboard too.
There should also be enough staff on hand to effectively execute key tasks like manufacturing, processing, packing and holding.
Training requirements
Staff should be effectively and continuously trained on both their personal responsibilities and the requirements of cGMP.
21 CFR 211 maps out 4 primary responsibilities for all staff to follow:
1) Wearing of clean, protective and appropriate apparel

2) Good sanitation and health habits

3) Controlled access to limited-access areas

4) Exclusion of personnel from drug contact in the event of any illness with a potential impact on drug integrity
Training should check on and reinforce these responsibilities, as well as understanding of specific operational elements like SOPs.
Equipment
Just like personnel, the equipment your organization uses for its drug manufacturing processes needs to be properly managed and maintained.
This should be done in 3 ways.
Design
§211.63, "Equipment design, size, and location", doesn't mandate any specific design requirements for your pharmaceutical manufacturing equipment, since that's highly relative and dependent on the specific context of your operation.
Your best judgment and common sense therefore come into play.
The clause prescribes that 'appropriate' design, 'adequate' size and 'suitable' location are enforced, with both day-to-day use and cleaning and maintenance in mind.
Which brings us to...
Maintenance
In keeping with cGMP requirements of a clean, functional and well-ordered drug manufacturing space, frequent and structured maintenance is essential.
'Malfunctions' and 'contamination' are the big push factors which should govern your maintenance procedures, and those procedures need to be properly documented and followed.
Your maintenance should include:
1) Clearly assigned responsibilities

2) Consistent maintenance, cleaning and (where appropriate) sanitizing schedules

3) Descriptions of the methods, equipment and materials used in cleaning and maintenance, and in disassembling and reassembling equipment

4) Removal of previous batch identifications

5) Protection of clean equipment from contamination

6) Inspection of equipment for cleanliness
Calibration
Where automatic, mechanical or electronic equipment is used, your maintenance procedures should also include provisions for calibration activities.
Here, too, a properly documented program should be established, and calibration records maintained.
Facilities
Your personnel and equipment management processes need to be situated in a manufacturing facility that's fit for purpose and properly maintained.
21 CFR 211 dedicates an entire section, Subpart C, to building and facility requirements.
Design and construction
As with equipment, the prescriptions for your cGMP-compliant facility have to be broad, context-specific and generally led by common sense.
Subpart C therefore mentions only 'suitable size, construction and location' as a prerequisite for proper building maintenance and cleaning.
It's in the latter part of §211.42 that things get interesting. Your business should have 'specifically defined areas of adequate size' for your cGMP activity to take place.
Your building planning should therefore take this list of activities into account, portioning off appropriate amounts of physical space for each one:
1) Receipt, identification, storage and withholding from use of components, drug product containers, closures, and labeling

2) Holding of these items before disposition

3) Storage of released versions of these items

4) Storage of in-process materials

5) Manufacturing and processing: the core of your cGMP work!

6) Packaging and labeling

7) Quarantine pre-release storage

8) Storage of products after release

9) Control and lab operations

10) Aseptic processing
Proper lighting, HVAC, plumbing, sewage and refuse management should all be considered and integrated into your facility too.
Maintenance & cleaning
Closely connected to this, your building and facility should be conducive to easy and repeatable maintenance and cleaning.
The design considerations above should be actioned so that drug product is not at risk of contamination, and so that both equipment and infrastructure can be frequently cleaned and maintained.
Control of components, drug product containers and closures
Needless to say, the components, containers and closures that feed into your manufacturing processes need to be properly controlled and defined to comply with 21 CFR Part 211.
Let's look at three core areas of your component, container and closure requirements in turn.
Receipt and acceptance
As they arrive on-site, containers should be quarantined before representative samples are tested. Containers and contents should be physically examined for signs of inadequate labeling, contamination or damage.
Containers may only be accepted if they pass this initial examination.
Storage
Handling and storage of these untested container contents should be executed with contamination prevention in mind.
Bags and boxes should be stored off the floor, with enough spacing around for cleaning and maintenance.
Identification
For the purposes of identification and traceability, each lot in each received shipment should be accompanied by a unique code and disposition status (i.e. approved, rejected or quarantined).
Production and process control
Obviously, sharp and robust production and day-to-day processes are at the core of your cGMP and 21 CFR 211 compliance.
21 CFR Part 211 expects you to embed controls around the following areas.
Formulation
21 CFR Part 211, like Part 210 and the other cGMP guidelines, keeps returning to the same overall objective:
"... to assure that the drug products have the identity, strength, quality, and purity they purport or are represented to possess."
Your organization therefore needs fully documented procedures for both production and process control, and you should show how you've built them in a way that meets this ultimate cGMP target of assuring drug formulation.
Your procedures require the classic document management processes of drafting and review before approval, with your designated quality control unit having the final right of sign-off.
And of course, execution of these documented procedures and processes requires its own time-stamped documentation, with any deviations from them fully recorded and explained.
Packaging and labeling
Packaging and labeling gets its own section in the guidelines: 21 CFR Part 211 Subpart G.
21 CFR Part 211 Subpart G highlights in detail your packaging and labeling requirements, including:
Destruction of obsolete/outdated labels
Clear procedures for the issuance of labels
Anti-tamper measures
Physical separation of packages where needed to prevent mix-ups or contamination
Testing and release
Your drug product must be clearly tested before its release, and 21 CFR Part 211 includes this requirement under its 'Laboratory Controls' section, Subpart I.
Documented sampling and testing plans should be applied to assure a batch of drugs meet defined acceptance criteria - with any missing the mark not released.
And of course, your testing methods themselves must be robust and sound, with 'accuracy, sensitivity, specificity, and reproducibility of test methods... established and documented'.
Laboratory controls
This brings us nicely into laboratory controls more widely, and it's worth diving a little deeper into 21 CFR 211's testing requirements.
They sit under two broad categories.
Analytical testing
Analytical testing is the 'test-and-release' process described above.
In short, product samples should be analyzed in a laboratory environment to determine that they conform to your specifications and are free from contamination and/or microorganisms.
Throughout your manufacturing process, critical quality attributes (CQAs) of your product should be mapped onto critical material attributes (CMAs) and critical process parameters (CPPs), with analytical testing providing the benchmark to ensure that the formulation of your drug has the desired pharmaceutical effect and is both safe and efficacious.

Stability testing
21 CFR Part 211 Subpart I also maps out stability testing requirements.
The stability of your drug should be tested and measured with:
Defined sample size and testing cadences
Proper storage conditions for testing samples
Demonstrably reliable and accurate test methods
Testing within the same container-closure system as marketed product
Testing of product for reconstitution
Records and reports
As in any regulated quality management framework, documented records and reports - and how you maintain and retain them - are crucial for your 21 CFR 211 compliance.
Required documentation
A mature cGMP document stack should contain properly maintained versions of key documents, including:
Equipment cleaning and use logs
Component, container, closure and label records
Master and batch production/control records
Production record reviews
Lab and distribution records
Complaint files
A typical document framework could look something like this:

Record retention
Batch records should be maintained for at least a year after the expiry of the batch. Where a drug can be exempted from expiry dating, they should be maintained for three years after distribution instead.
The same requirements hold for component, container, closure and labels.
Naturally, these records need to be easily and readily retrievable for regulatory inspections. Originals or 'true copies' are acceptable.
And although not explicitly mandated in 21 CFR 211, the ALCOA+ data integrity framework is a useful way to think about your document and record maintenance as you plan your compliance.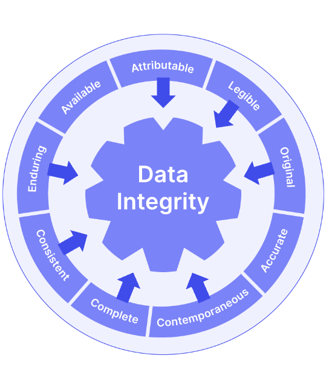 Compliance with 21 CFR Part 211
After this whistle-stop tour, it's probably clear by now that 21 CFR 211 compliance is complex and multifaceted, with a string of core operational demands you'll need to put in place.
So as you prepare to install cGMP, it's worth taking a look at how the FDA enforces and regulates 21 CFR Part 211 compliance.
FDA inspection and enforcement
21 CFR 211 is an FDA requirement, inspected and enforced by the FDA.
That means you'll need to prove to an FDA inspector that you have 211-compliant cGMP installed across your facility.
FDA inspection process
Under the Federal Food, Drug and Cosmetic Act, the FDA inspects drug manufacturers for GxP adherence at least once every 2 years.
If you're recently established or have a 'track record' of compliance gaps, it will be even more often.
Inspections can be pre-notified or a surprise drop-in. You'll receive a Form 482 'notice of inspection' and the session will begin.
Your manufacturing facility will then be physically inspected for compliance with the requirements we explored above, with any findings, objectionable conditions or deficiencies noted by your inspector and transmitted to you via a Form 483.
Remember that your inspector will be on the lookout for key cGMP operational ingredients that you'll need in place, such as:
Quality manual and policy
Deviation reports
Equipment calibration reports
SOPs
Training records
And so on.
Common non-compliance issues
We looked at the data for Form 483 submissions in 2022 and found the top 10 most common reasons for drug companies to receive one from the FDA: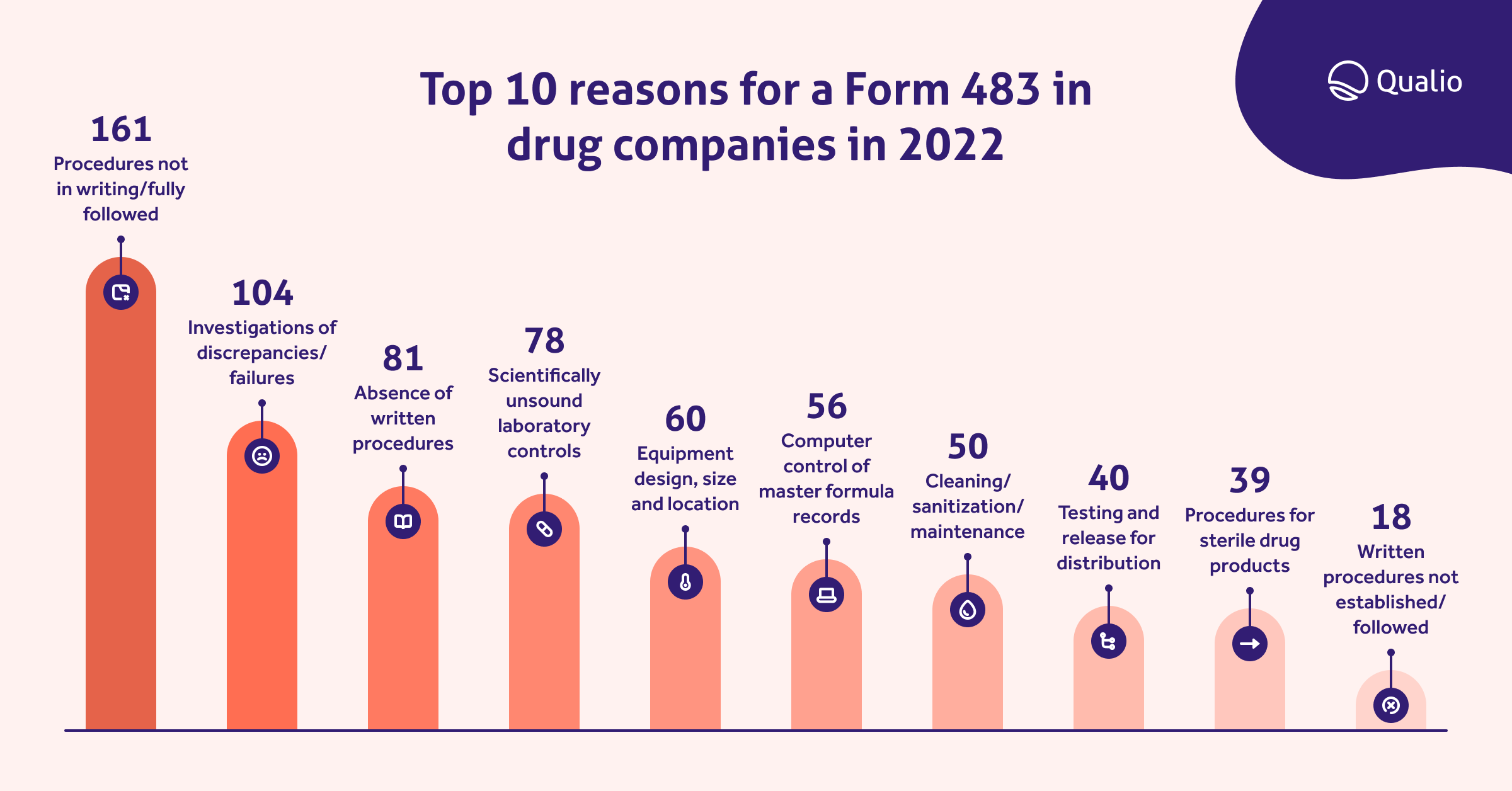 We can clearly see that lack of clearly documented CFR 211-compliant procedures, and weak investigation of drug discrepancies and failures, lead the way as the most common cGMP violations.
It's worth exploring this list and weighing up your own organizational strength in these areas so you don't make the same mistakes.
Consequences of non-compliance
Repeated failure to rectify issues pinpointed in your Form 483 will result in a warning letter.
Continued infraction could even cause your facility to be temporarily or permanently closed.
Any drug product which has worked its way through a manufacturing system that's not compliant with cGMP and 21 CFR 211 will be classed by the FDA as 'adulterated' and subject to recall.
Needless to say, letting your 21 CFR Part 211 compliance slip can have catastrophic consequences - most importantly for your patients and customers, but also for your company's reputation and bottom line.
Read 4 real and scary life science quality management stories here
Best practices for compliance
With all this in mind, you should start your 21 CFR 211 compliance journey by homing in on a handful of best practices that can help cement cGMP with a reliable foundation.
FURTHER READING:

5 notorious compliance issues in the pharmaceutical industry
21 CFR 211 supplier qualification
Your 21 CFR 211 cGMP compliance is only as strong as your supply chain allows it to be.
Airtight control of your facilities and processes is great, but defective components and ingredients from substandard suppliers can still derail your operation.
Use quality agreements (QAgs) to qualify and onboard suppliers while forcing them to commit to non-negotiable standards of quality.
It's a good idea to build those quality agreements around the structure of 21 CFR Part 211 to ensure nothing is missed:

You are the gatekeeper of all the services and goods received from your suppliers: ingredients, containers, parts, accessories, distribution, sterilization, manufacturing, and so on.

Your quality agreement is the key to the gate.

Failure to meet the agreement? Gate locked!
You should also consider how to digitize and automate key supplier management activities like documentation requirements and audit cadences, to give yourself a repeatable and foolproof supplier strategy that maximizes your cGMP strength.
Download the essential guide to life science supplier management
Establishment of standard operating procedures
We've seen documented procedures emerge time and again as a crucial requirement throughout 21 CFR 211.
Standard operating procedures (SOPs) are an essential first step on your 21 CFR 211 preparation journey.
As you draft SOPs, work closely with process owners and those who'll be intimately connected to the process day-to-day to get their input.
There's no use writing a theoretical SOP that doesn't take reality into account and which nobody will follow - such practice only opens the door, as we've seen, to Form 483 observations.
Ensure those SOPs are electronic, not paper. Physical documents circulating around your facility are notoriously difficult to version-control and could weaken both your standardization and your cGMP compliance.
RELATED READING:

7 ways a document control system can transform your business
Implementation of quality systems
Like 21 CFR 210, 21 CFR 211 mandates a 'quality control unit' as the lead entity for guaranteeing the safety, quality and integrity of your pharmaceutical product.
A quality management system (QMS) is your quality control unit's mechanism for enforcing this control and assurance activity.
Document, supplier, training and quality event management, preferably with real-time digital analytics, are the primary areas you should consider as you look to build a 21 CFR 211-compliant QMS.
21 CFR Part 211 doesn't heavily prescribe what your quality system should look like, so it's sensible to do some wider reading to inform your QMS-building.
The FDA's Quality by Design (QbD) framework is a useful one to look at, calling for robust product development underpinned by product and process understanding with clearly predefined quality objectives.
ICH Q8 (R2) and ICH Q10 are also helpful stepping stones, highlighting how to bake quality into your drug manufacturing process and control the quality attributes of your product within a wider pharmaceutical quality system (PQS).
RELATED READING:
Training and education of personnel
Lastly, as we touched on in the Personnel requirements of 21 CFR 211, robust and repeatable training are indispensable for your cGMP operation.
Training on both internal SOPs and broader cGMP requirements helps put your entire team on the same page, standardizing work and minimizing risk of both drug contamination and worker mistakes and injuries.
Consider simplifying and strengthening your training processes with training management software, ditching manual back-and-forth document-signing with cloud-based centralized training records that you can easily show to an FDA inspector.
21 CFR Part 211 audit checklist
Take the next step to 21 CFR 211 compliance with our GxP toolkit, containing an audit readiness checklist, cGMP guide and more!
Automated, digitized 21 CFR 211 cGMP
Learn how Qualio gives your pharmaceutical or contract manufacturing organization a digital framework for unshakeable 21 CFR 211 cGMP compliance by scheduling a demo with us here!