5 notorious compliance issues in the pharmaceutical industry
Does the prospect of getting an FDA 483 letter keep you up at night?
You're certainly not alone. Compliance pressures in pharma have never been higher. In FY 2022, the FDA issued 62 warning letters and 23 import alerts to drug organizations. Form 483 handouts more than doubled from 2021 figures to 466.
Luckily, the FDA releases an annual summary of inspection observations by industry - perfect data for uncovering common pharmaceutical compliance issues and knowing where to direct your quality management efforts.
Let's take a look.
Top 10 reasons for a Form 483 in drug companies in 2022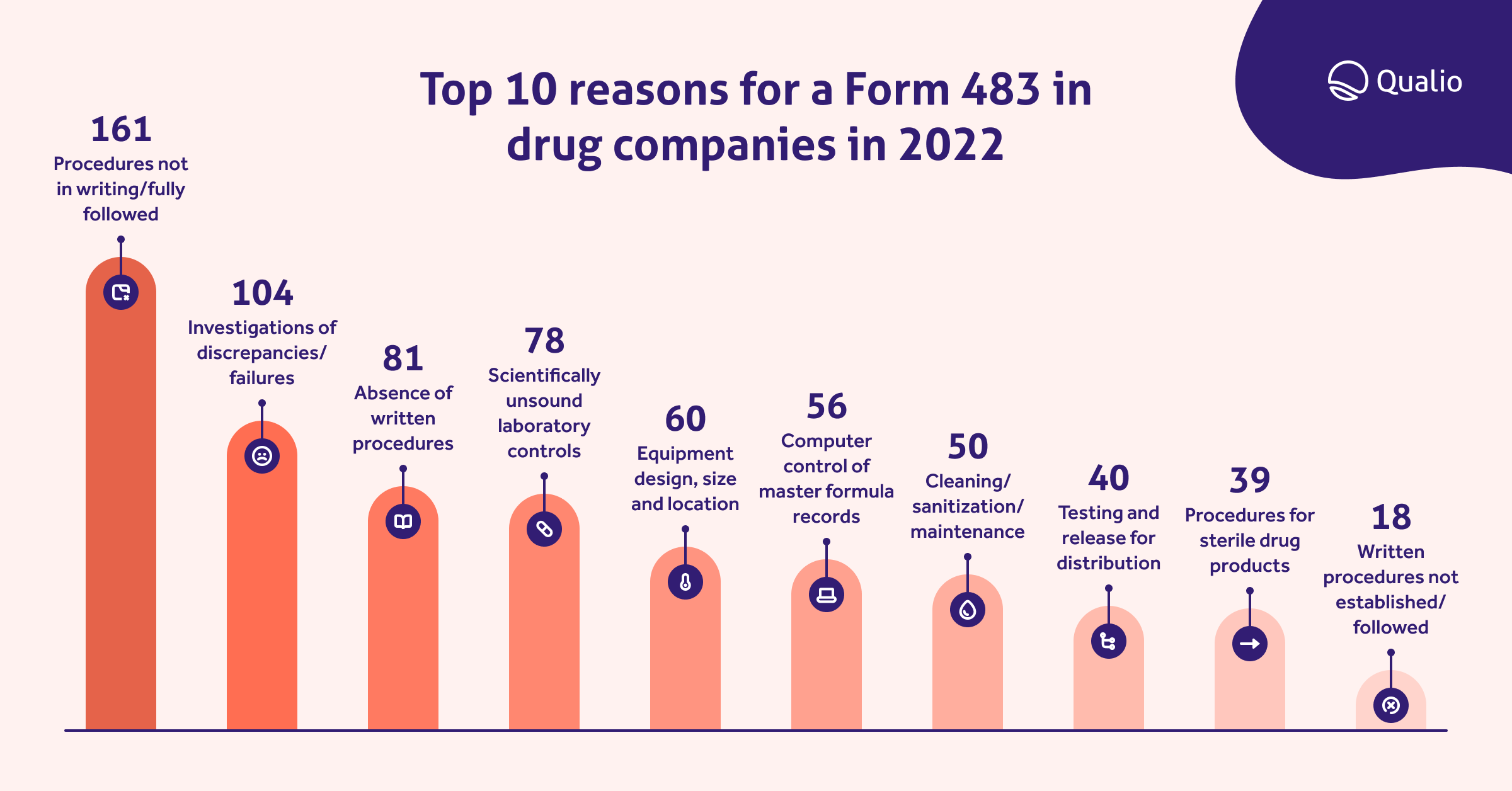 It's common for pharmaceutical start-ups and scale-ups to experience growing pains as they approach market approval. However, the best time to comply with current good manufacturing practices (cGMP) for quality isn't after you've failed an inspection, it's before you receive a warning. Your ways of doing things may seem to work until an FDA inspector uncovers issues that have been overlooked, such as a batch of maintenance records that weren't reviewed the week your lab manager went on vacation.
Fortunately, there's an easier path than just hoping for the best when an FDA inspector arrives on site. One way to ensure that a 483 doesn't show up in your mailbox is by understanding what the most common compliance issues in the pharmaceutical industry are so that you can focus on those areas.
Let's dive into some of the key recurring issues identified above.
1. Absence of written procedures or failure to follow written procedures
21 CFR 211.22(d)
"The responsibilities and procedures applicable to the quality control unit are not in writing or fully followed."

21 CFR 211.100(a)
"There are no written procedures for production and process controls designed to assure that the drug products have the identity, strength, quality, and purity they purport or are represented to possess."
In 2022, the FDA issued 161 citations for procedures not in writing or not fully followed.
Probably the most significant concern for anyone responsible for implementing, deploying, and maintaining a quality management system is effectively documenting procedures and work instructions that are easy to understand and execute.
FDA CFR directs that pharma organizations must create written standard operating procedures (SOPs) for production and process control. These SOPs must include all requirements for drug identity, strength, quality, and purity. SOPs should be reviewed and approved by the operational and quality control units. Organizations must document compliance with these SOPs and create a record with clear justification any time operations deviate from the SOPs.
In addition to noncompliance or issues of inadequate SOPs, analysis of 483 observations issued for CFR 211.100 in a recent year are often related to management and training. Excerpts from 483 letters have included the following language:
Your firm has not established appropriate written procedures
There are documented instances of failure to follow SOPs
Your firm's QC unit failed to approve procedures
SOP revisions are not documented appropriately
No records of cGMP training specific to SOPs
Both the GM and the Production Supervisor stated that they were unaware of [the SOP]
Your SOP [is] in English. However, one operator cannot read English
Many of these issues can be corrected with better transparency and workflows. An electronic QMS for pharmaceutical companies can enable the QC unit and production leads to collaborate more effectively throughout the approval and revision process and ensure all necessary records are updated.
RELATED READING: How to ensure your quality management system processes and procedures are compliant in 2023
Common SOP pitfalls
Clear SOPs aren't just a regulatory requirement, however. Strong procedures are a roadmap for quality. Consistent procedures lower noncompliance, deviations and ineffective data—but common pitfalls can get in the way of this.
Not collaborating
SOPs should be living documents. Creating and maintaining these documents should be a collaborative effort between the QC unit, leadership, and employees. It's not enough to pull together a document at the QC unit level and route it for necessary signatures. Employees should feel empowered to provide feedback and communicate.
Unclear roles and responsibilities
SOPs can be deliberately vague without mentioning specific roles. A document may say "the laboratory is responsible for" instead of "the laboratory manager." Clearly defined roles and responsibilities make it easier for employees to comply with quality processes, and it helps the QC unit link training activities to procedures.
Difficult format or language
SOPs shouldn't be a long, rambling document written in technical language. They should be clear, step-by-step instructions that show employees exactly how to complete a task.
2. Failures in laboratory controls
21 CFR 211.160(b)
"Laboratory controls do not include the establishment of scientifically sound and appropriate specifications, standards, sampling plans or test procedures designed to assure that components, drug product containers, closures, in-process materials, labeling or drug products conform to appropriate standards of identity, strength, quality, and purity."
Pharmaceutical companies received 78 citations for not having scientifically sound laboratory controls last year. Scientifically sound laboratory controls provide accurate, trustworthy lab data.
cGMP for sound lab controls includes:
Scientifically sound and appropriate specifications, standards, and test procedures
Monitoring the reliability, accuracy, precision, and performance of test procedures and instruments
Identification and handling of test samples
An FDA laboratory inspection focuses on both lab operations and raw data to determine whether a pharma organization is compliant with cGMP. You can expect an inspector to look at:
Lab records and logs
SOPs
Analytical procedures
Raw lab data
Lab equipment
Scientifically sound lab procedures are an enormous responsibility. Procedures, raw data, and management records are all necessary evidence of quality-driven operations. Raw data can tell a story about compliance and management, including instrument calibration, employee adherence to SOPs, and management investigations to find the root cause of operations.
RELATED READING: The 12 essentials of quality management in laboratory environments
3. Faulty production record reviews
21 CFR 211.192

"There is a failure to thoroughly review any unexplained discrepancy or the failure of a batch or any of its components to meet any of its specifications, whether or not the batch has been already distributed."
There were 104 observations in 2022 of pharma companies that didn't meet standards for the investigation of discrepancies or failures. CFR dictates that the pharma QC unit must review and approve all drug production and control records, including packaging and labeling records, to determine compliance with SOPs. If there is a discrepancy or failure, the QC is responsible for performing a thorough investigation and creating a report that includes conclusions and follow-up actions.
A clearly defined workflow for review and investigations is crucial to ensure nothing is omitted. There are numerous ways organizations can become noncompliant with CFR 211.192, which include:
Failure to review all logs
Downtime logs, cleaning logs, and clearance logs should all be subject to review
Procedural failures
Laboratory workers cannot review their own work or batch records
Lack of shared procedures
The QC unit and operations team should have a unified set of standards and SOP for batch record review to ensure there isn't any confusion around parameters.
4. Improper cleaning /sanitizing/maintenance
21 CFR 211.67(a)
"Equipment and utensils are not cleaned, maintained, or sanitized at appropriate intervals to prevent malfunctions or contamination that would alter the safety, identity, strength, quality, or purity of the drug product."
Poor cleaning accounted for a full 50 of the drug companies receiving a slap on the wrist from the FDA in 2022.
FDA CFR dictates that equipment and utensils are sanitized, maintained, and cleaned appropriately to prevent malfunctions or contamination. In other words, if your company is making medicine, then the FDA wants to ensure that you're working in a clean, sanitized environment.
SOPs should be followed for cleaning and maintenance, including:
Responsibility for cleaning
Maintenance and cleaning schedules
Detailed work instructions of methods
Protecting clean equipment from contamination
Inspecting equipment for cleaning before use
Maintaining records of maintenance, cleaning, sanitizing, and inspection
Analysis of 483 observations for 21 CFR 211.67(a) in one recent year revealed the following reasons for noncompliance at pharmaceutical organizations:
Maintenance activities have been performed "as needed" and logged on loose paper.
Forty-three of approximately 55 maintenance records weren't signed by the responsible employee.
Cleaning records were not reviewed and approved after tasks were performed.
SOPs failed to instruct technicians to record data for each maintenance activity.
Many 483 observations within this category result from visible maintenance or cleaning issues. Observations have cited equipment that is out-of-order or issues such as holes in a laboratory ceiling or rust that could compromise a clean environment. However, many result from improper procedures and aren't necessarily the result of a dirty lab. Frequent review of SOPs is necessary to ensure there are written procedures to protect drug quality and avoid contamination. Clear workflows in an eQMS can prevent the risk of activities that aren't reviewed or appropriately approved in compliance with cGMP.
5.Computer control of master formula records
21 CFR 211.68(b)
"Appropriate controls shall be exercised over computer or related systems to assure that changes in master production and control records or other records are instituted only by authorized personnel."
If a company doesn't have certain documents stored properly where anyone can access them and edit them, they could get a 483 letter as a result. In 2022, the FDA saw 56 violations of this.
Pharmaceutical companies need to have some documents that are only available to leadership and other key stakeholders to edit or approve edits to maintain the integrity of those files. Documents that need to be protected include anything related to drug development, data on clinical trials, and anything related to product quality.
RELATED READING: Guide to 21 CFR Part 11 compliance for clinical trials
When documents aren't protected from unauthorized edits, your critical records can potentially be compromised. Setting up track changes and approvals for edits within quality management system software can help prevent that and give companies a chance to stay compliant with this regulation. Plus, the software can easily display who changed what and when, showing clear audit trails for when the FDA comes to visit.
Other potential issues that could cause a Form 483 include:
Input/output verification:

21 CFR 211.68(b) says that the degree and frequency of this are based on the "complexity and reliability of the computer or related system."

Failing to backup data: The FDA regulates that a backup file should be maintained, except in certain cases where processes use automation. In that case, you'll need a written record and validation data.
Steering clear of pharmaceutical compliance issues
No pharmaceutical company wants its first interaction with an FDA inspector to result in a Form 483. While organizations who receive a 483 can correct non-compliance issues, receiving an FDA letter is a sign that your organization has overlooked important quality processes.
The costs of quality and operational issues which go uncorrected are much higher long-term than the costs of continually complying with FDA best practices.
Read 4 real (and scary!) life science quality management stories
Compliance issues in life sciences rarely result from wilful rebellion against cGMP.
Most commonly, organizations receive a Form 483 because something was overlooked.
Perhaps the lab manager forgot to review maintenance records after a week on vacation. Maybe lab employees lost the updated SOP and have been using an older copy at the point-of-work. Non-compliance issues are the result of broken workflows, collaboration, and simple human error.
Fortunately, you can avoid many of these common issues with better visibility and a digitized quality approach that supports quality-driven operations.
Work toward regulatory compliance with Qualio
Qualio is the first cloud-based electronic quality management system (eQMS) built specifically for fast-growing start-ups and scale-up organizations in the life sciences industry.
Our lightweight eQMS is designed based on the the latest FDA guidance, including FDA 21 CFR Part 820 and 21 CFR Part 11. Qualio offers easier compliance off-the-shelf, with simple features for end-to-end traceability, automated quality processes, and streamlined communications. Click here to schedule a demo and learn how Qualio can help you avoid an FDA 483 observation.