4 Things Pharmaceutical Startups Need for Document Management
Imagine this: your pharmaceutical company is close to receiving full FDA approval for your new drug—but then the FDA comes back to you with multiple document requests, and you're running on a system using Google Drive and word processing software. Searching for those documents could take hours, depending on how organized your filing system is. In some cases, documents are not able to be found or are filed in the wrong location.

To avoid a this situation, you may want to look into document management software for your pharmaceutical startup. Adopting a document management system (DMS) early in the planning process makes it easier to organize and file all of the documents needed for your business. This is especially important when you're working to launch a new drug since it's frequently a multi-year process with thousands of documents involved.

Not all document management software is designed for highly regulated industries, and a pharmaceuticals document management system needs to comply with 21 CFR Part 11. Choosing a DMS can be an overwhelming process for a pharmaceutical startup—check out our four tips for finding a document management system with the features you need.
#1: You'll need an audit-friendly DMS.
At some point, the FDA will perform an audit of your documents by looking at the audit trails and access control, which you can easily define with document management software like Qualio's. That means you'll need DMS software that can:
Log a record of who owns, reviews, and approves a document at any time
Create documents that can only be accessed by certain employees
Know when users log in or out
During the audit process, the FDA auditor will ask for an export of all your process documents and about a year's worth of any events, such as corrective and preventative actions (CAPA) and deviations. With Qualio, you'll get fast access to the documents, and the ability to have everything organized within the system through links and searches makes it easier on the audit team. You can also use tags, so you can can limit visibility to only certain documents, therefore, enabling an organization to allow direct access to the DMS to the auditor.

"As a customer, we had several audits where the auditor complimented our ability to get documents fast. Auditors can get frustrated or suspicious if it takes you a long time to get documents or records," said Amanda Inks, senior quality specialist at Qualio.

The ability for an auditor to access specific documents also eliminates the need to export documentation to paper or to a secure file transfer protocol. You'll also want a document management software where it's easy to see your process validation documentation, which needs to be done continuously, even after the new drug has gone through its final testing. Validation is done to ensure that your drug manufacturing processes continue to meet quality management standards, and the FDA auditor will ask to see this as well.
#2: Make sure your document management system allows for e-signatures.
DMS software with an e-signature capability will save your pharma startup from needing a separate platform like Adobe Sign or DocuSign. Electronic signatures can be biometric or a signature—so long as they are stored securely per 21 CFR Part 11 regulations.

Keep in mind that requirements for this can evolve at times, so make sure to choose a DMS provider that can evolve with you. For example, the FDA amended its guidance for e-signatures during the COVID-19 clinical trials to make it easier to conduct remote clinical outcome assessments.

As a new pharmaceutical startup, keep in mind that if you do decide to use e-signatures as part of your process, you need to ensure that you notify the FDA of your intent to do so.
#3: Get a DMS with customizable approval workflows.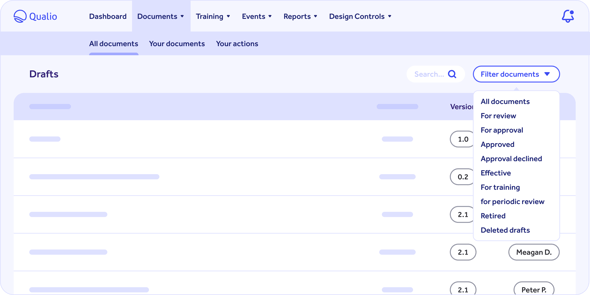 Pharmaceuticals document management, as in any other industry, should have approval workflows to streamline communication and offer visibility into documentation. Instead of an employee trying to chase down a manager to get them to approve a paper document, they can instead send their manager an automatic notification through the document management system.

After that document is approved, it's automatically routed to other team members who need to see it, allowing for any necessary collaboration and discussion across the company. This document management process also gives transparency to any document's status. If someone is holding up the workflow, you can quickly see who it is and remind them about it. This feature is critical in a pharma startup since time is a precious resource in a new drug development process.

But while most DMS software has some form of approval workflows, you don't want to get locked into a rigid system that doesn't align with how your company operates. With Qualio, you can create customizable and configurable workflows with the ability to check who has approved a document and to notify approvers and reviewers. You're also able to link events and documents to each other.
#4: Consider DMS software that is part of a larger quality management system.
Your pharmaceutical startup's approach to document management is just one part of your quality management system (QMS), so consider choosing QMS software with a DMS component where the whole system is designed to work together. Incorporating your document management into your QMS ensures consistency across your organization, whereas if you're using a Word document, anyone with access in an uncontrolled system can change the document. Make sure to also choose a DMS that allows for employee collaboration and real-time visibility into any errors, so your employees can work together to streamline CAPA.

Your DMS will also need to store multiple types of documents in order to work with your quality management system requirements, such as:
Documents for tracking employee training/learning management
PDFs with the quality policy and objectives so it's visible to everyone who touches the quality management process
Spreadsheets to show outcomes of clinical trials
If you don't have a DMS built into your quality management system, the validation process can be complicated at times. With all those different types of documents, it can be more difficult to go through the process if you don't have a DMS that regulates your documents. Quality management systems require validation for the flow of events and documents. With a template-based DMS, it's easier to make adjustments when they're needed during the validation process.

"Once it [validation] is set, it requires a lot of resources to change and revalidate," Inks said. "With Qualio being template-based, it is easy to just revise the SOP and then make the templates match."

With Qualio's DMS, you can choose templates and modules that are easily changed at any point. Also, Qualio offers access to Qualio Plus and regulatory experts who will help you in any stage of the process, from the beginning startup phase to full FDA approval.
Get a document management system with the tools your pharmaceutical startup needs.
With Qualio, you don't just get a document management system with document control, automation, and more. You also get a quality control management system that gives your life sciences company everything it needs to be successful. We work with pharma startups, others in the pharmaceutical industry, and medical device companies to help them bring their processes, data, and teams together. This holistic approach lets teams work as efficiently as possible, from preclinical development all the way to FDA approval and post-market activities.
Check out our document management solution by scheduling a demo with one of our specialists.
Just starting or early on in your quality journey? Get helpful tips and fascinating insights from experts straight to your inbox.