Pharmaceutical quality management software (QMS): our top picks for 2023
Looking at pharmaceutical quality management software for your company?
Is your manual, paper-based quality management system driving you crazy?
Not only is the old school method a headache, but it's also likely causing you quality issues because of its ineffectiveness.
While it's technically possible to meet regulatory requirements from the FDA and other agencies using paper and spreadsheets, it's not easy.
Pharmaceutical start-ups and scale-ups frequently assume that delaying eQMS adoption is the best approach and that it's easy to manage early requirements for documentation and training using paper.
We've seen companies make this mistake hundreds of times, and it's one of the reasons Qualio will help your organization move from a paper-based QMS to our cloud eQMS platform for free.
But, let's not get ahead of ourselves. We might not be the best fit for your company.
Let's take a look at the best pharma QMS software options for your company - and, briefly, touch base on what pharmaceutical quality management software actually is. Finding the right-sized pharmaceutical industry software system is critically important, so we'll provide you with reviews from real users and insight into who is best served by each of these leading options.
Table of Contents
What is pharmaceutical quality management software?
Quality management system software for pharmaceutical companies is designed to solve a critical and ever-increasing need.
Pharmaceutical companies using paper and spreadsheets to manage key quality activities like document control or corrective and preventive actions (CAPAs) are finding their old legacy tools creaking and unable to keep up with modern quality and regulatory demands.
Qualio's annual life science quality trends report found over a third of companies still using outdated paper- and spreadsheet-based quality systems, rather than pharmaceutical industry software.
As a result, the majority lost at least a quarter of their working days to non-value-add admin tasks like producing reports and filling in spreadsheets.
This draining maintenance of compliance with key pharma standards like ICH Q10 or GxP means pharma quality professionals often have little time for more proactive, holistic quality work. The risks of quality failures and - even worse - product recalls and drug shortages can't be adequately treated.

Pharmaceutical QMS software saves adopters time and money by centralizing, digitizing and automating the pharmaceutical quality system (PQS) in key areas.
eQMS software for pharmaceutical companies offers functionality for:
These electronic quality management systems (eQMS) accelerate and standardize quality tasks with digital guardrails and workflows that ensure consistency and visibility.
Leaky, uncontrolled information flows living in Dropbox folders or filing cabinets are replaced with a single source of digital truth anyone in the business can support and access with ease.
By moving their quality systems into dedicated pharmaceutical QMS software, pharma quality professionals can therefore rid themselves of time-consuming 'upkeep' compliance-based tasks and free up time to focus on continuous quality improvement and risk management.
Incidentally, this shift is something the FDA CDER is very keen to see - as the launch of its Quality Management Maturity program in 2022 demonstrated.
And as a 2019 FDA report put it:
Many pharmaceutical manufacturing firms have focused their efforts on compliance with cGMPs, which include standards for material systems, equipment and facilities, production, laboratory, packaging and labeling, and a quality system.

These standards, however, are foundational and set a minimum threshold that companies must achieve in order to be allowed to supply the U.S. marketplace. They do not include more advanced levels of quality management...
In short: digitizing your PQS with dedicated eQMS software and pharmaceutical compliance management software is your gateway to the faster, smarter and more proactive quality approach that regulators now expect to see.
Rather than filling in spreadsheets and chasing employees for signatures, pharmaceutical eQMS users get to do what they entered the profession to do: pinpoint weaknesses and problems with full visibility, then fix them to make their companies stronger and sharper than they were before.
RELATED READING: ICH Q10 pharmaceutical quality system: what is the role of an eQMS?
With that in mind, let's take a look at the best pharmaceutical quality management software systems on the market in 2023.
The 6 best pharmaceutical quality management software options
The best pharmaceutical quality management software option for your company isn't necessarily the best for everyone else.
There's no such thing as an objectively 'best' pharmaceutical compliance management software approach, and anyone who tells you otherwise is mistaken. The 'best' solution for a start-up is not the 'best' solution for a giant pharma enterprise with a market portfolio that contains hundreds of approved drugs. The optimal option is highly subjective and should be tailored to your firmographic profile.
What's the best pharma QMS software choice for you, then?
Aside from compliance and functionality, the right pharmaceutical industry software solution should be tailored to your company's size, including users, talent resources to administer the software and your budget. It should fit your needs and goals, whether your goals are rapid growth and scaling or global control.
Not every pharma QMS software system fits every use case, which is why your search for the right solution should include an evaluation of your own needs.
Qualio is a cloud-based pharmaceutical quality management software system designed specifically for the needs of start-up and scale-up businesses.
Qualio offers an intuitive user experience and rapid implementation with a clean, flat UX design that's built to scale with your company.
Qualio is designed to provide a holistic pharmaceutical quality management system, from controlling documents and training to managing suppliers and quality events like CAPAs, out-of-spec investigations and deviations.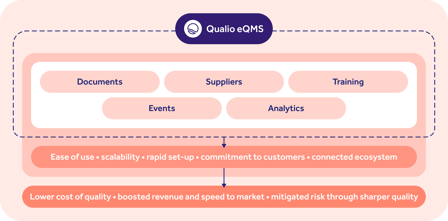 System functionality is coupled with a long-term partnership approach, with help, guidance and support provided as needed by the customer to hit their success goals.
Companies with limited in-house pharmaceutical industry expertise can also leverage the expert support of the Qualio+ team, with guidance and pre-built system document templates for key PQS components like:
SOPs
Good Laboratory Practice (GLP)
Supplier management
Current Good Manufacturing Practice (cGMP)


Users on Capterra report high satisfaction with Qualio's ease-of-use, holistic functionality and close customer support.
Real eQMS pharma customers say this about Qualio:
"The perfect eQMS for a start-up. Everything, from validation to migration and training, was a positive experience."

Drew M., Director of Quality, ECM Therapeutics
"When I recommend to Qualio to people, the first thing I say is: you're going to be able to get this thing in-house, validated, implemented and live in a short amount of time with limited resources.

That's unique in this industry."

Becki N., Quality & Regulatory Lead, Synthego
"The Qualio team made a big difference to our company by providing amazing help and guidance at a critical time in our QMS development."

Jackie L., Managing Director, Auxilio Pharmaceuticals
Qualio could be the best software for pharmaceutical start-ups or scale-ups trying to evolve their quality systems into a paperless, cloud-based platform.
And if you need expert pharma industry support as well as a standalone pharmaceutical compliance management software product, Qualio+ could be the perfect solution.
If your paper-based solutions are inhibiting your aggressive growth goals or compliance visibility, Qualio can provide a fast track to cloud-based value.
Schedule a demo of Qualio to see us in action!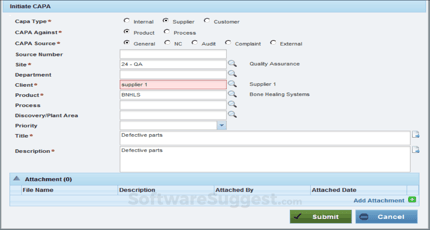 SmartSolve is a Pilgrim QMS product produced by Iqvia, a global software firm.
This pharmaceutical compliance management software solution is designed to 'automate and simplify' common quality management challenges in the pharmaceutical vertical.
This includes a product focus on managing risks which occur across the quality environment, document control processes, regulatory climate, and supplier network.
The product is built with workflows for managing documents and processes and includes support for compliant eSignatures, audit trails, and dashboards.
Pricing for Pilgrim is not provided online by the vendor, and limited third-party pricing data is available online. One third-party source reports Pilgrim pricing starts at $542 per one-time user license.
The client portfolio includes many prominent global life sciences enterprises, including Abbot, the American Red Cross, the Centers for Disease Control (CDC), and Medela.
User reviews on Capterra praise Pilgrim for its status as an "industry leader for quality applications," including advanced enterprise planning capabilities. Other reviewers note the vendor provides "clear, organized" documentation for system admins.
Other users report a need to attend in-person training classes such as an Administrator Bootcamp offered by the vendor to understand the complex system fully. Also, users say that their organization's version isn't "streamlined" since they haven't adopted all the available modules.
Pilgrim may best serve your company if you're a major global enterprise with the resources to dedicate one or more full-time system administrators to become experts in the in the QMS software.
Users are most satisfied with the "full off-the-shelf version," which is another indicator that Pilgrim is the best fit for global enterprises who need full pharmaceutical industry software functionality for post-market approval processes.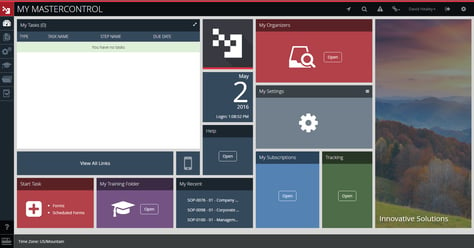 MasterControl solutions are a well-known name in enterprise quality management software for the life sciences industry. Adopting organizations include five of the largest regulatory agencies in the US.
MasterControl's mission is to create software-as-a-service (SaaS) products which help pharma and life sciences organizations bring products to market faster with solutions for the entire pharma lifecycle. Cloud-based tools include document management, training, CAPA, validation, and more.
Limited pricing data on MasterControl is available online, although one third-party source says the pricing per user license starts at $1,000 per month.
The vendor also offers specialized pricing packages for small businesses which are significantly cheaper, but these small business subscriptions can offer significantly limited functionality.
For example, the "Basic" small business package priced at $109 per user per month provides access only to document management and PDF capabilities with no support for training, audits, or risk management.
One full-time system administrator for MasterControl at a large government agency reports high satisfaction with the system and notes the agency always receives "high marks for system" during audits. Other users report high satisfaction with the speed and availability of MasterControl's customer support.
Users also note a particularly "steep" learning curve, noting "this is not a drag-and-drop, push-to-install software. You need a trained System Administrator."
Other users report struggles with the high degree of system flexibility, and a need to fully retrain staff on how to use the software every two years.
MasterControl may be the 'best' option for your organization if your quality management processes and requirements are intensive enough to justify appointing a full-time system administrator, and you have the resources to commit to an intensive implementation and staff training.
MasterControl is widely-adopted by agencies and enterprises who need comprehensive enterprise software. While the brand offers small business solutions, these lower-priced options must still be configured and come at the cost of functionality.
FREE GUIDE: The perfect quality assurance plan for pharmaceutical companies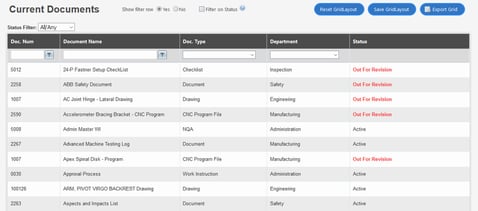 QT9 is a quality management software system for enterprises looking to comply with ISO 9001, ISO 13485, and FDA current Good Manufacturing Practice (cGMP).
The brand offers both cloud and on-premise deployments, and advertises a 'user-friendly application'.
QT9 features are designed to fit full pharmaceutical compliance management software requirements in the pharmaceutical industry. The vendor does not provide data on product pricing, and no reports of pricing are available on third-party review websites. However, QT9 is generally priced and sold according to a SaaS subscription model.
While QT9 offers built-in support for the regulatory requirements of organizations in the pharmaceutical industry, it's not a QMS which is specially designed for the life sciences. The vendor serves organizations in less highly regulated industries, as well as customers in pharma.
User reviews on Capterra reflect QT9's adoption at manufacturing, packaging, and food organizations, with one user reporting "QT9 is more expensive than the cheaper brands."
Adopters report satisfaction with the tool. One user from a small valve manufacturing organization stated: "it's definitely a step up from using spreadsheets!" Other users report a positive experience with QT9 sales and customer support teams.
Users report dissatisfaction with the product being "stiff" and painful to customize, including a lack of functionality for custom reporting.
Other users discuss complicated, time-consuming document management workflows, including slow document uploading and a lack of functionality for custom notifications. The system does not support text-based searches for documents.
QT9 may be the right fit for your organization if you have a limited desire for flexibility in your pharmaceutical industry software, and minimal document management needs.
While QT9 is built for life sciences compliance, it may not be sufficiently flexible to handle the demands of organizations who are subject to various regulatory requirements. It may also not provide sufficient search functionality or streamlining for organizations who manage a high volume of documents.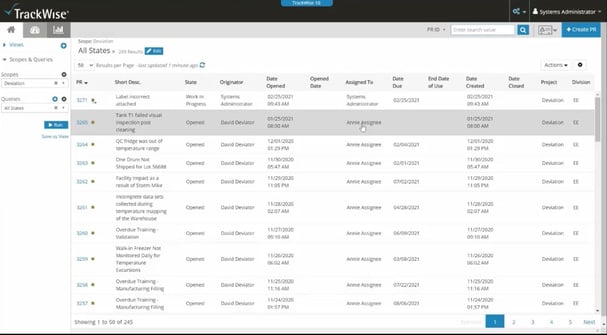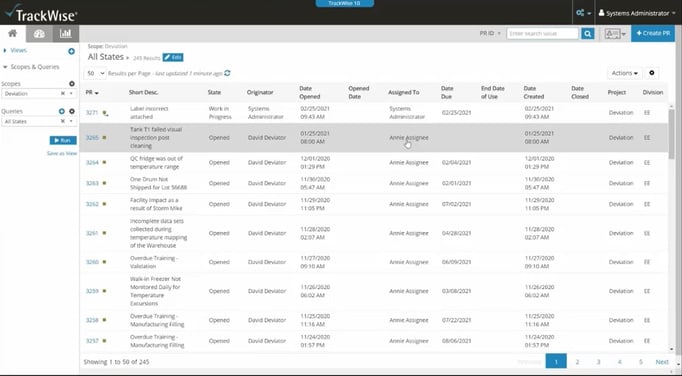 Sparta Systems' TrackWise is designed for organizations subject to GMP requirements, including pharma companies.
Since it's designed and priced for larger enterprise organizations, TrackWise offers the potential to integrate into a complex pharmaceutical software ecosystem, including real-time integration with ERP, CRM, laboratory information management (LIMS) and manufacturing execution system (MES) applications.
On the flipside, the large product curriculum in its Sparta Academy suggests a complex product that takes time to grasp and apply. Not only that, the lack of specific pharma, or even life science, industry focus from the vendor means there's little opportunity to access any niche industry help and support.
If you're a large pharma operation with a budget to match, TrackWise could offer a strong and holistic pharma eQMS platform for you. And since it's built on the Salesforce platform, long-term users and champions of Salesforce might prefer this pharmaceutical compliance management software option.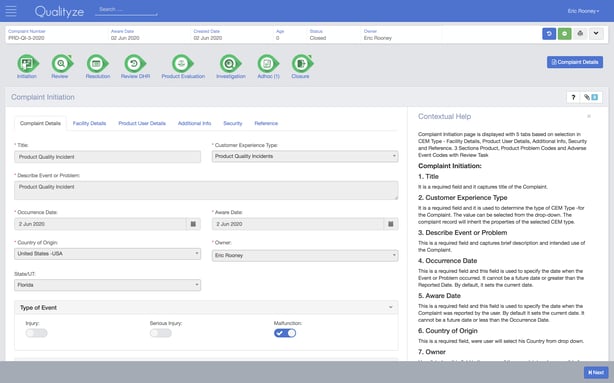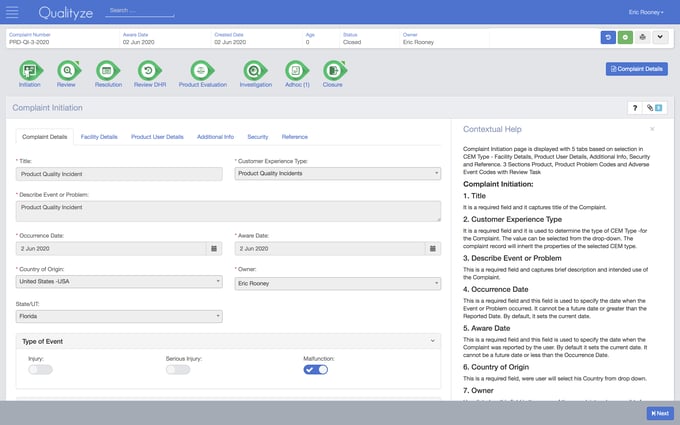 Qualityze is a modular eQMS with 16 different sections.
This closed-loop software includes a full range of eQMS features for managing documents, non-conformances, customer complaints, suppliers, audits and other activities required to comply with FDA cGMP, Pharmaceuticals and Medical Devices Agency (PMDA) and Therapeutic Goods Administration (TGA) demands.
Like TrackWise above, it's built on the Salesforce platform - but Salesforce is its only integration option.

It's also a fairly fixed and rigid platform, more suitable for larger established pharma operations than scaling and evolving businesses.
How to transition from a paper-based QMS to pharma QMS software
If you're considering making the transition from a paper-based QMS to a cloud pharmaceutical compliance management software system, you've probably already experienced dissatisfaction with your current way of doing things.
Chances are you want to adopt a cloud-based eQMS pharma approach which can be implemented quickly and painlessly, so you can begin driving quality and value with your new system as soon as possible.
You're most likely to achieve this result by prioritizing pharma QMS vendors who specialize in solutions for small-to-mid-sized businesses and companies with a proven track record of helping companies get off paper.
Evaluate vendors to determine which pharma QMS is the best fit for your size, stage, and budget.
Ask prospective vendors for customer success stories at organizations that resemble your own.
Prioritize potential software providers who offer high-quality onboarding services and seamless implementations to begin driving value with a cloud QMS as soon as possible.
And then...
Start booking demos, and use our guide to the '12 questions to ask before you buy an eQMS' to help you pinpoint the perfect pharmaceutical quality management software!