What is GxP in pharma?
If your organization operates in the pharmaceutical industry, encountering GxP quality requirements is unavoidable.
In fact, embedding strong and repeatable GxP is a critical hurdle to jump in order to bring safe and effective drugs to patients.
So what is GxP in pharma? And what does GxP pharmaceutical compliance entail? Read on to learn more.
What is GxP in the pharmaceutical industry?


Like it or not, acronyms or abbreviations for referring to a lengthy, complex title are a way of life in 21st- century life science.
Depending on which organization you belong to, the same abbreviation can have many different definitions.
This blog post will clarify the more common GxP guidelines along with understanding why it's important for your organization to comply with them.


What does GxP stand for in pharma?


In the pharmaceutical industry, GxP collectively refers to Good 'fill-in-the-blank' Practices, which refers to a specific set of quality guidelines and regulations that are followed.
These guidelines are used to ensure that pharmaceutical products manufactured for clinical and commercial use are safe, effective, and meet high-quality standards across the product lifecycle.
While all guidelines cannot be listed here, the following guidelines are most common.
They include Good Manufacturing Practice (GMP), Good Laboratory Practice (GLP), Good Clinical Practice (GCP), Good Distribution Practice (GDP), Good Documentation Practice (GDocP), Good Pharmacovigilance Practice (GVP), Good Storage Practice (GSP) and Good Engineering Practice (GEP).


Overview of GxP pharmaceutical concepts
Now we've touched on what GxP means at a high level, let's explore those most common GxP subsets in more detail.

Good Manufacturing Practice (GMP)


Good Manufacturing Practice provides the minimum requirements for the production, control and distribution of pharmaceutical products.
It covers facility design, validation, and maintenance, personnel training, documentation, quality control, equipment validation and maintenance, product testing, product release, analytical method validation, process validation and transfer.
Complying with GMP is not optional and ensures that drugs are consistently produced and controlled according to quality standards.


Good Laboratory Practice (GLP)

Good Laboratory Practice establishes a system of quality assurance for non-clinical laboratory studies conducted during drug development.
It involves protocols for the design, conduct, monitoring, recording, analysis and reporting of experiments and ensures the reliability, integrity and validity of the data generated in laboratories. It also ensures that animals used in research are treated humanely.

Good Clinical Practice (GCP)

Good Clinical Practice is a set of internationally recognized ethical and scientific quality standards for conducting clinical trials.
It defines the roles and responsibilities of clinical trial sponsors, investigators and monitors. They also ensure the protection of participants' rights, safety and wellbeing during clinical trials while generating reliable data on the investigational drug's efficacy and safety.
FURTHER READING: What is ICH E6 R2? Good clinical practice explained

Good Distribution Practice (GDP)

Good Distribution Practice provides a set of standards for the sourcing, handling, storage and transportation of drug products for human use, including their active ingredients.
Wholesale license and authorization holders must comply with GDP to ensure the quality, safety and security of medicinal products throughout the pharmaceutical supply chain.


Good Documentation Practice (GDocP)

Historically, Good Documentation Practice was commonly abbreviated to GDP.
But currently, it's recommended to abbreviate it as 'GDocP' to distinguish it from Good Distribution Practice.
This guideline describes standards for document creation and maintenance. While some GDocP standards are codified by various competent authorities, others are not but are considered part of cGMP ('current' good manufacturing practice).
While not law, authorities will inspect against these guidelines and cGMP expectations in addition to the legal requirements and make comments or observations if departures are seen.
GDocP is also expanding to the cosmetic industry, excipient and ingredient manufacturers.

ALCOA+ is a useful acronym to follow to ensure you're meeting all the key attributes of GDocP. Your documentation and data should be:
Attributable to specific staff members via audit trails and e-signatures
Legible for internal reference and audits, as well as regulatory inspections
Contemporaneous so that data is recorded at the time that work is performed
Original, and retained in the format in which they were originally generated
Accurate, using a system that minimizes errors, ensuring that raw data and analytical results are correctly presented
Complete, making sure everything is included, and nothing is missing
Consistent, based on a system that enforces use of approved data acquisition and analysis methods, reporting templates, and laboratory workflows
Enduring, using media that ensure records are maintained and protected
Available, so that records are accessible as needed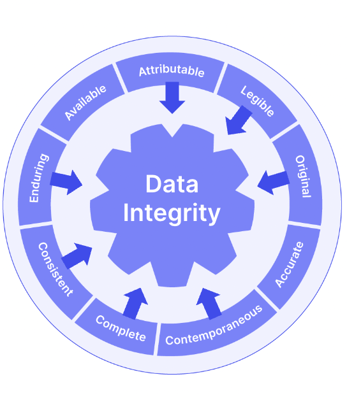 Good Pharmacovigilance Practice (GVP)

Good Pharmacovigilance Practice, also referred to as GVP, are guidelines for pharmaceutical companies to follow to help prevent harm to humans caused by adverse drug reactions (ADRs) from approved pharmaceutical drugs.
Though they can vary slightly from one country to the next, they help ensure:
The safe and effective use of pharmaceutical products
The delivery of timely information about the safety of medical products
Evaluation of observational data on pharmaceuticals, including drugs and medical, excluding blood components
Guidance on the conduct of pharmacovigilance for specific product types or populations in which medical products are used


Good Storage Practice (GSP)


Describes the special measures considered appropriate for the storage and transportation of pharmaceuticals. They may be adapted to meet individual needs where necessary, provided that the desired standards of quality are still achieved.
The guidelines are applicable not only to manufacturers of medicinal products but also to pharmaceutical importers, contractors and wholesalers, and community and hospital pharmacies.
They should be adjusted in line with the type of activity where the storage of pharmaceuticals is taking place. National or regional regulations should be followed for all related activities.


Good Engineering Practice (GEP)


GEP is the combination of standards, specifications, codes, regulatory and industrial guidelines as well as accepted engineering and design methods intended to design, construct, operate and maintain pharmaceutical and/or biotechnology facilities, taking into account not only regulatory compliance but also safety, economics, environmental protection and operability.
Standards and specifications are provided by recognized sources, such as established engineering and architectural contractors as well as pharmaceutical companies. Codes are provided by local, state or federal jurisdictions and/or insurance companies.

Importance of GxP compliance in the pharmaceutical industry


Compliance with all your applicable pharmaceutical GxP regulations and guidelines is everyone's responsibility and is critical to ensure pharmaceutical products are safe and effective for end patients.
Implementing a phase-appropriate pharmaceutical quality system is the best way to embed the necessary GxP pharmaceutical processes and procedures throughout your entire product development lifecycle.


Pharma GxP compliance strategies

Although there are many ways to embed GxP compliance in the pharmaceutical industry, staying up-to-date with training and using best industry practices will help your business stay aligned with your GxP guidelines.
Ensuring you have enough experienced personnel to perform in all areas within the GxPs is critical to do things right the first time and prevent issues from emerging.
Engaging both GxP expert consultants and suitable GxP quality tools to build an effective pharmaceutical quality system and automate common manual processes is the best way to make GxP pharmaceutical adherence natural, efficient and automatic in your company.
FURTHER READING: Guide to GxP compliance: processes, challenges and tools


Examples of GxP records in pharmaceutical industry

There are numerous GxP records that are generated within the pharmaceutical industry.
They include product batch records, facility and equipment files, non-clinical and clinical study protocols and reports, along with all supporting data generated during these activities. They all must be created, revised, handled, maintained and destroyed according to GDocP.

Following GDocP is critical to ensure data integrity throughout the product development lifecycle. Major decisions are made based on all data generated to support regulatory filings long before the filings are submitted for approval, so it's best to start complying with GDocP for any data that could potentially be used to support a regulatory filing.
Many times, when early data is generated, it's not known whether it will be needed. So it's best to comply with GDocP early in development.
GET YOUR GUIDE: Why your life science business needs electronic document management
In summary, GxP pharmaceutical compliance is important because pharmaceutical products greatly affect public health, and regulatory authorities expect firms to go beyond the minimum expectations and stay current with industry standards.
Any mistake in any part of the development, manufacturing, storing, shipping and documenting these activities can cause drug shortages, delays, and even the introduction of counterfeit or dangerous medicines into the market. Product traceability can be a huge factor during official investigations of quality issues or incidents involving pharmaceutical products.
Below is a diagram of the product development lifecycle that shows where the key pharmaceutical GxP regulations can be applied along the continuum.