Reviews of the Top Quality Document Control Software Options in 2020
Will the right quality document control software solve your quality management problems?
Document control issues can cause, at best, headaches for your team, and at worst, the downfall of your company and some "quality" time for the founders behind bars.
So, getting the best quality document control software in place for your team is crucial. But how do you know which options to shortlist?
It's always best to lean on industry pros, and since we've been helping life sciences startups and scale-ups succeed for several years now, we want to show you some of the top names in the business. 4 of the Best Quality Document Control Software Options, Reviewed
You're looking for the best document control software options of 2020, and that's exactly what we do. As an enterprise Quality Management System (eQMS) for life sciences companies with 5-500 employees, document control is one of the pillars of our software. If you're in that sector, you might want to schedule a demo to see our document control features in action. (Note: Our demos don't use the standard fly-through-the-features style. We want to really make sure we're the right fit for you, so we dive deep into what you need to make sure we can fill those gaps for you.)
We know we're not the best fit for every organization, and it's important for you to do your due diligence before making a decision. So, we've put together a list of some other good vendors that you should check out.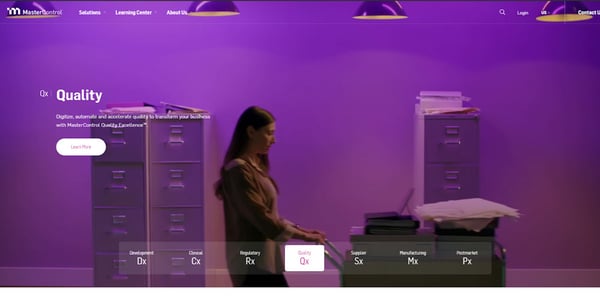 Best For: MasterControl is best-in-class if you're a mature life sciences company with a huge system to run and a large budget to run it with.
G2 Crowd Rating: 3.7 out of 5
G2 Crowd Most Helpful Positive Review: "The best part is having the ability to draft new revisions easily and add people to the workflow." - Whitney K., Administrator in Biotechnology
G2 Crowd Most Helpful Negative Review: "It only works with Internet Explorer and it is very slow loading. You have to be exact in your search or it will say no results. For instance our document titles include a space and if the space is not included then there will be no returned search results." - User in Biotechnology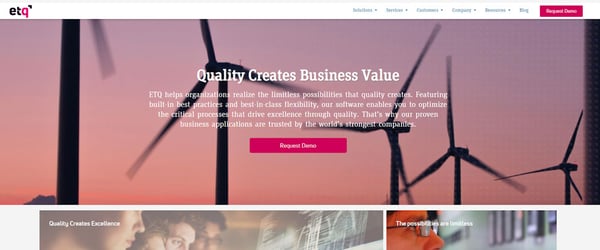 Best For: ETQ Reliance is best for mid-sized to enterprise-level companies in all industries.
G2 Crowd Rating: 4.1 out of 5
G2 Crowd Most Helpful Positive Review: "It is very easy to use and can easily be configured in order to meet our business needs. ETQ Reliance does not confine us to a system that everyone "must" use. Differences can be accommodated, thus making the user's experience a pleasant one." - Mouhamadou Ndiaye, User
G2 Crowd Most Helpful Negative Review: "The interface is not very intuitive. For example, when making an entry, the "save and close" is where a submit button would typically be. This does not move the submission forward. You must instead hit the submit button at the top of the page." - User in Plastics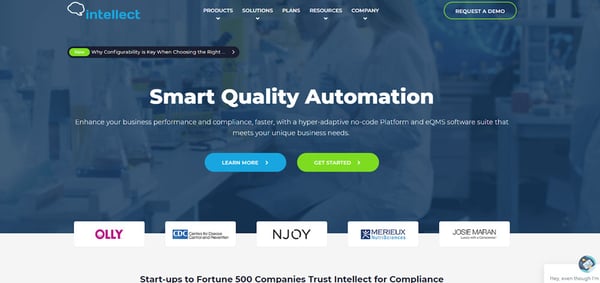 Best For: Intellect is best for midmarket enterprise companies in the medical device industry.
G2 Crowd Rating: 4.3 out of 5
G2 Crowd Most Helpful Positive Review: "No programming or scripting language required. Fast deployment. Build mobile apps that tie into workflows." - George Kings, Executive Sponsor in Information Technology and Services
G2 Crowd Most Helpful Negative Review: "customer service is up and down, sometimes good and sometimes less so" - User in Biotechnology
RELATED READING: 9 Helpful Document Control Tips You Can Implement Right Now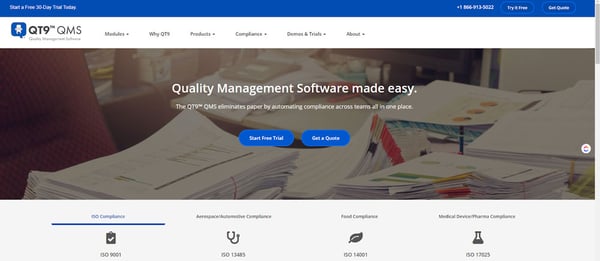 Best For: QT9 is suitable for businesses of all sizes that are in highly-regulated industries.
G2 Crowd Rating: 4 out of 5
G2 Crowd's Only Review Liked: "I love that QT9 keeps track of changes that have been made and who made them. I also like how organized it is." - User, Small Business
G2 Crowd's Only Review Disliked: "I wish the UI was a little cleaner. The tabs at the top have drop-down menus that will come down quickly if you move your mouse in that general direction too fast. So, if I want to click on something within the same page I am on, I have to wait a few seconds after the drop down menu goes away or it drops down very quickly and I end up clicking out of the page." - User, Small Business
Which Quality Document Control Software Option Is Best for You?
Choosing the right document control software isn't just about comparing features, vendors, and pricing. It's important to take a step back from the research and think about what you really need.
How does your business work?
What are the gaps that you need to fill to reach your quality goals?
What areas of document management are causing you the most trouble right now?
Make a list of the questions that you have for the different vendors you're considering. If you need help, check out our 12 Questions to Ask Before You Buy an eQMS.
Consider the departments and stakeholders that will be involved with successfully transitioning to a document control software — what questions do they have?
When you have thought through all of these points, schedule a free demo with each vendor. Ask your questions and understand what the transition period and implementation process will look like.
The Final Migration From Paper to eQMS
Transitioning from comfortably chaotic paper-based systems to a shiny new electronic quality management system (eQMS) can be emotionally charged.
Some people in your company will be on board for the shift and will happily do what it takes to ensure everything goes smoothly. Others will cling desperately to familiar systems and will be harder to convince.
We understand the challenges that you face, and we're here to help you every step of the way as you get up and running. Our client success team migrates startup and scale-up life sciences companies to our eQMS in an industry-leading 60 days.
We've compiled some of our best success tips into a guide that will reveal the process and share some insights to help you shepherd your team through the change as smoothly as possible. Download your copy of How to Migrate From a Paper-Based Quality Management System to QMS Software today and get prepared.