The FDA's approach to digital health technology (DHT) is changing. That's a big deal.
In December 2021, the FDA revealed its draft guidance on "Digital Health Technologies for Remote Data Acquisition in Clinical Investigations".
Digital Health Technology (DHT) - computerized hardware or software applied for healthcare - is skyrocketing within the industry and making its presence increasingly felt in quality and compliance regulation.
I've taken a look at the FDA guidance to pinpoint what's new, and what it means for clinical sponsors and DHT manufacturers.
The importance of DHT
The FDA's new draft dovetails with the medical device software guidance it released in November, and shows a broader push from the FDA to sharpen and refine its stance on digital life science technology.
More specifically, this new guidance reflects the increasing digitization and decentralization of the clinical trial process, and the increasing application of hardware, SaMDs and SiMDs to help clinical organizations make stronger, more data-driven decisions on the route to market.
DHTs are unlocking deeper and more continuous collection of feedback from clinical trial patients. Biometrics can be monitored for trial participants across countries and continents, while electronic patient-reported outcome (ePRO) devices allow experience data like reactions and pain levels to be submitted by the patient through user interface 'wearable' actigraphic technology like digital watches.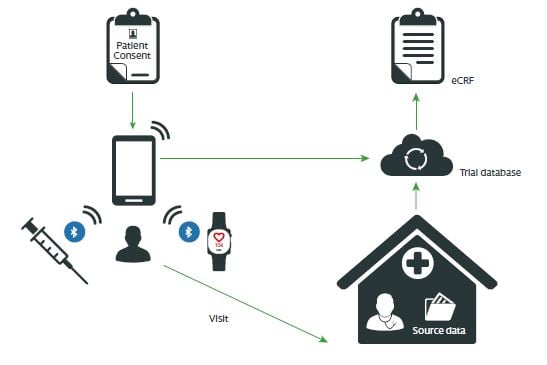 The modern, digital, decentralized clinical trial
The draft guidance
So why does the FDA's new draft guidance matter?
Any time the Agency clarifies its position - especially considering how old its published stances are where technology is concerned - is for me a huge leap forward.
In the absence of a clear position, and being forced to read between the lines of legacy guidance from a decade or more ago, quality professionals have been naturally tending towards the most conservative approach when bringing clinical trial data capture technology to market: finding the most cautious guidance they can and stretching it to their own operation.
That can mean TONS of paperwork, some of it unnecessary, to document every single little thing associated with your clinical DHT device. It also means quality people making more work for everyone, as they guess at the requirements and try to extrapolate what they think the FDA will expect to see.
The direct guidance of the FDA's draft is the first step to a more appropriate, tailored and less burdensome approach to DHT quality development - which should simplify and quicken the pathway to market.
Top tip: a sensible risk-based approach is key, with DHT and any other life science product.

Being overly cautious and conservative takes undue time and money from your company AND perpetuates the negative image of quality management as a tiresome blocker on innovation.

Not everything is high-risk and shouldn't be treated as such.

Clarification from the FDA with this draft should help to start remedying this approach.
Now, manufacturers of DHTs intended for use in a clinical trial supporting an FDA marketing authorization should start with the core principle of proving their device is 'fit for purpose' with an appropriate level of validation.
That means recording basic device information and usability features, and documenting the clinical endpoints that the DHT's data will be used to measure.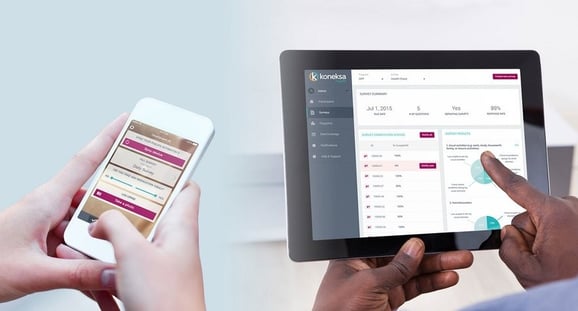 Qualio customer Koneksa provides wearable and biosensor technology to clinical trial sponsors to empower them with real-time patient data
One of the most significant things of note is the FDA's insistence that, since a DHT is not necessarily a medical device under the definition of the Food, Drug & Cosmetic Act, the guidance's definition of verification and validation should not be seen as synonymous with the definition seen in 21 CFR Part 820.3 or in the 2002 General Principles of Software Validation.
Rather, your V&V activities should focus on ensuring 'fitness for purpose', and the guidance in Section IV (C) is helpful enough in laying out different ways of doing so for sensor-based DHTs, DHT software, general-purpose computing platforms, and so on.
The overlap between DHT and medical device is interesting: although most DHTs continue to be exempt from requirements like premarket clearance and approval, 'significant risk' DHTs will require an investigational device exemption (IDE) process to be completed.
High-risk clinical trial DHTs would include:
Devices implanted within the body

Devices substantially important in diagnosing disease

Devices which pose any serious health/safety/welfare risks



The emphasis on DHTs being 'fit for purpose' removes a significant barrier to the use of DHT by clinical sponsors too, and the guidance lays out a section on technology selection for clinical trials - including design analysis and comparison with existing tools.
The recommendations in the rest of the FDA draft are, ultimately, what I'd expect to see.
Some top tips from the guidance are:
Use solid risk assessment to support your use of DHTs

Include the use of DHTs in your informed consent process

Consider the security and privacy of the subject's data

Plan for data collection and storage as part of, and after, the trial

If software updates are involved in the DHTs, ensure processes are established to verify data integrity, or restrict updates if possible.
The last couple of points concerning data are particularly significant; as digital healthcare expands, we can expect the FDA's scrutiny of adjoining data processes to get even sharper. Consider building ISO 27001- and GDPR- compliant data management processes if you haven't already.
The bottom line

The draft guidance predicts a new digital facet of clinical healthcare and will help trigger it.

DHT manufacturers - and their potential customers - finally have a clear set of trusted guidance to align around, and this removes a major obstacle to the lift-off of digital health technology.

I'm so excited to see the FDA finally breaking loose with these guidance documents. It's way overdue - and a new, exciting chapter of digital life science is continuing to unfold!
Next steps
As always, the FDA is inviting comments and feedback from the industry. You have until March 22 to do so.
Kelly