Reviewing the Top 6 Document Version Control Software Options of 2020
Are you finally fed up with trying to manage quality documents manually? We see it with a lot of our customers who come to us because of frustrations with outdated systems.
You can sense it in the product reviews from quality managers who have made the change to the best document version control software. "Coming from a manual paper-based system, it's amazing how it all just works," writes a verified Quality Manager on Capterra.
"It is extremely easy to compare different versions of documents during review and approval. Qualio has forever-changed how we manage document control." - Tara F.
Before Tara found a version control solution, she was tired of her paper-based system. If you're similarly frustrated, it's time to make the jump to a great document version control software. We'll review what real users have to say about the best options.
The Top 6 Document Version Control Software Options Reviewed
Our customers like Tara love Qualio, but we're not the right fit for every organization. Global corporations have different document version control needs than scrappy young companies.
For example, if you're a medical device startup or scale-up transitioning from paper, we've built simplicity, configurability, ease of use, and scalability into our platform because those are the attributes you need in an Enterprise Quality Management System (eQMS) in the early stages of your business. We're engineered to increase speed-to-market.
However, if you're a global enterprise in the consumer goods vertical with 40,000 users in 20 countries, a solution that is extremely customizable and built for your industry is likely more of a determining factor in your selection process.
Finding the best document control software for your firm should involve narrowing your search to vendors who fit your industry, budget, and company size. In addition, look deeper than the marketing to learn who's really at the top of their game. Real customer reviews can reveal a lot about satisfaction, ease of use, and quality of support over the long term.
ETQ Reliance is a top eQMS option for enterprise and mid-sized businesses in multiple industries, including electronics, manufacturing, and food. It could be among the best options if you're looking for a solution with document management capabilities. It offers built-in best practices and the flexibility to customize your user experience and workflows.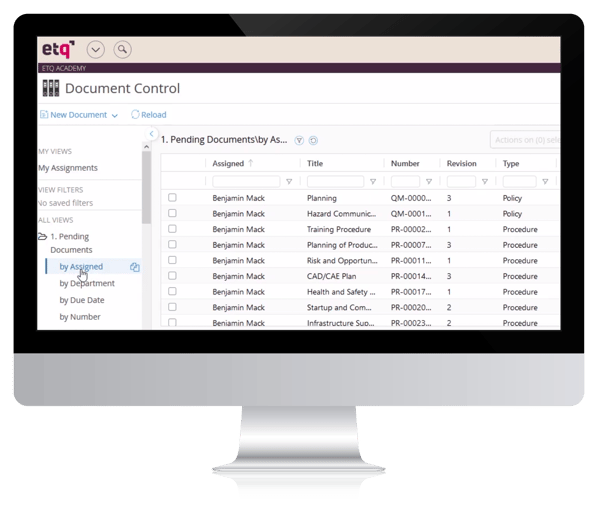 G2 Crowd Feedback 4.1 out of 5 stars, 27 reviews
Ease of Use: 8.0 out of 10.0
Quality of Support: 8.2 out of 10.0
Ease of Setup: 8.4 out of 10
Most Helpful Positive Review:
The out of the box settings provide a useful starting point. The system can then be relatively easily configured to meet customer needs.
Most Helpful Critical Review:
To really configure Reliance to work for your company, you will either need to invest in getting your employees trained on...programming languages (Python, SQL). [B]e prepared to spend the extra money if you want it to be just what you want.
QT9
QT9 QMS is a web-based or self-hosted solution for highly regulated businesses of all sizes, including life sciences companies, laboratories, and aerospace firms. It offers a broad suite of quality management capabilities, including document control and 21 CFR Part 11 compliant e Signatures.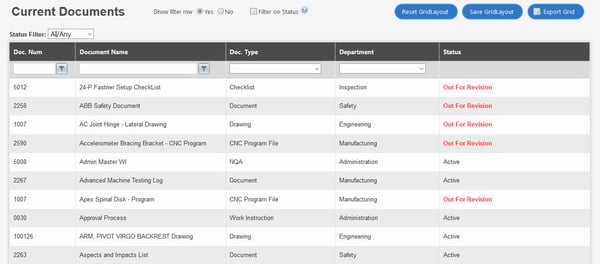 G2 Crowd Feedback: 4.0 out of 5.0 stars, 1 review
Ease of Use: 6.7 out of 10.0
Quality of Support: 5.0 out of 10.0
Most Helpful Positive Review:
I love that QT9 keeps track of changes that have been made and who made them. I also like how organized it is.
Most Helpful Critical Review:
I wish the UI was a little cleaner. The tabs at the top have drop-down menus that will come down quickly if you move your mouse...too fast. I have to wait a few seconds after the drop-down menu goes away or it drops down very quickly and I end up clicking out of the page.
RELATED READING: 9 Helpful Document Control Tips You Can Implement Right Now
DocStar
DocStar is a browser-based enterprise content management (ECM) software for mid-market and enterprise organizations in all industries. It is not a comprehensive eQMS or targeted toward FDA-regulated organizations.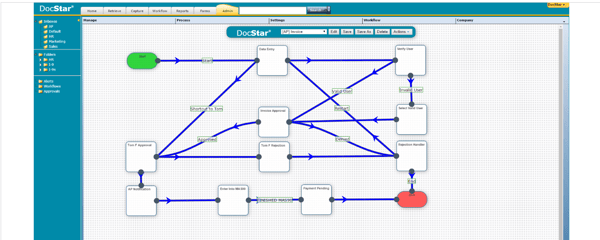 G2 Crowd Feedback: 3.7 out of 5.0 stars, 116 reviews
Ease of Use: 7.6 out of 10.0
Quality of Support: 7.3 out of 10.0
Ease of Setup: 6.5 out of 10.0
Most Helpful Positive Review:
It is easy to upload documents, and sort documents into categories. I also like that the search function searches within documents as well as titles, in cases of mislabels, etc. -- it's very easy to find what I'm looking for.
Most Helpful Critical Review:
We had a data loss once, but it was recoverable. The interface seems antiquated…[and] some features are confusing to use.
MasterControl
MasterControl is an industry-leading enterprise solution for the biggest highly regulated firms worldwide who can dedicate significant financial resources toward customized document management technology. The MasterControl Document Control software must be purchased separately from other MasterControl products such as the QMS, Audit, and Manufacturing modules.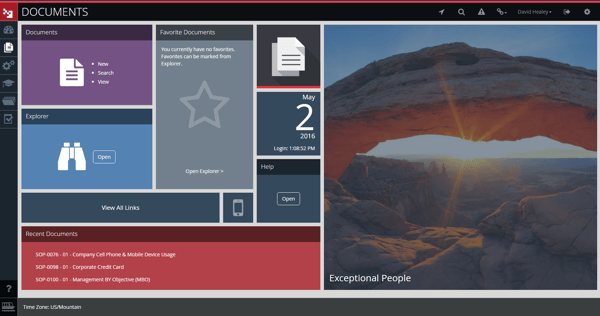 G2 Crowd Feedback: 3.8 out of 5.0 stars, 19 reviews
Ease of Use: 7.5 out of 10.0
Quality of Support: 8.9 out of 10.0
Ease of Setup: 7.3 out of 10.0
Most Helpful Positive Review:
MasterControl is fairly simple to use. I attended their Configuration Essentials Workshop at their headquarters in Salt Lake City and use the system daily with ease. I rarely need to contact MasterControl Support for assistance.
Most Helpful Critical Review:
It only works with Internet Explorer and it is very slow loading. You have to be exact in your search or it will say no results. For instance, our document titles include a space and if the space is not included then there will be no returned search results.
eFileCabinet
eFileCabinet is a dedicated suite of document control management products which are used by companies of all sizes in all industries, especially professional services firms. This may be a top choice for your company if you don't need comprehensive eQMS features or built-in FDA compliance, and you need to share a large volume of documents securely with external partners.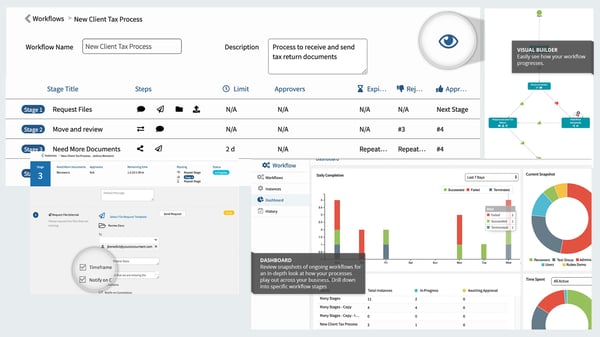 G2 Crowd Feedback: 4.3 out of 5.0 stars, 219 reviews
Ease of Use: 8.6 out of 10.0
Quality of Support: 8.7 out of 10.0
Ease of Setup: 8.2 out of 10.0
Most Helpful Positive Review:
Our users can log into eFileCabinet from around the world, sharing documents and information in a secure environment outside of email. Documents are easy to organize with standard templates you set up. It is very scalable and has grown with our organization.
Most Helpful Critical Review:
The sync tool didn't work, it crashed my computer constantly and I spent days with tech support and it still wasn't fixed. My remote workers couldn't access files because they never synced.
Qualio
Qualio is the leading document control and comprehensive quality management solution for life sciences startups and scale-ups. As the first cloud-based eQMS built specifically per FDA and ISO best practices, Qualio offers the advantage of industry-leading time-to-value and off-the-shelf functionality.
Qualio was developed to offer exceptional information management capabilities such as intuitive search, templating, and workflows, for an average 500% efficiency increase over traditional solutions.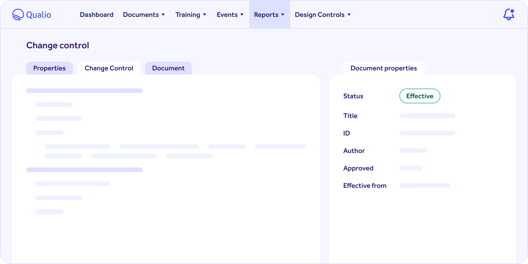 G2 Crowd Feedback: 4.3 out of 5.0 stars, 27 reviews
Ease of Use: 9.0 out of 10.0
Quality of Support: 9.4 out of 10.0
Ease of Setup: 9.4 out of 10.0
Most Helpful Positive Review:
Qualio has worked so well for us as a small company. The administration is simple, the training metrics and ability to add training assessments is a breeze, it is accessible to everyone easily in our global company, you can extend the capability in other ways (such as use it for validation plans and reports, not just procedures). The electronic signature approvals are a lifesaver for a small global company. The concept of tags has allowed us to give access to our clients for certain documents - a time saver for audits!!
Most Helpful Critical Review:
I'm not sure I would use the word dislike, as there is nothing I "dislike" about Qualio. I feel there is continued opportunity for improvement such as with some of the reporting; but any area I have voiced concerns about or "wish lists"... Qualio support is very willing to listen and pass on to their technical team for consideration.
Which Document Version Control Software is the Best?
Each of the six solutions reviewed here has satisfied customers and definite strengths. With a minimum user rating of 3.7 out of 5.0 stars, every option that made this list is a strong choice for some use cases. However, satisfied user reviews aren't the only thing to keep in mind. Be realistic about the resources you can dedicate to implementing and managing software long-term, and avoid software that's too heavy or too lightweight for your needs.
When you've narrowed your choices, the next best step is to start a conversation with vendors and schedule a demo. Your document version control software should bring advantages in efficiency, compliance, simplicity, and transparency.
If your organization is a startup or scale-up in the life sciences industry, we encourage you to get a demo of our solution today. Our demos are not your standard 20-minute sales pitch. We'll walk you through a custom-demo that covers:
Our approach to quality
How to streamline critical quality functions
How to track, trend and prevent quality issues
How to become audit-ready
How to become a quality-driven organization