Remote auditing: tips for the future
The pandemic may have made remote audits a necessity, but there's no reason they shouldn't be here to stay.
Remote audits can save your business and your regulating body time, money and resources while still meeting the intent of the audit exercise: to evaluate companies, suppliers, contractors and consultants to ensure quality requirements are met and the organization has the ability to deliver quality products and services.
COVID-19 taught us that these audits are no longer required to take place entirely on-site. An auditor may even find there is no site to visit anymore, as the pandemic pushed businesses to embrace the remote and globally distributed approach already favored by Qualio.
In short: remote audits make life easier and reflect the working styles of a post-COVID world. Here are a few tips to support your remote auditing initiatives.
For auditees:
1. Access

Sharing information with a remote auditor is much easier with a cloud-based eQMS platform.
In Qualio, utilizing 'Auditor' system tags and a restricted 'Auditor' system group allows your organization to invite external auditors into your eQMS, with controlled access only to the documents and data you want them to see.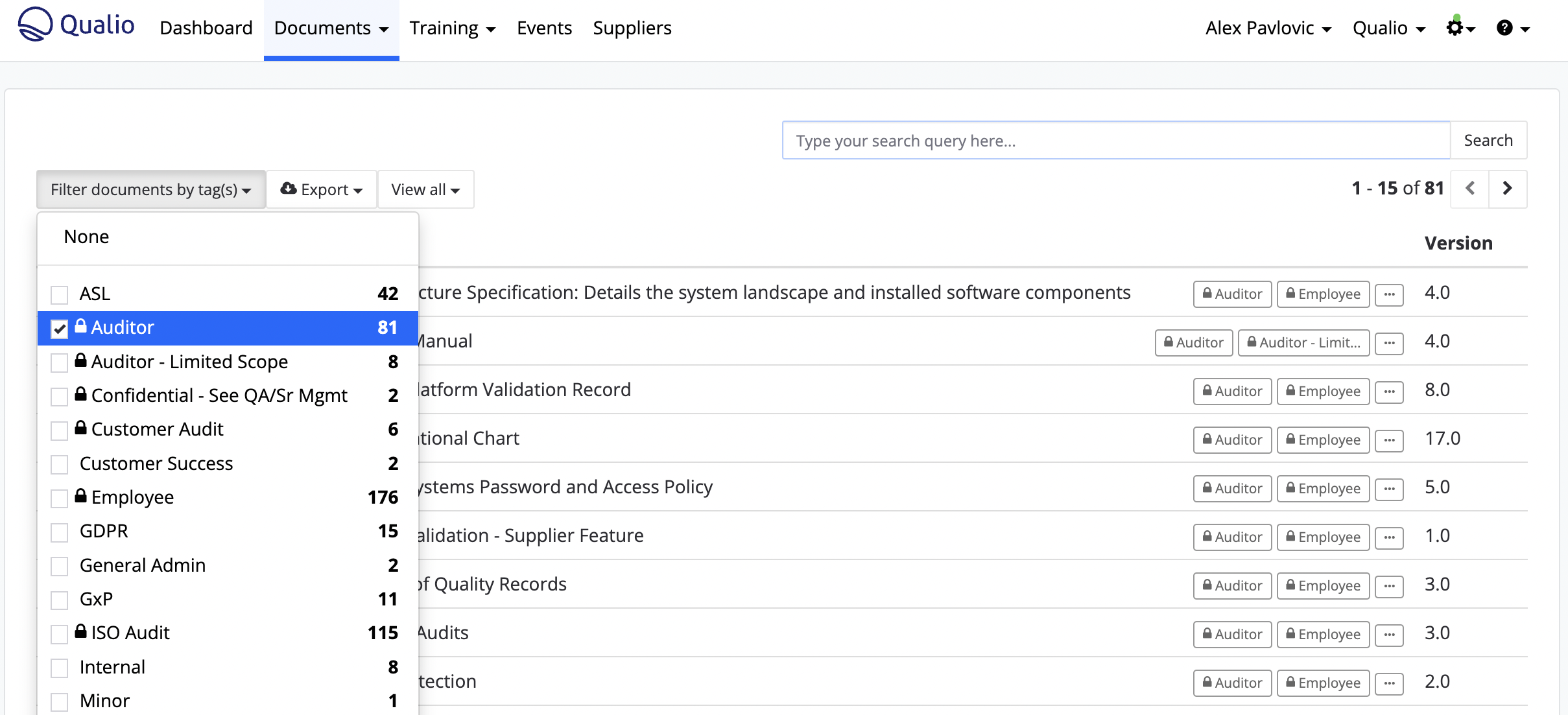 One Qualio customer, Advantice Health, used this approach to successfully pass a remote EU MDR audit without ever leaving their New Jersey office.
Best of all, the ease of finding documentation allowed the auditor to cut the audit from 2 days to just 1.
2. Preparation
Request an audit agenda in advance. Then link or attach evidence for each agenda point to a corresponding record in Qualio, and work through them systematically during the audit process.
If any findings are raised, you then also have a concrete system example to track back to, analyze and fix for the future.
3. Follow up
Host an opening and/or closing call to answer any questions your auditor might have and show any additional evidence requested.
For auditing suppliers
1. Take a risk-based approach
Auditing a supplier is not a one-size-fits-all approach. Consider if the supplier's product and service offering impacts your own patient or product safety, and what special considerations are applicable to the particular class or type of supplier.
2. Share the agenda

Allow your auditee to prepare in advance and have all the evidence available for you at the start. This will allow for an efficient and cooperative audit that doesn't waste anyone's time.
3. Have a robust supplier management system in place
An audit in itself is helpful. But to maximize its effect, it should form part of a comprehensive, controlled and robust supplier management system underpinned by clear policies and expectations.
Use Qualio Suppliers to centralize your supplier information, mandate key documentation like SLAs and quality standards, set risk levels and assign an appropriate audit cadence.