The 13 Essentials of a Quality Plan for Medical Device Companies
A medical device quality plan is not only required by the FDA and the ISO 13485 framework, but it can help you build quality into your product and company from day one.
Listen to the audio version of this article read by a real person here (Sound on!):
Regulatory requirements for medical device companies are stricter than ever before. Regulatory consultant Inette Nieveen believes that quality planning can make or break innovative device startups and scale-ups.
"The situation and compliance levels are different [for every company]," says Nieveen. However, she believes that everyone needs to start with a "strategic plan which outlines the realization phase and defines the projects" needed for quality throughout the product life cycle. No device manufacturer can afford to put off quality planning until "later."
With a solid quality plan for medical devices in place, you'll empower your team with the framework to deliver a high-quality device that changes lives.
13 Components of a Quality Plan for Medical Device Companies
A quality plan for medical device companies is a series of documents which defines the standards for a process, product, or organization, and provides detail on how these quality standards are achieved. ISO 13485 specifies that "each manufacturer shall establish a quality plan which defines the quality practices, resources, and activities relevant to devices that are designed and manufactured."
Device manufacturers are given freedom in how they structure quality plans or group plans, such as breaking plans down by product family.
A quality plan is not the same as a Quality Manual, Quality Policy, or Standard Operating Procedures (SOPs). A quality management system (QMS) for medical devices requires a plan, a manual, a policy, and SOPs. Understanding the structure of QMS documentation can illustrate why each of these types of quality documents plays an important role and how they all fit together.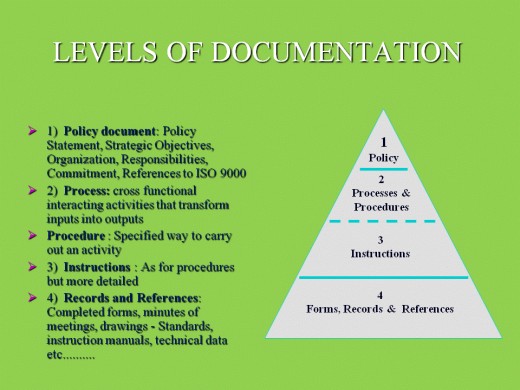 A quality manual is a comprehensive scope document which details the quality management system.
A quality policy is a shorter, declarative statement about your company's commitment to quality.
SOPs are quality procedures for each organizational process.
A quality plan is a more granular document, which sits toward the bottom of the pyramid. Planning activities should define what you're trying to accomplish, how you plan to get there, and how you'll verify quality.
Related Reading: What An ISO 13485 Quality Manual For Medical Devices Should Look Like
1. Overview of the Quality Management Plan
A medical device quality plan ties together the organization's strategic quality goals with activities, by detailing how the manufacturing organization will create high-quality medical devices. A quality plan may be highly actionable, illustrating the specific details of how you will meet your customer requirements in daily operations.
A quality plan may translate your strategic quality goals into actions, and tie your desired outcomes to processes, standards, and practices to create a plan of:
What you're trying to do
Who is going to do it
How you're going to get it done
A quality plan may include specific details on product design specifications and quality control testing parameters to provide a clear framework for quality criteria.
Remember, there are no strict rules and limits on how you approach the process of creating a quality plan. This doesn't need to be a single document, and ISO 13485 does not specify exactly how you have to create this plan. The right level of detail depends on the complexity of your company and your product or product families.
The most important component of creating a quality management plan is to create systems for improving the plan when your quality processes change or your company expands to add new processes.
Just starting or early on in your quality journey? Get helpful tips and fascinating insights from experts straight to your inbox.
2. Purpose
The purpose of a quality plan is to turn goals into results, such as an operating-level quality plan, which details how you intend to turn customer requirements into quality products. A quality plan can serve multiple purposes, but they generally are a tool to illustrate how you intend to:
Create devices which meet customer requirements
Ensure operations meet internal quality goals
Maintain compliance with regulatory requirements and quality frameworks
Facilitate traceability and objective evidence of product quality
Create a baseline for training
Link to SOPs and records
3. Overview of Plan, Do, Check, Act
A quality plan needs to link together the three spheres of quality in the organization:
Quality Management
Quality Control
Quality Assurance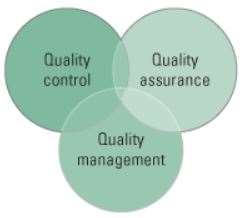 One mechanism for linking together the spheres of quality is Plan-Do-Check-Act cycles, also known as "PDCA" or "Deming Cycles." PDCA cycles aren't a strictly required component of your quality management plan, but they're a highly effective tool for quality planning which maps to each of the quality spheres:
Plan: Quality Planning
Do: Quality Control (QC)
Check: Quality Assurance (QA)
Act: Quality Improvement
Using PDCA tools in a matrix can help illustrate quality relationships in the quality plan for medical device organizations. A highly generic example below illustrates how PDCA matrices can be used for strategic quality planning.

The matrix approach to integrating PDCA is one of several ways to simplify quality relationships in the plan. In addition, visual tools such as flowcharts can be a useful way to define organizational processes and risk control safeguards.
4. Identify Customer Quality Objectives
Customer quality objectives should be the driving force behind your design specifications and quality assurance standards within the quality plan. The management plan is an opportunity to really think about your customer's needs and intended use for the medical device.
Your customers want a high-quality, reliable product which does not result in injury or adverse outcomes. However, it's important to drill down deeper into customer expectations which can translate into design specifications.
Customer quality objectives should include details on device characteristics, uniformity, effectiveness, and in some cases, aesthetics. Other customer quality objectives should address cost, utilization, dependability, weight, and more.
Some medical device products may have more than one intended customer with a unique set of quality requirements. For example, surgical tools need to meet a clinician's requirements for aesthetics, weight, and dependability, and the patient's requirements for safety and effectiveness.
There are multiple ways to approach the process of completely identifying your customer requirements. One possible tool is the quality function deployment (QFD) approach, which is also referred to as decision matrices or customer-driven engineering. This approach uses a structured method to listening to the voice of the customer, ranking requirements according to importance, and translating these specs into design standards and operating procedures.
5. Identify Roles and Responsibilities
A quality management plan generally includes detailed information on roles and responsibilities.
An organizational chart of job titles and external vendors
Each job title's responsibility and qualifications to fulfill SOPs
Responsibilities for work and work verification
Supplier quality standards
A list of qualified suppliers
It's not necessary to get too specific in the quality plan about roles, responsibilities, and training requirements. The quality plan can link to related SOPs or position descriptions when detailing team member responsibilities or work verification processes. However, it's important to define roles and responsibilities clearly to demonstrate how you will meet customer requirements.
6. Identify a Quality Threshold for Each Quality Objective
Every quality objective in the quality management plan needs a threshold of acceptability. This includes both strategic and operational goals. This is a mechanism to ensure your quality activities are measurable. If results fall below the threshold of acceptability, there's a clear case for initiating CAPA investigations across the total product lifecycle.
Quality management plans should establish clear metrics for the pre-production phase, production, and post-production, and describe your mechanisms for tracking quality thresholds and performing continuous improvement activities. The specific thresholds and number of thresholds required to ensure you're meeting quality objectives can vary significantly depending on the type of device and device complexity.
7. Quality Control Plans
Quality control plans are mechanisms to monitor your activities to make sure you're meeting quality goals. The quality management plan needs to address the planning, implementation, and assessment procedures for the quality management system, and link to SOPs for quality assurance and control procedures.
RELATED READING: Quality Assurance vs. Quality Control: What's the Difference?
The specifics of your quality control plan will vary depending on your needs, product complexity, and QMS. However, a structure for continuous improvement to the QC plan is crucial, such as CAPA, employee feedback, and annual leadership review. Some common components of a QC plan can include:
Testing procedures
Performance parameters
Performance documentation procedures
Deliverables specifications
Internal feedback processes
External customer feedback processes
Quality control SOPs
Audit requirements
Training requirements
CAPA actions
8. Address Each Major Deliverable
The quality management plan needs to create a clear baseline for every deliverable, and describe the methods for evaluating deliverables against standards. For every product, you should include:
Quality criteria
Quality metrics
Preventive activities
Quality control activities
Approval activities
The deliverable component of the quality management plan should link to clear guidelines for measurement, monitoring, status reporting, and evaluation, as well as deliverable design. In some cases, an implementation or operational schedule is necessary to meet strategic project goals or fulfill customer work orders.
9. Identify Independent Technical Review Team(s)
ISO 13485:2016 and FDA 820.30(e) have very similar requirements for "systematic review" of product design. ISO 13485 section 7.3.5 states that design review activities should evaluate the design's ability to meet customer requirements, and propose any necessary actions. The FDA is unique in the requirement that the design review attendee includes at least one independent reviewer.
An "independent reviewer" is defined in 21 CFR Part 820 as an individual who does not have direct professional responsibility for the design stage being reviewed. It needs to be someone who can provide an objective review from a fresh, unbiased perspective. According to this definition, the independent review teams don't necessarily need to be external.
The quality management plan should designate the stages of the design process where review occurs and detail your plans to fulfill 21 CFR Part 820 requirements for independent review teams with unbiased internal reviewers or an external subject matter expert.
10. Quality Assurance
The quality assurance component of the plan should detail efforts to verify processes and products using unbiased reviewers in accordance with ISO and FDA requirements. When a product or process is completed, the QA plan should detail the use of inspection, measurement, statistical process control, or other methods to verify quality control.
The quality assurance component of the plan should address methods of measurement and required activities, as well as roles and responsibilities by linking to relevant SOPs.
11. Organizational Quality System Requirements
The quality system requirements should address regulatory and standard requirements for a quality management system (QMS). It should detail the QMS role in the quality plan and link to the quality manual and other relevant system documentation. The plan is an opportunity to address required elements of the QMS and detail the role your QMS software plays in the entire product lifecycle:
Procedures
SOPs
Records
Data management
Internal processes
Customer satisfaction
Continuous improvement
Quality analysis
RELATED READING: The Essential Parts of an ISO 13485 Medical Device Quality Management System
12. Project-Specific Requirements
The medical device quality plan should detail all specific requirements for your project or products, including strategic, regulatory, and customer specifications. Provide a clear list of all requirements for quality activities, including:
Specific regulatory requirements
International standard frameworks
Industry standards
Organizational policies and procedures
Internal guidelines
Current Good Manufacturing Practice (cGMP)
Customer requirements
13. Other Project Specific Information as Required
The length, depth, and scope of the quality management plan should vary significantly depending on device type. This isn't a document that can easily be templated, especially when it comes to comprehensive quality planning for complex medical devices. It's critical that the quality plan contains, at a minimum, links to QMS documents which describe processes and responsibilities, working standards, measurements, tolerances, material standards, and more.
In some cases, your quality plan can also contain links to individual work orders which specify project-specific requirements for production, packaging, and delivery.
How to Simplify Quality Management Planning
Documentation is at the core of effective quality management. Medical device manufacturers need to carefully and thoroughly document quality by creating a quality manual, quality strategy, a quality management plan, standard operating procedures, and keeping detailed records of quality activities. It sounds overwhelming, but it doesn't have to be. The right enterprise quality management system (eQMS) can simplify the documentation process by creating smart links between required records and processes, streamlining your compliance activities.
A quality management plan needs to be a unique document which completely details how your manufacturing company's quality activities link to regulatory requirements and business strategy. You can't take any shortcuts when it comes to effective quality planning, but you can simplify what it takes to document your efforts the right way. Qualio's eQMS is the best cloud-based quality management software for medical device manufacturers with 5-500 employees. Our software offers unparalleled document management capabilities for fast-growing life science organizations, built specifically in accordance with FDA 820 and ISO 13485.