Simplify Quality Management
Qualio is simple & intuitive, so managing SOPs, controlled documents & training isn't intimidating.

More Effective Than A List
In the dashboard view, you can see all your actions and draft content. This clearly shows you what you need to do and helps you focus on the right actions at the right time.
See All Your Actions
See the actions you have by context, such as documents needing review, approval or training. Always up to date and perfect for quickly getting to the heart of your task list.
Quickly Access Content
Find the content you are working on instantly. All you need to do is select the edit button and you are ready to go. No more looking inside folders within folders.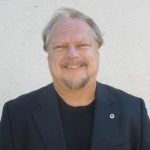 "As consultants we have the pleasure of working with the good, the bad, and at times, the ugly, when it comes to Quality Management software. Qualio simplifies the approach to effective document control management. The web-based software is intuitive, which greatly reduces the amount of time required for users to come up to speed with a new platform."
Create controlled documents and records
Creating policies, procedures and other controlled content has never been so easy.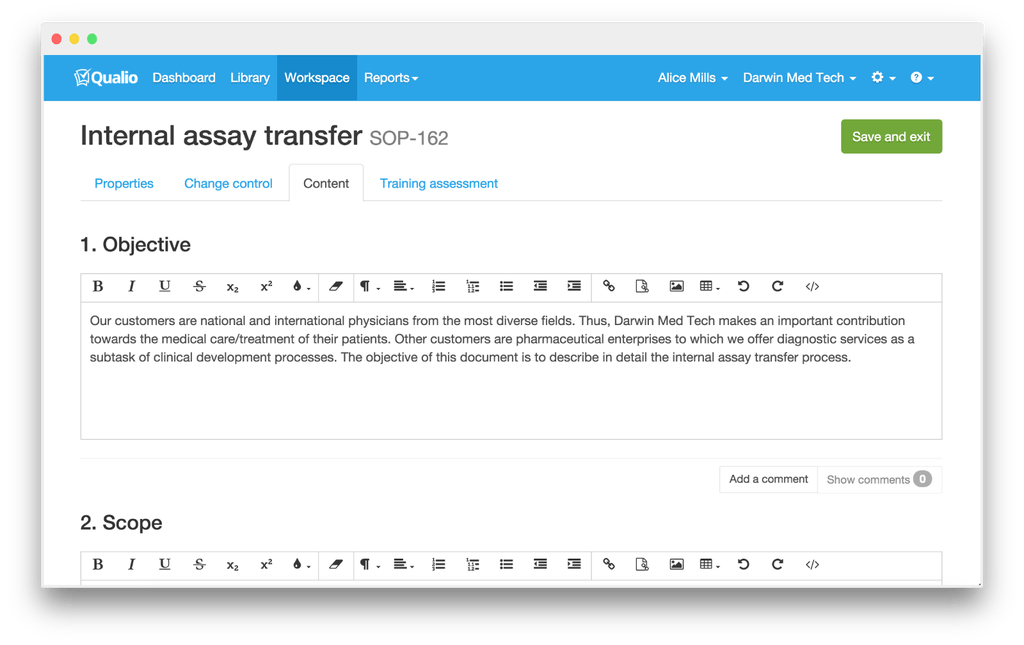 Integrated document change control
Set workflows for review, approval
Assign trainees
QMS Documents (policies, SOPs, work instructions, forms & related content)
Other controlled documents in any format
Web based document editor
Document templates
Automated document numbering
Create smart links between documents
Add attachments
Get Feedback
Everyone can take part in the review process, even if off-site or travelling. Users can review and comment on documents in parallel, reducing bottlenecks and improving the quality of feedback.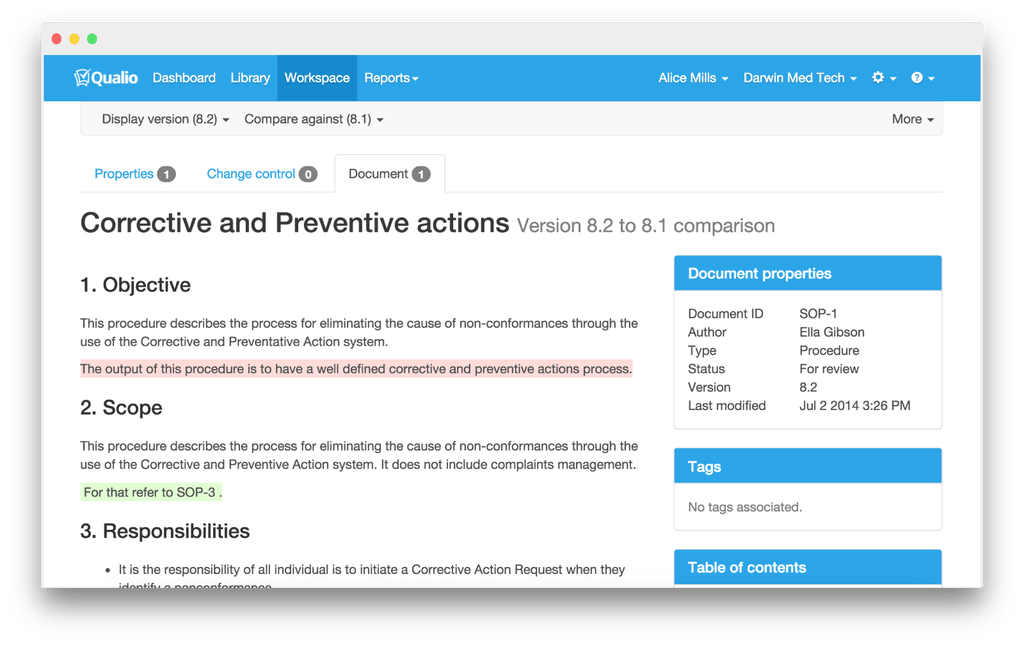 Automated email notifications sent to reviewers
Real-time parallel review process
All reviewers see the same document
Compare against previous document versions
Respond & resolve comments
Mark as reviewed to notify author
Automated email notifications sent to approvers
Real-time parallel approval process
Digital signatures
FDA 21 CFR part 11 compliant
Create training assessments with ease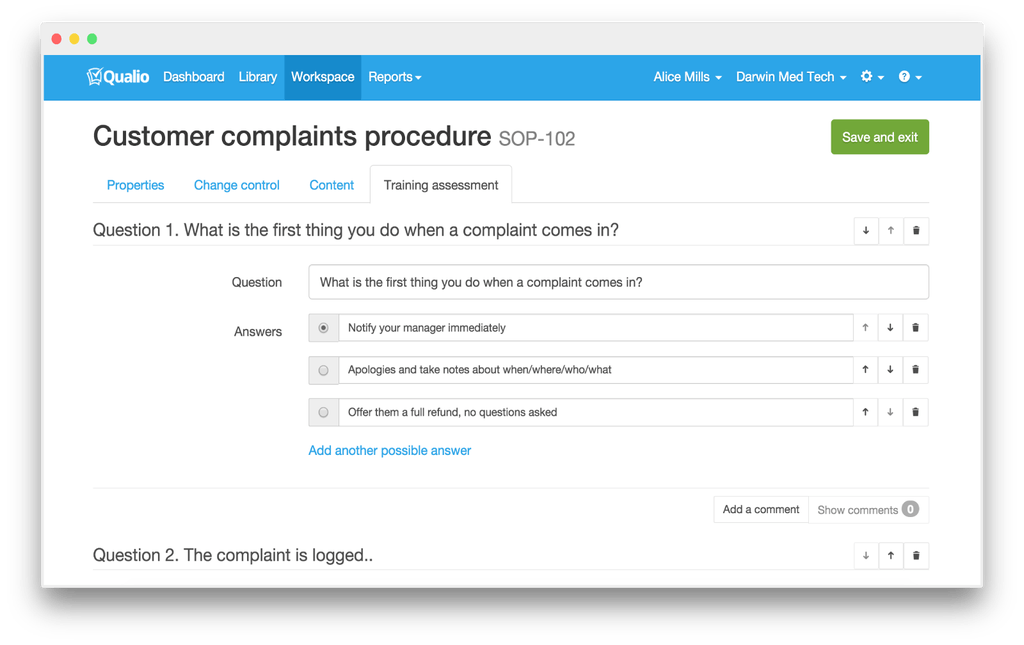 Create unlimited number of multiple choice questions
Must be completed by every trainee
Easy to create assessments to prove training competency
Built into document control workflow
See what's happening in real-time with up-to-the-second reports.
Get detailed insights into documents, people and their actions.
See which content is waiting on review, approval or training to completed.
View completed and in progress change controls.
Review every event in the comprehensive audit trail.
Unlimited Support
Have a question? Get in touch. All users get unlimited free email and phone support.
1. Search the FAQ

2. Send an email

3. Call us for help
Easy To Implement
Qualio runs in the cloud and can be setup in record time.
Training, setup and on-boarding provided at no extra charge to all customers.
Validation information & support provided to Life Sciences organizations to ensure they can easily validate Qualio. Qualio is GAMP® 5 category 3 software and validation takes less than one day.
Account setup and configuration by Qualio support to ensure you are setup for success.
Full knowledge base to enable users explore software at their own pace.
Regular webinars to ensure everyone has an opportunity to learn how to get the most from Qualio.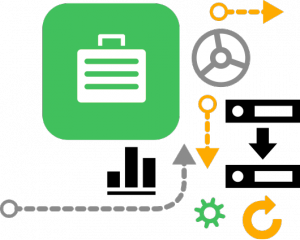 Create your own document templates
Create your own change control template
Specify document numbers
Decide who can view documents or approve them
Full Standards Compliance
Qualio is compatible with all regulatory directives and compliance standards.
Perfect for these industries

Healthcare, Life Sciences, Manufacturing, Oil & Gas, Aerospace, Education, Finance, Public Sector, Retail, Services.
Compatible standards & regulations
Quality management systems (ISO 9001)
Medical Devices (ISO 13485)
Environmental Management (ISO 14001)
Food safety (ISO 22000)
HACCP (ISO 22001)
Information security (ISO 27001)
Occupational health & safety (OSHAS 18001)
FDA Quality Systems Regulations (QSR)
e-record keeping (FDA 21 CFR p11, Annex 11)
Corporate Governance (Sarbanes-Oxley) (SOX)
and more…
Reliable & Secure
Best-in-class hosting infrastructure, multiple daily off-site backups. Trusted all around the world.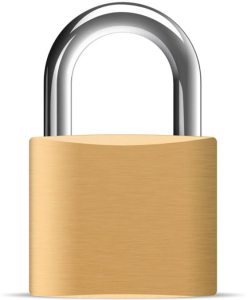 Your data is in good hands
Your data is yours only and we aim to keep it this way. We've gone into painstaking detail to ensure maximum uptime and safety of your records. We employ secure connections, where information is encrypted.
We do backups, and backups of backups
All data is backed up in real time to a separate server that we can switch to in case the main one has a problem. We then do multiple daily offsite backups of the entire database.
Simple Import & Export
We've made it very easy to import your existing data to Qualio, or export it.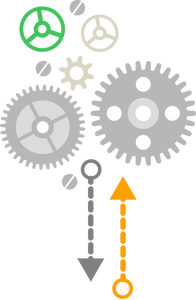 Simple to get started
You can import your system in no time at all, and our support team will help ensure you are setup for success.
Export your data whenever you need
You can download your customer data at any time, and you can also use our API to download all or some of it.