Outsourcing to a contract organization? You still need an eQMS. Here's why.
I recently attended the American Biomanufacturing Summit in San Francisco. It sure was nice to be back in person!
The company booth was lovely and, coming out the other side of 2 years of pandemic, it was a nice reminder that while Zoom is a handy tool there's nothing like a face-to-face conversation with someone.
I ran a workshop about why you should consider an eQMS and how to get your processes off paper ASAP. This led to several interesting conversations afterwards. The one that stuck in my mind was with a small company who asked me:
"We outsource everything to a CRO and CMO. Why do we need an eQMS?"
I have several thoughts about that question.
1. Document integrity
If you don't have a Part 11-compliant, fit-for-purpose tool to keep track of your documentation, you will eventually lose some of those documents.
SharePoint comes free with Office 365 subscriptions, I get it. You're already paying for that tool. But I promise you, if you have any more than about 10 documents SharePoint is unsuitable for highly regulated industries like life science, and will eventually become a very messy filing cabinet. Plus, there's very little built-in protection to stop someone from accidentally deleting important records.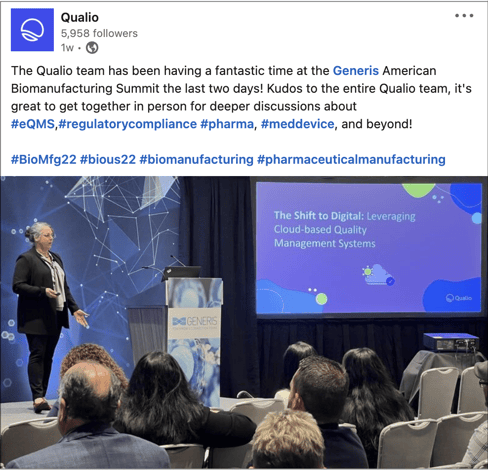 Discussing the power of cloud-based quality at the American Biomanufacturing Summit
Above all, as ICH E6 (R2) states:
"A sponsor may transfer any or all of the sponsor's trial-related duties and functions to a CRO, but the ultimate responsibility for the quality and integrity of the trial data always resides with the sponsor."
2. Cut costs
"I pay our CRM/CMO to keep all those records."
Sure, that makes sense. But you also have research data, pre-clinical supporting data and all your own company records to think about. Where are you keeping those?
If it's in SharePoint, see Point #1.
And if it's on paper, you're ultimately paying someone just to:
Maintain and secure those paper records
Store them in physical repositories like filing cabinets
Set up a control system
You're really not saving money here. And unless you do all your clinical research with the same CRO all the way through your development, you will eventually have to accept records from them to store, or continue to pay them to store for you even once you've moved on.
Getting a robust electronic document management mechanism in place is an inevitable need that will cut costs in the long run.
Why your life science business needs electronic document management
3. Future-proofing
It's tempting to outsource your research and manufacturing to tried-and-tested organizations and minimize your own quality and regulatory efforts.
But entrusting your key processes to a third party and not getting your own house in order means you're saving the pain of change for later - when that change is MUCH bigger than just starting from the beginning.
What are your organizational plans for 1, 2, 5 years from now?
Outsourcing without strong quality management of your own will slow you down in the future, when your organization will be much bigger and set in its ways of doing business.
You will be more attractive in the due diligence phase of acquisition, to potential new business, and to fresh investors if you have a well organized quality system to showcase.
Just starting or early on in your quality journey? Get helpful tips and fascinating insights from experts straight to your inbox.