Why Did Medical Device FDA 483 Observations Drop 6.2% Last Year?
In 2018, the FDA issued 124 fewer 483 observation letters to medical device companies than they did the previous year. In 2017, there were a total of 1,030 observation letters. In 2018, the total was just 966 letters. That accounts for a 6.2% drop.
What can we learn from the fluctuation in observations, and last year's drop? Which medical device quality issues raise the most red flags for the FDA?
Trends in 483 observations can be connected to many patterns and changes in the industry, including FDA realignment, software trends, political shifts, and other changes. Uncovering the causes of 483 observation patterns isn't simple, but analyzing the data can offer a wealth of insight to life sciences organizations.
Read on to take an in-depth look at the data for 2018 483 observations, and how key areas of concern for the agency have changed over time.
4 Takeaways from FDA 483 Observations in 2018
Understanding trends in the FDA's 483 observation letter patterns over time can reveal regulatory trends which may impact your organization.
While it's impossible to attribute these trends to any root causes with perfect accuracy, these changes are likely a result of software adoption, economic confidence, government shutdowns, and innovation in the medical device manufacturing vertical.
1. The Effects of the Conversion from Paper to eQMS Are Likely Manifesting Themselves
By taking a look at observations by type, we can see some interesting trends.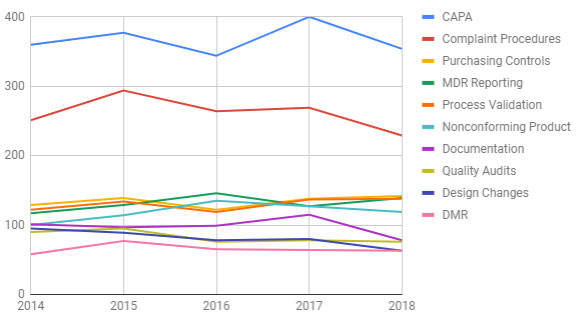 As you can see, CAPA and Complaint Procedures are by far the most common prompts for observations.
Now, let's isolate Documentation and Design Changes.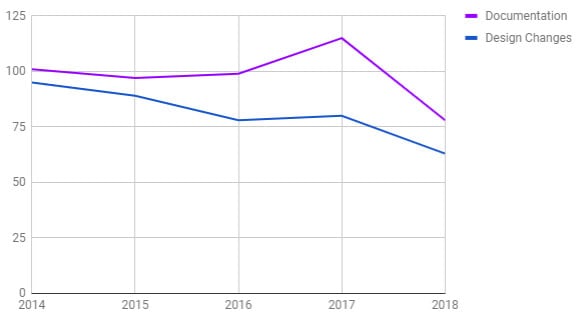 These two categories have dropped significantly over the past five years.
Given the continued industry-wide transition from manual, paper-based quality management systems to eQMS like ours, you would expect to see this kind of decrease in these areas. There's just less room for human error in documentation and design changes when you move from paper to software.
For more on this topic, check out our extensive guide How To Migrate from a Paper-Based Quality Management System to QMS Software.
While it's difficult to measure the exact rate of eQMS adoption among life sciences companies, the change is definitely happening. A recent study from Grand View Research projects the eQMS market will grow at a compounded annual growth rate (CAGR) of 9.8% between 2019-2025.
Is rapid adoption of eQMS systems among the reasons organizations are receiving fewer total 483 observances? It's quite possible that wider usage of eQMS among startups, scale-ups, and enterprises in the life sciences sector is driving better compliance, especially when you drill down to some of the common reasons for 483 warning letters and eQMS benefits.
Related Reading: The 6 Most Common Warnings for FDA 21 CFR 820 Noncompliance
2. Governmental and Political Factors Impact 483 Observations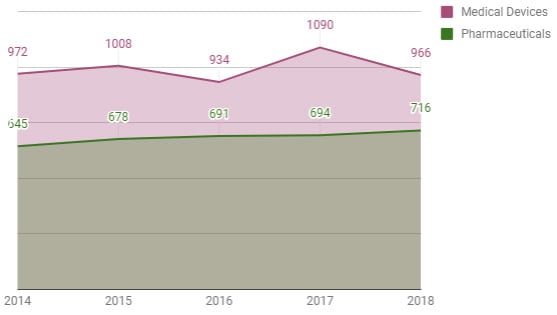 There was a lengthy government shutdown in 2018, which likely lowered the number of observations since FDA employees were required to take nine business days of furlough. The loss of two weeks of work would logically cut into the number of 483 observations.
Political factors also likely contributed to the drop in observations in 2016. During times of uncertainty, businesses are less likely to launch or develop new products, so the submission of fewer applications results in fewer observations.
In 2016, the elections caused ripples throughout the US economy, including a measurable impact on both business and consumer economic confidence. Gallup measured US Economic confidence between -16 and -25 at several points in 2016, which are historic lows. As a point of contrast, the US economic confidence index was 29 in July 2019.
In 2016, it was difficult to foresee changes to regulations, taxes, or other major policies which impacted life sciences organizations. As a result, many organizations were hesitant to embark in costly new projects, such as R&D for new drugs, biologics, or medical devices.
3. FDA Realignment Resulted in More Visits to "Mom and Pops" in 2017
Over the last few years, the FDA realigned its entire organization to improve internal efficiency. There was also an effort by the FDA to change how they worked in order to comply with mandates from politicians and the industry, with a goal of getting products to market faster.
The agency's 2018 Policy Roadmap outlined many of these shifts resulting from realignment. The Policy Roadmap promised there would be forthcoming advancements in innovative therapies to cure and treat diseases which are currently incurable. The Roadmap emphasized the value of mobile apps and other mHealth tools for remotely diagnosing patients and monitoring health conditions, and stated that mHealth and software-as-a-device approvals would be sped up.
The FDA's 2017-2018 realignment activities involved a long, hard look at the inspection process. In particular, the FDA evaluated how frequently organizations received inspections based on size. Many times, the same big organizations were seeing inspectors several times a year while much smaller companies were flying under the radar.
The agency's recommitment to the responsibility of ensuring "safe and effective" products across the board involved a redistribution of inspections to all organizations, regardless of size. This enabled the FDA to start inspecting smaller facilities that hadn't been looked at in years or potentially never been subject to an inspection.
This type of change would logically lead to a spike in 483 observations as smaller life sciences companies, which were not accustomed to thorough inspections, found the FDA knocking at their doors.
Does this mean scrutiny or the penalties for non-compliance have changed? Absolutely not. It just means that organizations are facing more equal odds of receiving a visit from an inspector.
Related Reading: 4 Reasons Overhauling FDA 510(k) is a Great Move
4. There's More Innovation in the Medical Device Industry Than in Pharmaceuticals
483 observations for medical devices fluctuate much more than for pharma because there is more room for new products on the market. Increased innovation in the field has resulted in significant growth in the total number of inspections of device manufacturers.
Over a ten-year period, the FDA conducted a 46% increase in medical device firm inspections and a 243% increase in the number of inspections conducted at overseas manufacturers.
Given recent widely publicized concerns about safety and recalls for Class 3 medical devices, the FDA's increased focus on medical device manufacturers is hardly surprising. Most likely, the increased scrutiny has had an overall positive impact on patient safety.
According to a recent whitepaper from the agency, "The FDA's focus on violative products and adverse event reporting during inspections has led to an increase in voluntary recalls and adverse event reporting." These recalls aren't always indicative of major product failures or safety concerns. Manufacturer recalls can also be related to required changes in product labeling, minor product design changes, or a requirement for additional staff training.
Small shifts in the number of 483 Observation Letters can be at least partially attributed to the rapid rate of innovation in the medical device manufacturing industry, and shifts in the FDA's stance during recent years. Organizations with unacceptable conditions are more likely than ever before to voluntarily perform corrective action and work with the FDA to correct conditions, or voluntarily recall products.
How to Respond to an FDA 483 Observation Letter
Has your organization been hit with an FDA 483 Observation Letter? Your company's response to a 483 Observation and corrective action is critical to the success of your organization.
We've developed a helpful resource which you can access right now for free. Getting a 483 letter is not desirable, but receiving one can lead to long-term better operations for your organization. This eBook will show you how to respond so you can get back to bringing your life-saving product to market.