The TGA's essential principles explained
If you want to market your medical device in Australia, with its 26 million citizens, you'll need to ensure compliance with the requirements of the Therapeutic Goods Administration (TGA).
The TGA's so-called 'essential principles' map out the core safety and performance requirements for both medical devices and in vitro medical devices marketed in Australia.
We broke down the TGA's essential principles to give you everything you need to know about medical device compliance in Australia.
Table of Contents

TGA essential principles explained

TGA essential principles explained
There's no way around it - your medical device organization needs to understand and apply the essential principles mandated by the TGA to embed appropriate compliance and to open access to the Australian market.
There are 15 principles in total, though not all will necessarily apply to your specific device.
The principles originally appeared in Schedule 1 of the Therapeutic Goods (Medical Devices) Regulations 2002. That legislation, and the principles within, were then tweaked and updated in 2021.
The principles, in short, aim to guarantee the safety and efficacy of medical device products by highlighting the key activities and benchmarks that manufacturers should follow.
What is TGA?
The Therapeutic Goods Administration is the regulatory authority responsible for the regulation and oversight of life science products in Australia.
It operates within the Australian Government Department of Health & Aged Care, and works to oversee the safety, quality, supply, and even the advertising of therapeutic products available to the Australian public.
The primary role of the TGA is to regulate and monitor life science products, from pharmaceuticals and medical devices to blood products and vaccines.
The TGA's regulatory responsibilities cover the entire lifecycle of these products, from pre-market assessment and approval to post-market surveillance and enforcement.
The TGA is, in essence, safeguard and gatekeeper for the Australian life science market, akin to the FDA, MHRA or EMA.
You'll need to keep them happy to market your medical device Down Under.
Read our list of the top 6 Australian life science conferences to attend in 2023
Importance of TGA essential principles in medical device regulation
As the TGA puts it, there are three 'pillars' guiding the implementation of the principles:
1) Design and construction according to safety principles and risk mitigation
2) Following of best practice state-of-the-art
3) Device benefits outweighing risks
To understand the significance of the principles in more detail, let's look at exactly what they are.
The principles are divided into two parts: 'general principles' and 'principles about design and construction'.
Let's tackle Part 1 first.
1. Use of medical devices without compromise to health and safety

2. Design and construction of devices to conform with safety principles

3. Suitability for intended purpose

4. Long-term safety

5. Safe transport and storage

6. Benefits to outweigh undesirable effects
Principles 1 to 6 form 'Part 1' of the principles and are applicable to any medical device.
We can see from these universally applicable 'general principles' the underlying importance and significance of what the TGA wants to achieve.
Medical devices need to be safe, suitable, properly constructed, provide a net patient benefit, be easily transported, be supplemented by appropriate information and clinical evidence, and so on. Adherence to the principles fulfils that objective.
The overall aim? Safe, efficacious and life-saving devices.
Essential principles
Now that we've covered the broad scope of these general principles and their objectives, let's dive deeper into what they actually mean for your business.
We'll begin with arguably the main underlying theme of the 'general' essential principles: device safety.
Safety
Safety crops up again and again in the list of principles above.
You'll need to show the TGA that your device won't hinder the safety of a patient when it's properly used, and that residual device risks are appropriate and have been evaluated with patient safety in mind.
How can medical device manufacturers targeting Australia prove device safety for TGA compliance?
Start by assessing the risk profile of your device, and what medical device class it falls into.
The TGA follows the same classification taxonomy and conformity assessment routing as the EU, with devices ranging from Class I, through Class IIa and IIb, up to Class III.
Devices already CE-marked will translate neatly into the TGA's system.
Your device class influences your requirements for safety evaluation and regulatory compliance - obviously, high-risk Class III devices require a higher burden of safety proof than Class I devices like a stethoscope.
All device classes require submission of a technical file or design dossier.
Class III devices and a small percentage of Class IIb devices, meanwhile, will also have sections of their dossier physically reviewed as part of a 'Level 2 application audit'.
You'll therefore need a robust medical device risk management strategy in place, to not only perform risk assessment and treatment activity but to document that activity in your technical file for TGA inspection.
Look to ISO 14971 for inspiration here.
The aim of the game is to perform a thorough risk assessment for your device, considering potential hazards and their associated risks to patient safety.
Risk treatment should be executed and fully documented to mitigate identified patient safety risks.
Key questions to ask yourself as you aim to build demonstrable device safety and risk management include:
1. Do you have an established risk management plan that covers the entire product lifecycle?

2. Is it complete, with risk analysis, risk evaluation, implementation of risk controls, and documentation of risk evaluations and residual patient safety risk?

3. Do you have evidence to show your risk controls are effective?

4. Do you have evidence of a residual risk assessment?

5. Do you have a system in place for routinely updating risk management documents post-production?
Here's an illustration of how you could structure your risk management strategy to meet TGA safety requirements: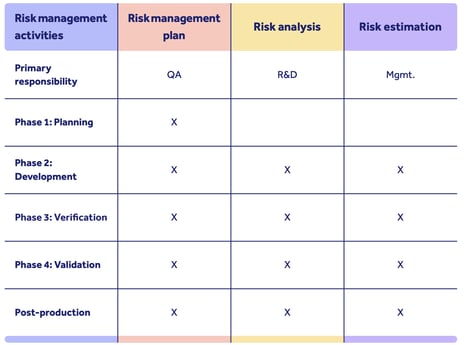 You can see how risk and safety considerations are weaved into the device lifecycle, with multiple departments involved.
Proving device safety hinges on clearly documented explanation of how risks have been assessed, controlled and overcome:

Remember: the stronger and more fully documented your risk management activity, the clearer the signal you send the TGA about the safety of your device.
Download our guide:
Safety in design and construction
This is, of course, closely connected to the broad requirement of safety covered above, but goes deeper. You need to show not only that your device is safe, but how its very design and construction contribute to that objective.
You'll therefore need strong, documented design controls in place to show how user requirements and risks have informed the design, development, verification, validation and final construction of your device.
Design controls are a set of procedures used to ensure that the design, development and production processes for your medical device meet TGA principles.
Design controls encompass a few key areas:
User needs
How patients are going to use your medical device and what problems it will solve for them


Design inputs
The action plan you come up with to meet the needs of patients who use your device


Design outputs
All of the device components, material requirements, testing protocols, and inspection procedures needed to manufacture your device


Design verification
Proof that your device does what it's supposed to do


Design transfer
The device specifications must be transferred with complete accuracy and transparency to manufacturing
To tick off this principle, the TGA will expect to see a clear and robust design and development pathway covering these elements: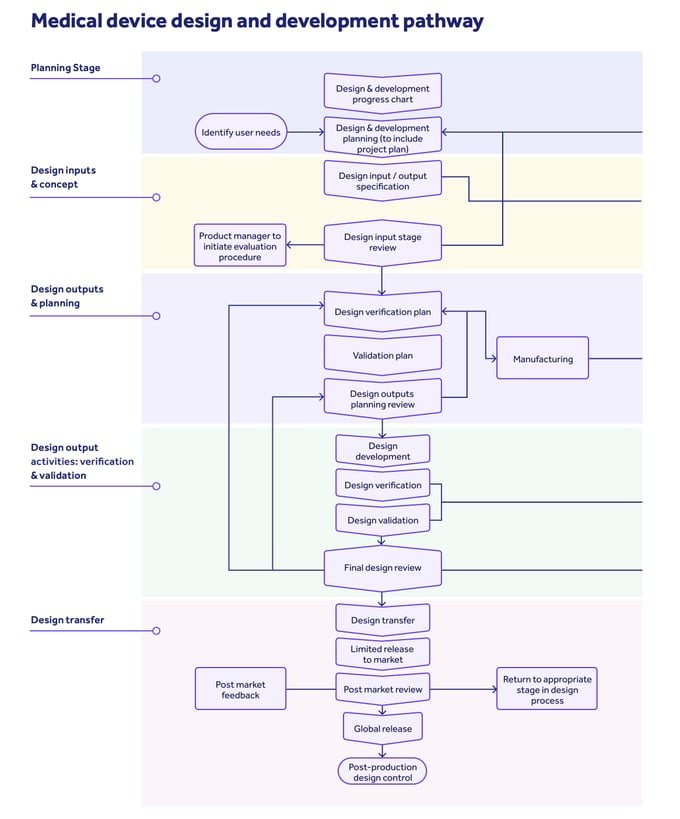 Download our guide:
Intended purpose
The marriage of user needs, design inputs and clear design outputs in your design control process is also how you can demonstrate that your device meets its intended purpose and fulfils Principle #3.
Your technical file should include detailed breakdowns of your device's functionality and operation, and you should be able to show how user requirements have translated into clear device characteristics and functions.
For example, it may form a clear part of a syringe's intended purpose that it fit into an emergency medical service go-bag for easy transportation and usage.
This anecdotal requirement should have a clear linkage to a specific design input to be executed by your engineering team: for instance, that the syringe is no more than 6" long and 1" in diameter.
Finally, a clear design output should be documented: here's a detailed technical drawing of the body of the syringe, including its dimensions, with documented verification activity proving that this output meets the original user need.
Download our guide:
Long-term safety
Safety in day-to-day usage isn't enough.
You need to be able to prove that your device will remain safe across its intended lifecycle.
This incorporates 3 key considerations:
1) A clear window of safe usage and an intended lifecycle is indicated by you, the manufacturer

2) Its performance and characteristics remain in force for the entirety of that lifecycle

3) Any maintenance and calibration requirements are clearly documented and included with the device for users to execute
Have a clear focus on longevity and continuity in mind as you document your device's safety, risk and performance data, taking into account long-term risks to your device's safe operation and how you've addressed them.
Transport and storage
This principle can really be considered a subset of the principle above - namely, that the movement and storage of your device won't compromise its safety and performance characteristics.
This includes not only your device's design, but its production and packaging processes too.
Naturally, key device requirements like sterility need to be integrated into your supply chain planning, with clear evidence that device performance 'will not be adversely affected' by its movement from you to the patient.
And remember, too, that robust post-market surveillance should be in place, so that any unforeseen consequences of your device's movement in the real world can be quickly and accurately monitored, then addressed.
FURTHER READING:
Benefits and undesired effects
Your medical device should have a net positive effect on its patients, with benefits outweighing risks.
As should be clear by now, this principle shouldn't be seen as a discrete requirement in itself, but a natural byproduct of the interaction of other principles you've applied.
By documenting your device's performance, functionality and application for patient usage alongside your residual risk profile, it should be clear to the TGA that your device's risks have been effectively treated and minimized to allow the net positive of your device's intended purpose to be applied.
A device performing a minor healthcare function but inviting 10% chance of patient death isn't offering a healthy benefit-risk ratio.
The 13 essentials of a quality plan for medical device companies
Principles for design and construction
We've now covered all 6 of the TGA's 'general' essential principles.
The remaining principles, found in Part 2, focus specifically on design and construction, and are intended to elaborate on the general principles with more niche requirements.
These design and construction principles are:
7. Chemical, physical and biological properties (for hardware devices)

8. Infection and microbial contamination (for hardware devices)

9. Construction and environmental properties
(applies to all)

10. Medical devices with a measuring function
(for non-IVD devices with a measuring capability)

11. Protection against radiation (for medical devices that generate radiation)

12. Medical devices connected to or equipped with an energy source ('active' medical devices)

13. Provided information (applies to all)

14. Clinical evidence (applies to all)

15. Principles applying to IVD medical devices (IVDs only)
As you can see, some of these are also applicable to all medical devices, even if they don't fall under the TGA's 'general' bracket.
Regardless of your medical device type, you'll need to consider the construction and environmental properties, provided information and the clinical evidence you document.
Using essential principles to guide quality
The TGA's essential principles shouldn't be seen simply as a hoop to jump through to market your medical device to the Australian public.
They should be integrated into a holistic medical device quality management system which puts patient and device safety front and center.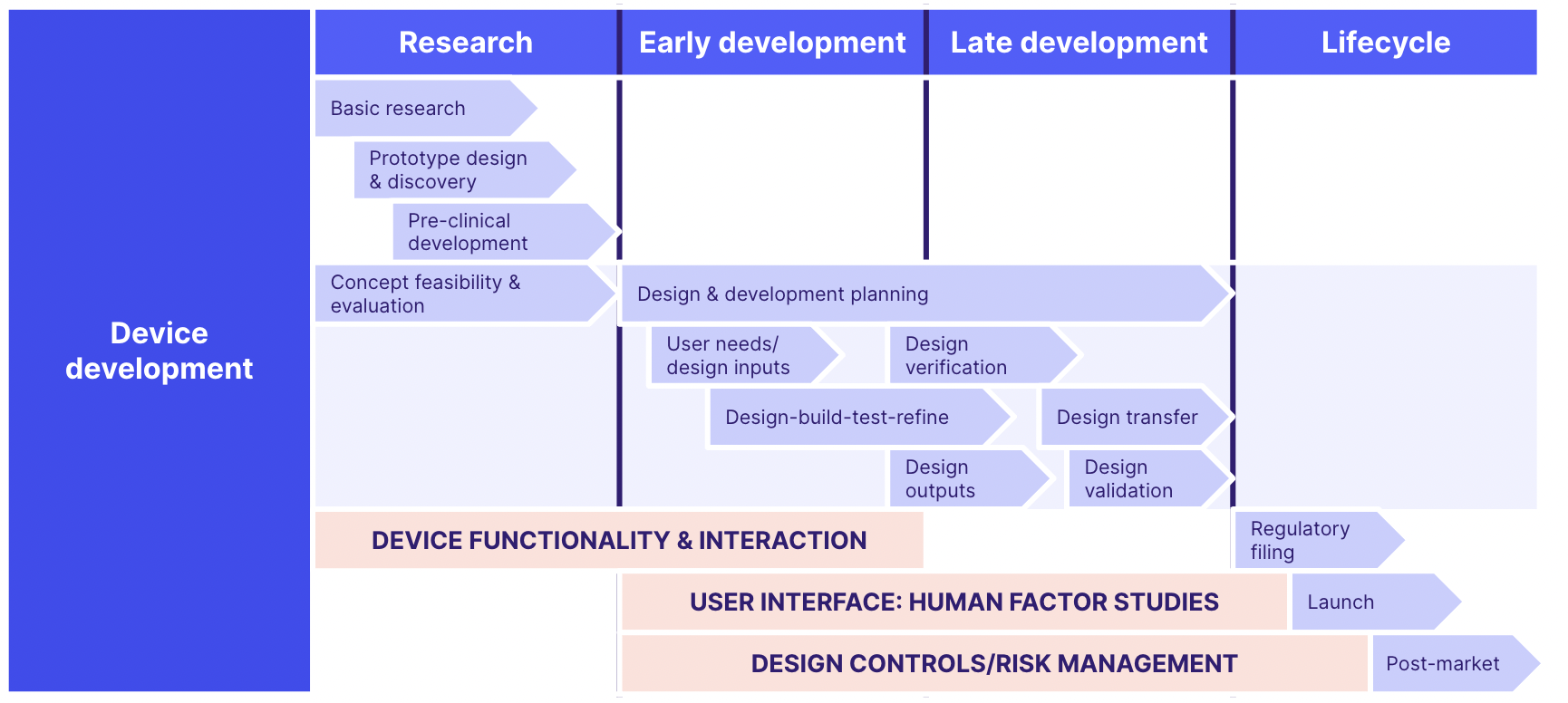 ISO 13485 offers an internationally recognized medical device quality management standard, and is the perfect place to start embedding the essential principles into your ways of working.
After all, the TGA's principles weren't drafted in a vacuum - they take heavy inspiration from other medical device legislation, and there's therefore lots of crossover.
At the same time, you should consider how to simplify and automate your medical device QMS processes, like document management and design controls, to accelerate your compliance and embed the principles even more quickly.
Medical device quality management software is an increasingly popular and powerful way for medical device companies to harmonize their quality and engineering teams, eliminate time-heavy admin and make compliance natural and automatic.
TGA essential principles checklist
To help you prepare for compliance with the TGA's essential principles, we built a handy checklist of all 15 principles for you to follow.
Use it to tick off each principle and their associated requirements, and embed complete TGA compliance!
TGA vs FDA
As a national regulatory body mandating quality standards, the TGA invites comparison with the US FDA.
Its responsibilities are broadly similar, though some differences are apparent. The 'f' of 'FDA' isn't applicable to the TGA, which doesn't regulate food products.
On the other hand, the TGA's powers extend to drug scheduling, a role fulfilled by the DEA in the United States.
The good news is that the TGA's essential principles for medical devices are based on internationally recognized best practice, making it easier for companies to negotiate Australian and American compliance simultaneously.
A clear example of this is the Medical Device Single Audit Program, where successful completion of a single medical device regulatory audit unlocks market access to both Australia and the U.S., as well as Japan, Brazil and my native Canada.
Fortunately, then, the TGA vs FDA dichotomy isn't a strong one. Working to the requirements of one is a great way to position yourself for success with the other as well.
TGA essential principles ensure patient safety
You'll need a strong, holistic set of medical device QMS processes to effectively hit all of your applicable TGA essential principles.
From managing design controls and device risks to documenting your activity and training your staff, your QMS needs to integrate a range of interacting processes to maximize patient and device safety.
An eQMS like Qualio makes your medical device quality and risk management faster, easier and sharper.
Medical device eQMS software is a great way to meet the TGA essential principles without undue effort, wasted time or compliance burden. Read what you need to know as you look for the perfect system!