The quality manager's guide to rapid eQMS success: validation, adoption and implementation
Electronic quality management systems (eQMS) were generally limited in their infancy to costly, custom on-premise platforms developed specifically for larger enterprises.
Today, there are a host of flexible, cloud-based solutions suitable for organizations of all sizes.
But even with more electronic quality management system (eQMS) solutions to choose from, a successful transition to a new eQMS is not guaranteed. Many companies in highly regulated industries suffer from failed validation, adoption and implementation journeys.
In large part, this is because most eQMS providers struggle to deliver optimized onboarding experiences, and their customers end up wasting valuable energy, time and capital during this critical mobilization phase.
It doesn't help that regulations pertaining to computer systems, as defined in FDA 21 CFR Part 11 and GAMP guidelines, are complex and difficult to interpret.
So, what does your life science organization need to do to maximize the value of its eQMS investment during the critical validation, adoption, and implementation phases?
The Qualio quality team has applied its extensive experience of working with regulated life science customers to give you all the insider intelligence you need for an effective eQMS validation, adoption and implementation pathway.
Let's take a look.
1. Validation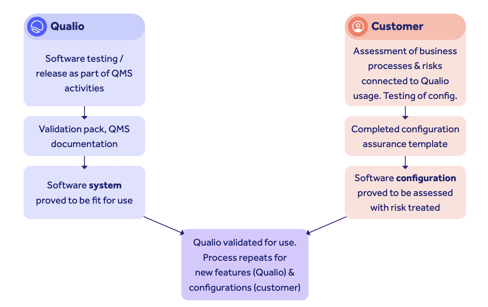 Qualio's validation approach
Validation is a critical first step toward eQMS software adoption. It's the process of ensuring your software meets regulatory requirements and guidelines, and is appropriate for operation in a regulated GxP environment.
Follow these simple steps to streamline the eQMS validation phase.
Conduct a vendor audit
Use this phase to assess a vendor's software development and testing procedures. By understanding and gaining confidence in the vendor's practices, you'll have the flexibility to leverage test efforts that the vendor is already performing — rather than recreating test environments from scratch. Additionally, consider any supporting documentation supplied by the vendor to make the process smoother.
Qualio customers, for instance, receive all the documentation they need to quickly and painlessly achieve eQMS software validation, as well as receiving templated content and guidance to ensure a quick and easy process.
Learn the other 11 things you should ask a potential eQMS vendor by accessing our guide:
"Qualio was much easier to validate than a lot of other electronic systems – the validation pack was a great start and saved us a lot of time. The team at Qualio has been so responsive."

- Brandon Zurawlow, Chief Scientific Officer, CS Analytical
2. Adoption
During the adoption phase, as a new user there are a few areas inside your shiny new eQMS that you'll need to focus on: account management, settings management, document management, training management and reporting.
Qualio makes it simple and easy to ensure rapid eQMS adoption. Here are some key steps you'll take:
Create your account
In most cases, as a basic user, you will be able to read and train on documents which have been assigned to you. With additional access, you can author documents, review documents, and approve documents. Additionally, you can complete training, analyze progress, read documents authored by others, and manage your account.
As a quality user, you're in control. You'll have full access to everything inside the software and the capability to manage all aspects of the system including:
Organization settings management: Access template management, groups management, training settings, and protocols.
Document management: Author, review, and retire documents.
Training management: Control training programs and access training analytics.
Report generation: Access activity, periodic reviews, and more.
Commit to training
Beyond developing an intimate understanding of core eQMS features, training aligns your business and raises opportunities for everyone to ask questions and suggest application ideas.
Consider nominating internal champions to drive awareness and adoption.

For more top roll-out tips, access our guide: How to evolve to a paperless eQMS
3. Implementation
Follow these simple steps to streamline your eQMS implementation phase:
Define success criteria
How quickly would you like to implement the eQMS? What do you want to achieve with it? How many users, teams and departments will be logging in each day? When developing an implementation, the plan must include how success is defined and how to deal with deviations.
Assemble the implementation team
With appropriate training, stakeholders should have a quality-first mentality. As such, consider assembling a cross-functional team of key stakeholders across departments to develop implementation goals and requirements for the eQMS. No single department can be tasked with eQMS rollout - it's important to solicit feedback from leaders across groups.
Monitor system updates
Updates will have an impact on your system's validated state, and as a result, activate change management protocols. Additionally, the continuous emergence of new regulations and the process of maintaining compliance with existing rules and standards has challenged organizations to manage change quickly and efficiently.
Qualio provides end-to-end digital management of your entire QMS, including dashboards, document management, training, reports, quality events and change management, all underpinned by best-in-class flexibility and automation. This enables users to quickly build, share, track and update change management processes automatically.
Leverage customer success teams
Don't think you need to go it on your own. Any reputable SaaS business will provide a dedicated customer success function to support you.
Qualio offers an implementation pathway with an industry-leading average timeframe of 60 days. Smaller and simpler implementations can happen even faster!
Next steps
To learn more about upgrading your business to a digital quality approach, try our guide.