3 FDA Design Control Requirements for Medical Device Startups
Did you know that design issues are the largest source of product recalls in the United States?
Poorly designed products pose a serious threat to patient health and safety — as well as the long-term success of your growing life sciences startup or scale-up.
To protect healthcare consumers, the U.S. Food and Drug Administration (FDA) enforces strict design control requirements that help medical device companies produce products that are both safe and effective for widespread use. Additionally, 21 CFR 820.30(c) requires manufacturers to establish specific procedures and inputs that inform the overall design of the product.
Failure to comply with these and other regulations places significant strain on resources for life sciences organizations. Unfortunately, these kinds of roadblocks can prevent even the most aggressive medical device companies from securing rapid FDA approval.
Keep reading to learn more about three design control requirements that your life sciences company needs to incorporate into product design to increase the chances you get your products to market on your schedule.
3 FDA Design Control Requirements for Medical Device Startups
The FDA recommends enforcing strict design controls to ensure that design processes result in products that fulfill patients' unique needs.
The most advanced product teams focus intently on quality during all phases of design. To this end, many teams invest in electronic quality management systems (eQMS) to proactively identify areas of risk or nonconformity.
Just starting or early on in your quality journey? Get helpful tips and fascinating insights from experts straight to your inbox.
Qualio's cloud-based quality management system (QMS) ships with FDA and ISO best practices baked in. As a result, teams can focus their efforts on product innovation instead of constantly responding to quality or compliance issues.
If you haven't invested in an eQMS for your growing life sciences startup or scale-up, there is no better time than now. Here's how an eQMS can help your team enforce and manage these critical design requirements.
1. Design Planning
Proper planning is a major prerequisite for any effective design control system.
The design planning process begins with a review of design control goals and objectives. For the best results, start by establishing all design control procedures, practices, and systems.
Ask yourself these questions: What activities will we follow to produce highly effective, safe, and compliant medical devices? How will we manage and enforce these unique design controls?
The second phase of the design control planning process requires quality teams to properly document all control activities. During this phase, it's important to identify and document individuals and teams that have an impact on medical device design.
A document management system (DMS) makes the design control planning phase much easier. These types of solutions allow design and quality teams to share, store, and search important documentation related to design control and quality assurance.
If you're looking for a new DMS solution, keep in mind that an advanced eQMS should come equipped with robust document management features.
RELATED READING: 5 Quality Control Procedures for Life Sciences Startups
2. Design Inputs
According to 21 CFR 820.3(a), a design input is described as the "physical and performance requirements of a device that are used as a basis for device design." (ISO 13485:2016 7.3 covers much of the same design input requirements.)
When it boils down to it, there are many types of design inputs — including performance data, regulatory requirements, labeling/packaging, device sterilization, and more. Both 21 CFR 820.30(f) and ISO 13485 to maintain comprehensive documentation related to product realization (e.g., all design control and quality processes).
Again, an electronic quality management system is a vital tool that can be used to alleviate some of the strain that design control documentation places on design/quality teams.
RELATED READING: 5 Online Medical Device Design Control Templates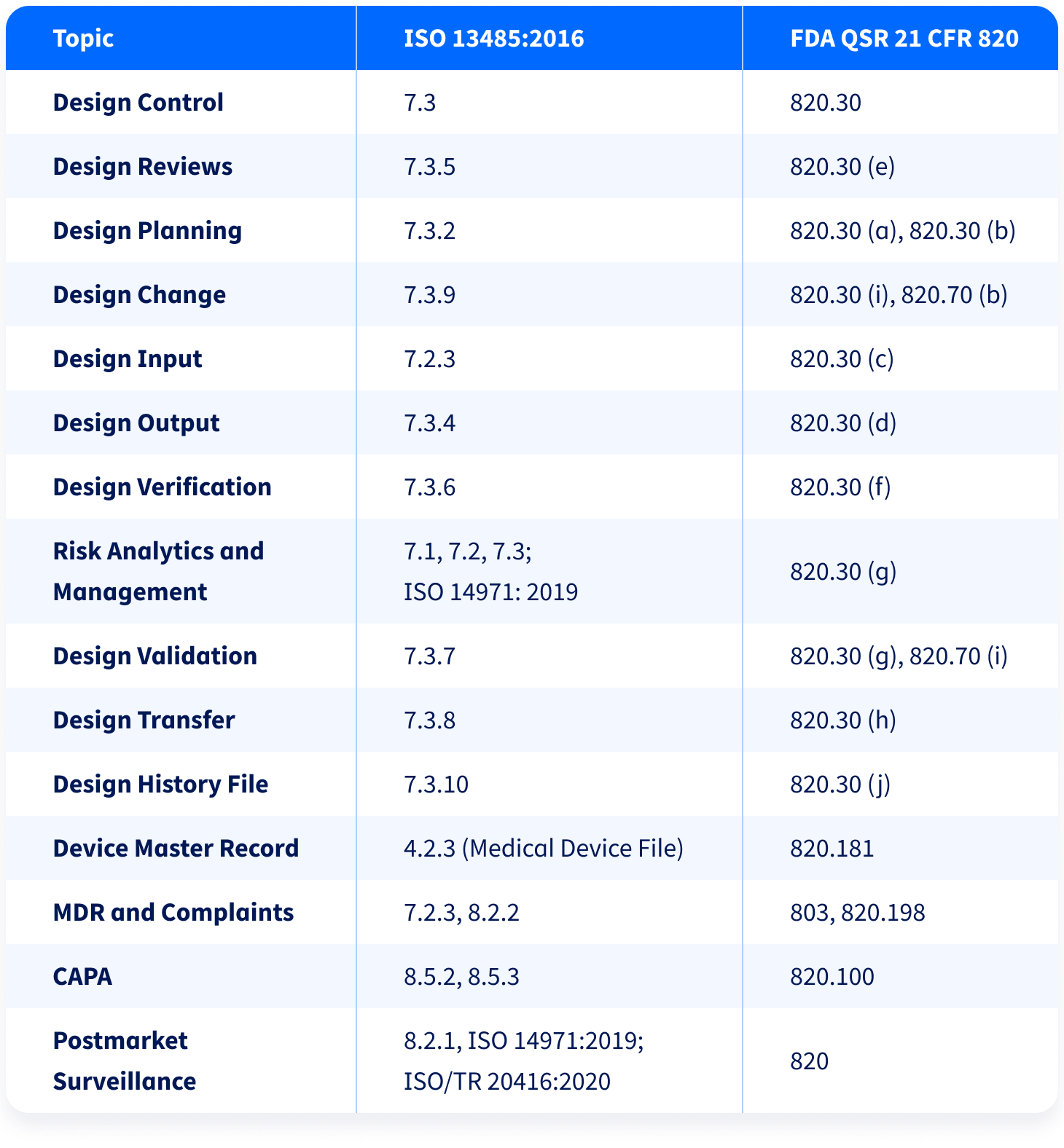 3. Design Management
What's more, 21 CFR 820.30 requires medical device manufacturers to activate risk mitigation mechanisms. This is a difficult undertaking even for the most advanced quality control teams.
However, an eQMS can help you streamline the entire process.
In accordance with 21 CFR 829.20(b), medical device startups are encouraged to invest in and maintain quality systems — something that's made considerably easier with Qualio. From document management to event tracking, our eQMS is designed to help teams develop a proactive approach to quality management and compliance.
And with audit-ready reporting, quality teams can easily generate documentation and reporting. These feature-rich reporting capabilities help save teams time during audits, since most auditors will want to see detailed reporting related to your design controls and inputs.
If you're preparing for an upcoming audit, we recently invited an expert panel to discuss some of the mission-critical steps teams can take to pass with flying colors. Listen to the conversation: Preparing for and Passing an Audit - Expert Panel.
How an eQMS Improves the Medical Device Design Process
An eQMS helps teams identify and control critical information related to the medical device design process.
With an enterprise-class eQMS solution in place, your team can easily establish, document, and maintain quality procedures. And when it comes time for your device review, FDA approval is almost guaranteed!
"Qualio sends me reminders when company training is outstanding, ensuring I am never late. Team collaboration on review and approval of SOPs and other work instructions can be streamlined and worked on in one safe place that keeps an excellent audit trail" — G2 Review.
How do your current quality management processes stack up against industry best practices? How does your eQMS compare to other solutions on the market?
To help you figure that out, we've created a free self-assessment.
Complete this short quiz, and you'll have all the information you need to immediately improve quality management.
We'll even give you an opportunity to meet with one of our quality professionals to discuss your results live!
We look forward to hearing from you soon.