Ultimate guide to Qualio integrations
Integrations aren't just about making your life easier and your work faster – though of course that's important.
The life science regulatory environment is growing in complexity, and the ecosystem of applications and tools your business relies upon has to grow with it.
A robust layer of quality and compliance data must be built and maintained to connect those systems and unlock complete control and visibility.
That's where Qualio's integration functionality comes in.
Why do you need integrations?

How many different systems do your colleagues log into each day?
And as a quality professional, how do you get visibility of the activity you need to see that's taking place in each one?
Whether it's medical device or pharma, contract research or biotech, modern life science organizations now rely on a bewildering number of tools and platforms such as:
Customer relationship management (CRM) systems
Enterprise resource planning (ERP) systems
Task and issue management platforms, like Asana and Jira
Manufacturing execution systems (MES)
Laboratory information management systems (LIMS)
Learning management systems (LMS)

Needless to say, the more complex and varied this web of platforms and systems gets, the weaker and riskier your compliance becomes.
For example: your development and engineering teams might have used tools like Jira for years, and come to know and love them. Asking them to duplicate their work in an electronic quality management system (eQMS) like Qualio is a fast ticket to internal friction and low engagement.
You can go and hunt for the information yourself and collate it in a spreadsheet - but if your engineering teams are making any kind of progress, the spreadsheet is probably out of date by the time it's completed.
Fragmented data and workflows, information gaps, and siloed and disconnected platforms frustrate your colleagues and interested parties, slow your pathway to market and make it difficult to point to completed, controlled actions when your auditor comes knocking.
The modern quality professional needs frictionless bird's-eye visibility of key activities without siloing, duplicated effort, or frustrating your product development velocity.
So as you look for an eQMS, integration functionality makes perfect sense. But which vendor?
Quality professionals on the hunt for an integrating eQMS often find that:
Some vendors offer integrations which will take months to get up and running
Others promise integrations with your team's favourite tools, but at the cost of 50+ days of development work
Others offer only perfunctory, bare-minimum 'integrations' which still require manual data work
Our integrations offering
We've developed an extensive integration strategy to resolve these issues for our customers.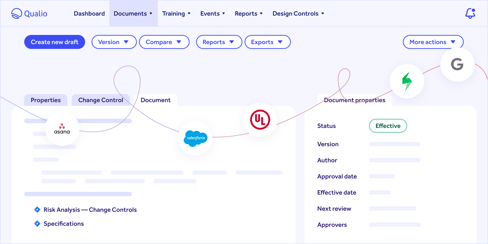 Qualio offers a string of powerful off-the-shelf API integrations to position our software as a trusted, centralized and synchronized source of quality truth at the core of your business. Let's take a look.
Customer Relationship Management (CRM) integrations
Customer management is no longer solely the remit of the account manager or customer success team.
Customer feedback, improvement suggestions and complaints are all valuable quality events which require your attention and complete traceability in your QMS.
Our Salesforce integration automatically pushes customer activity from Salesforce straight into Qualio Events.
Your customer-facing teams simply log a customer event in the normal way within Salesforce Case Manager, and an associated API-linked event with all relevant data fields is instantly generated within your eQMS.
Report on open complaints, view actioned improvement suggestions, or scan last quarter's customer feedback without ever needing to enter Salesforce yourself.
Best of all, custom trigger filters let you decide which Salesforce activity to push into Qualio. For instance, you may want only certain case reasons and types, such as complaints related to a specific product issue, to generate a Qualio Event.
Product test management integrations
Design control management is tough, complex, and often tackled in different ways by your quality and development teams. Small wonder it's a top reason for FDA citations.
From planning and test matrices to change management and DHF generation, your engineering team needs a familiar and structured project pathway - while quality needs a cogent and clear picture of all development activity.
Our Jira API integration seamlessly links Qualio's Design Controls and Events areas to the popular project management tool to strengthen and simplify your design control and quality event activities.
Your developers and engineers use Jira in the same way they do now to generate trace matrices and approve them, collate product requirements and key product development tasks, and assemble test cases before passing them for review.
Qualio automatically absorbs and organizes this activity in real time, centralizing within the Design Controls area for at-a-glance visibility, interrogation and exporting by the quality team.
In the same way, Jira quality events such as complaints, deviations and CAPA plans instantly flow into Qualio Events for complete end-to-end traceability.
Our newest integration – Zephyr Scale will support our customers in the same way as our Xray integration.

If you use Zephyr as a test case add-on within Jira, Qualio will integrate and absorb your test data straight into Design Controls.

Keep using your favorite testing tool, confident in the knowledge that Qualio is keeping your workflows and data under automatic compliant control.
Many Jira users opt for Xray as a dedicated add-on for their product testing needs. So we built an integration for that too.
Create (or edit) a test case in Xray and link it to a requirement in Jira, and it will automatically synchronize into Qualio Design Controls with up-to-date title, status and description data.
Run a test in Xray and its result will pull through too, along with the date and responsible person.
Microsoft's Azure DevOps platform is a widely adopted suite of product development tools ranging from artifact and test plan management to agile planning boards.
Azure DevOps now syncs with Qualio Design Controls to allow instant and constant synchronization of artifact, review and approval activities.
So your colleagues' familiarity with Microsoft strengthens, rather than weakens, your route to market.
We've also connected Asana to our Design Controls area to pull your task, project and product development activity directly into Qualio.
Engineers manage test cases, trace matrices and product requirements with Asana's familiar functionality, while our API synchronizes this data straight into your eQMS.
Many SaMD engineering teams already use TestRail to manage software test cases, runs and plans with at-a-glance visibility of testing progress.
That's why we've created a dedicated API to link TestRail to Design Controls.
Push test data, trace matrices and review/approval testing steps from TestRail into Qualio, where complete product logs and traceable audit trails are generated for the quality team to access.
Learning Management System (LMS) integrations
ComplianceWire is a tried and trusted role-based learning management platform for the life science industry.
We've connected it to Qualio Documents.
Upload and approve a new document with training requirements into Qualio, and a training event is instantly triggered in ComplianceWire for relevant personnel to complete.
And for new versions and retired documents, a status update and any retraining requirements are automatically passed to ComplianceWire too, keeping your workforce fully competent and compliant at all times.
Plus... SSO!
The route to your eQMS should be as simple and automatic as possible to maximize internal engagement.
We've added Single Sign-On (SSO) functionality for a series of common business management tools to achieve that goal.
Add Qualio as an app within Okta, and as an enterprise application within Microsoft Azure. Plus, get access to Qualio at the touch of a button from within Google Suite.
We've also developed an open public API ready for your custom integration requests. Just mention your needs during your Qualio scoping demonstration and we'll be happy to discuss an integration plan with you.
Impact
Integrating Qualio with your other business systems like Salesforce and Jira delivers dramatic time, cost and efficiency savings, while streamlining your compliance activity and bringing your quality, account management, customer success and development teams into lockstep.
Qualio becomes a 'quality sponge' pulling design elements and customer activities straight from their source systems.
An integrated quality layer centralizes your company data in a single compliance system. And your colleagues get to use the same tools they've been using for years.
No more chasing for manual data updates. No more duplicated effort.
And no more hopping between multiple platforms to find the quality and compliance information you need to see. What does this mean in the real world?
One Qualio customer, medical hardware, software and AI manufacturer Empatica, boosted their FDA submission process speed by an incredible 900%, slicing a 2.5-month preparation journey to just 1 week by integrating Qualio with their product development software stack.
Read our CEO's Forbes article about the power of integration
The roadmap
We're only just beginning. We've assembled a comprehensive roadmap to make our integrations offering even stronger in 2022.
Here's a sneak peek at our next upcoming releases…

We're expanding our integration functionality by adding the popular ERP and CRM system NetSuite to our API list.
As with Salesforce, our upcoming integration will allow you to automatically synchronize data from NetSuite cases straight into Qualio Events. Qualio's workflow functionality will then allow you to take concerted, fully audit-trailed actions for resolution and close-out.
Into the future
Customer interviews revealed that the average Qualio customer relies on a minimum of 5 business-critical supplier partners in the product development, delivery and support stages of the product lifecycle.
And industry analysis from Merck found that up to 70% of QMS data is connected to this broader supplier ecosystem.
We're meeting this growing need with more and more integrations to connect your business both internally and externally.
Watch this space as we announce our next wave of integrations and cross-system connections!
Next steps
Want some more info about our integrations offering? Download our datasheet by completing the form to the right!