How to Rock ISO 13485, Cardiaccs Did It 2x Faster with Qualio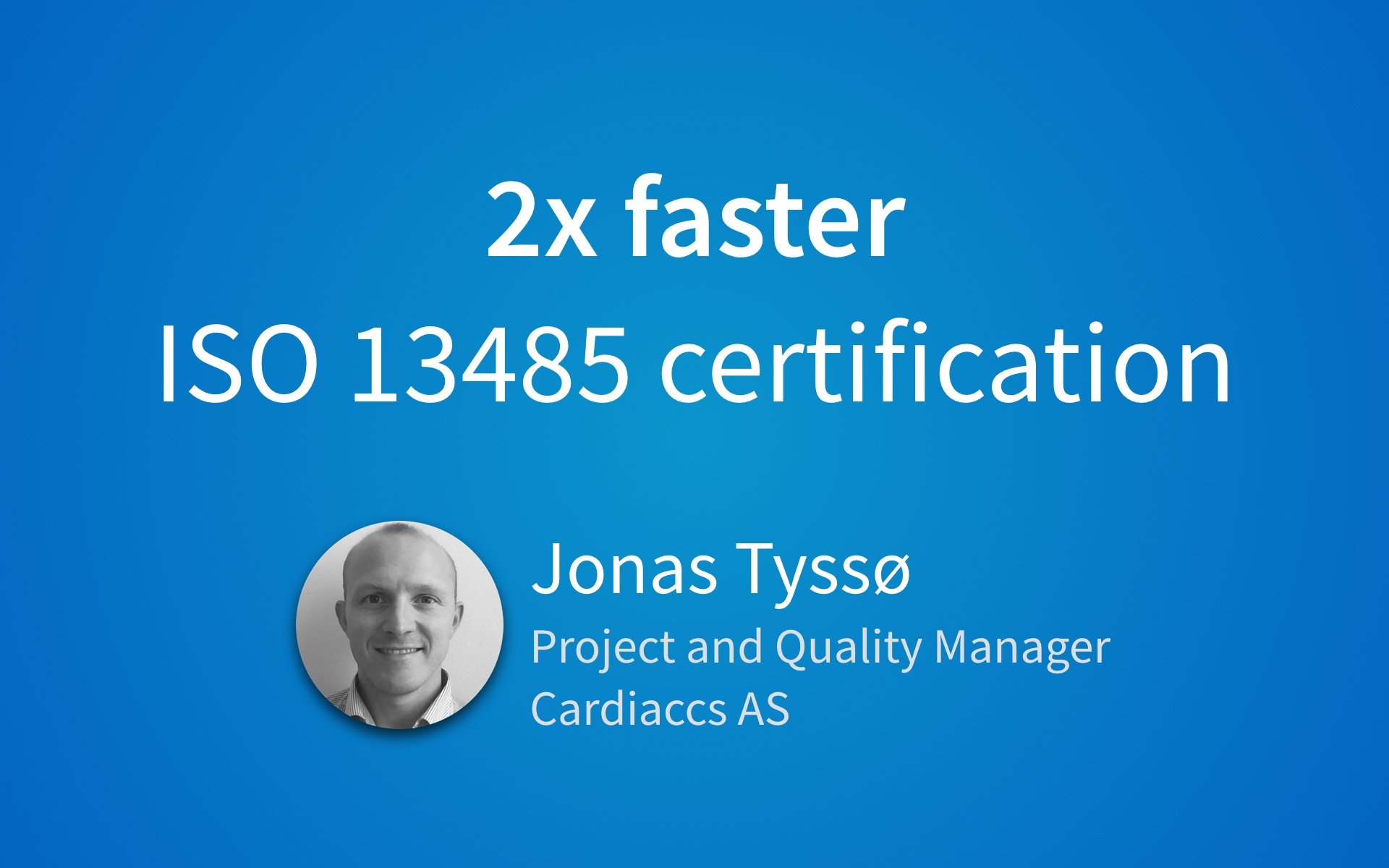 Cardiaccs AS was founded in 2009 as a result of 8 years of research and development by the Intervention Centre at Oslo University Hospital in cooperation with Buskerud and Vestfold University College. In 2014, the company received funding from the Research Council of Norway/FORNY2020 program to commercialize their Cardisense sensor technology.
The Situation
Like many Medical Device companies, Cardiaccs struggled with Quality Management Software that limited the company's ability to manage quality documents and processes. The system was slow and provided little or no improvements in efficiency. To an extent where remote employees had to print the documents to sign and "snail mail" them back to the office.
Cardiaccs was looking to modernize their quality management and document control systems and expedite their ISO 13485 certification process.
Their existing quality management system had many problems:
Complex interface wasted time and resources

Had major bugs and stability issues

No digital signature capability

Non-compliant with FDA 21 CFR 820
Qualio Solution
Cardiaccs hired an external quality consultant to help them establish their QMS and evaluate new QMS applications. They needed a system that would meet the company's evolving quality and compliance requirements, while supporting ISO 13485 certification. After evaluating multiple systems, Cardiaccs ultimately chose Qualio based on ease of implementation & use and its native document workflow and digital signature capabilities, which enable remote employees to sign and approve documents in minutes. As promised, Cardiaccs was able to implement Qualio's quality management system in just a few days and rapidly establish effective document controls, complete with web-based review, approval, and training built-in.
With the Qualio QMS Cardiaccs easily implemented:
Design control

Document control processes

Company-wide training and compliance

CAPA
The Result
Cardiaccs switched to Qualio in May 2015 and obtained ISO 13485 certification just six months later in mid-December 2015.

Without Qualio we couldn't have achieved ISO 13485 certification before the end of 2015 Going through this certification process without 'non-conformities' is like passing a difficult exam and with the highest honors. I am so proud of the team and this remarkable result
Not only was Cardiaccs able to reduce ISO Certification by 50% with no additional quality staff, Qualio's web-based system enabled Cardiaccs's widely distributed team to more effectively collaborate on documents (i.e., Design, CAPA, and SOPs) saving the company both time and money. For example, Cardiaccs's remote internal audit consultant was able to complete his audit in just two hours after only 20 minutes of training. With their previous system, the consultant would have needed to perform the audit and document review on-site in conjunction with internal Cardiaccs staff, requiring four to six man-weeks of time.
We now have a Quality Management System that is fully compliant for class III medical devices. With Qualio we are prepared to take the next steps towards compliance with European regulatory requirements and the CE mark. (As featured in MyNewsDesk.com)
In the final ISO Certification report, the assessor stated that Cardiaccs had a very effective CAPA (corrective and preventive action) process, comprehensive risk management procedure, and robust document management and control procedure which will support the growth of the business.