How to start a medical device company
Starting a successful medical device company is one of the most difficult business enterprises you can embark on.
Listen to the audio version of this article read by a real person here (Sound on!):
Combine high cost barriers, complex industry demands and a regulatory environment as tough as nuclear or aerospace, and you have a highly challenging pathway to market success and beyond.
We've assembled this guide to help you start a medical device company that sticks around and flourishes.
1. Budgeting
Good news first: medical devices, on average, take about a quarter to a half of the time to get to market as pharmaceutical drugs.
But that's still an average time to market of 3-7 years.
Assembling a team and running it throughout that timespan costs a significant amount of money, even if the Census Bureau found that 73% of American medical device companies are relatively small at 20 heads or less.
In fact, the average cost of bringing a medical device to market through the FDA 510(k) process is estimated at $31 million, while the more in-depth Premarket Approval (PMA) process is around three times as expensive.
Needless to say, careful analysis and planning of your projected costs is a vital step for starting your medical device company.
Ensure you consider things like:
Research & development
Research and development costs capture design, engineering, testing and prototype development, and will typically form about 10-20% of your costs.
The R&D stage will also require careful documentation of data, product specifications and more.
Nascent medical device businesses can choose to accelerate their efforts by outsourcing this activity to a contract research (CRO) or manufacturing organization (CMO). A mature, established third party with quality and compliance credentials could even provide some funding for promising clients, as well as taking on much of the heavy lifting of the R&D stage for you - but of course, this outsource option will add to the costs of this piece of the pie.
Operating costs
Besides a dedicated cGMP-compliant facility (which could be sidestepped if you choose a CRO/CMO as above), you'll also need to think about the salary costs of your team.
The life science industry in general offers competitive, above-average pay to workers, which you'll need to factor into your budget planning.
Equipment and tools
If you choose to develop and make your medical device yourself, you might need to invest in any or all of these:
Product components and materials, including electric components, polymers or anything else your device requires to be made
Molding and machining tools
Tubing
Sterilization (if it's a sterile product)
Testing equipment
Software for quality management, product testing and more
2. Funding
How can you possibly pay for $30+ million of costs to get your device to market?
Of course, your medical device company will require some kind of external funding.
Unfortunately, venture capitalists are generally less likely to fund medtech companies than they are pharma and biotech businesses, but there are still plenty of options available to you.
The key to funding is not to request it too early: VCs and angels won't flock to you at the first hint of an exciting idea.
Instead, you'll need to prove you've carefully considered and planned your route to market and put in significant effort yourself to establish the baseline of a successful organization.
Typical funding sources include:
Accelerators

As the name suggests, accelerators specialize in slicing the time from concept to commercialization by providing resources and funding to organizations that have at least a minimum viable product (MVP).

Accelerator plans typically span 3 to 6 months and involve handing over some equity investment (around 5-10%) in your company in return for cohort-based training, mentoring and support.


Incubators

Incubators, on the other hand, typically require some kind of flat fee in exchange for their offerings, and generally focus on helping your business refine and bring to life an early idea.
Like accelerators, incubators can offer mentoring and training in business management, product development, regulatory, compliance, securing further funding and more, and might also offer reasonably-priced facility space such as offices and laboratories to you to give your business a physical development springboard.
Unlike the quick and hard focus of an accelerator, incubator programs can take 1, 2, 3 years or more and might be public, private or academic in nature.
Venture capitalists (VCs)
VCs can offer the most dramatic and exciting influxes of funding for your medical device company, and are a classic funding technique.
Of course, this requires in return the meeting of significant expectations about the next 10 years or more of your business, including return on investment and internal rate of return (expectations can exceed 20x and 30-40%!)
A slightly 'softer' VC option comes in family office VC groups, which can be more flexible, mission-driven and likely to view your product as more than just a money-making opportunity.
VCs will typically come into contact with your business as you approach the crucial milestone of Series A funding. Subsequent rounds of Series B and C funding are typically slightly easier to pass through as your business generates momentum and delivers demonstrable progress.
Angels
Angels function in a similar way to VCs, but as high net worth individuals or groups they offer their own capital (rather than those from an investment fund) in return for something like 20-30% of your business equity.
SPACs
Special-purpose acquisition groups, or SPACs, are a relatively new phenomenon.
Also known as 'blank check companies', SPACs are always hunting for disruptive, rapidly growing investment opportunities and function as symbiotes, with investors accruing interest over a 2-year period while the SPAC 'hunts' for a company to buy into, merge with and take public.
If a SPAC fails to find an opportunity, it dissolves and the investors move on.
Academia
Universities are typically cash-rich and receptive to new ideas.
Partnership opportunities, particularly in the early stages of your medical device company, might therefore be a good idea. It's no coincidence that the so-called Golden Triangle of Oxford, Cambridge and London, and the Research Triangle of NC State, Duke and Chapel Hill, are major centers of scientific innovation in the UK and US.
Find the nearest university with a decent medtech presence and scope out partnerships or funding options.
Best of all, this set-up is usually non-dilutive, meaning no surrender of equity.
Learn more about securing non-dilutive funding by
3. Quality & compliance
Unsurprisingly, bringing any product to market which functions as a life-impacting medical device is impossible without clearing the significant regulatory and compliance hurdles in your way.
It isn't just about satisfying the requirements of FDA 21 CFR 820. If you have international ambitions beyond the United States, you'll also need to think about ISO 13485 accreditation too.
The costs of compliance can be dramatic. One Stanford survey found 77-80% of medtech development costs being consumed by regulatory and compliance demands.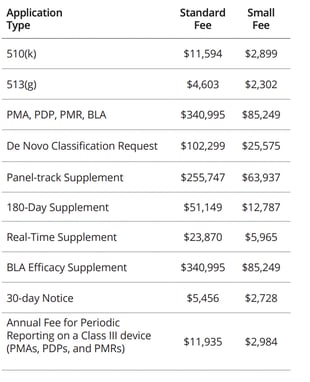 FDA application fees (just a small part of your regulatory costs)
To keep this burden under control, it's essential your medical device start-up adopts a 'right-first-time' and 'quality by design' (QbD) approach which bakes compliance and quality into your operating processes from the very first day of operation.
Your company will therefore need a robust and functional quality management system which organizes and controls activity in a compliant way.
You'll need to produce and control key quality documentation, including your Design History File.
And you'll need to give yourself complete traceability and visibility of your product development journey, so you can show the FDA the key information and data they'll expect to see during an audit.
As you plan the first stages of your medical device company, give careful consideration to your prospective device, its type (in vitro or regular), and where it will fall under the FDA's classification criteria. This will determine the regulatory pathway your device has to follow.
To support you on this journey, as we've already seen, you could turn to a contract organization with a pre-existing QMS to accelerate the process in the early stages - but you'll still, eventually, need a QMS of your own as you get closer to commercialization.
You could also turn to a consulting body to offer regulatory advice and help you assemble the QMS document stack you'll need to take your device to market.
As your medical device company grows and begins to operate with third parties, pay close attention to their quality credentials too. While it's a common misconception that suppliers to medical device companies need FDA or ISO compliance too (they don't), they should still have a robust QMS of their own which allows them to commit to an SLA and quality agreement with you.
Get a mechanism in place for evaluating, onboarding and assessing suppliers in a consistent way. Your quality and compliance as a medical device company is only as strong as your weakest link.
Other top compliance and quality tips:
1) Consider investing in an electronic quality management system (eQMS) to centralize your quality information, automate compliant processes and ease compliance burden - without relying on cluttering and confusing reams of paper and spreadsheets
2) The early days of your medical device company are a golden opportunity to establish a culture of quality before norms settle and crystallize. Hire people with quality expertise, push quality-centric policies and procedures, and make quality a natural ingredient of your business DNA from Day 1.
This will make regulatory compliance much simpler in the long run.
3) Plug yourself into medical device quality and compliance resources to educate yourself and your team about the demands of the industry on an ongoing basis and keep your in-house knowledge up to scratch
Remember: it's sometimes possible to combine these initiatives and save valuable time on your route to market.
For example, as well as providing eQMS software, Qualio also offers the Qualio+ quality assurance support service to help medical device companies fulfil their regulatory requirements more quickly with compliant document templates and FDA preparation support.
As one of our customers, Heather Underwood, CEO of EvoEndo, put it:
"Initially, we didn't have anyone on the quality side.

The support Kelly and the team gave us at the beginning was great and we were really leveraging them to build out our QMS from scratch with templates and everything.

It was so streamlined, it was so efficient, they were super helpful and communicative.

That's exactly what we needed - and that's why we went with Qualio."



— Heather Underwood, CEO, EvoEndo
4. Market prep
It's the dream of any medical device company founder to hit the market with a splash and begin generating millions of dollars in revenue with your shiny new FDA-approved device.
But market success requires careful preparation and planning.
The life science industry is highly competitive and cutthroat. From the first moments of your medical device idea being born, get it documented, patented and protected by confidentiality agreements. Try and find a suitable mentor from within the industry, and leverage any direct or indirect connections you might have to get your product in front of the right people early.
Once you have a solid, actionable idea, think about the size of your total addressable market (TAM). Dig into medical journals, industry publications and so on to pinpoint the number of people affected by the medical condition related to your device. This will determine the scope and impact of your device's release to market.
Like any product, you'll then need a solid marketing strategy that involves:
Competitor analysis
Buyer needs and personas
SEO, PPC and content
Value proposition and messaging planning
SWOT and PESTLE analysis
On top of that, you should also consider how to continuously capture voice of customer (VoC) once you do get to market.
What do your patients like (or perhaps dislike) about your device?
How are providers seeing a change in experience, for themselves and patients?
Has your device made diagnosis, delivery, treatment, etc. faster or easier than alternative options?
Capture this information. Shout about the good stuff, and feed improvement suggestions and negative feedback into your quality management system for continuous improvement.
Remember: for successful medical device companies, getting to market isn't the end goal. It's only the beginning!
More reading
World class quality from Day 1 will separate your medical device company from its competitors and unlock consistent growth and patient satisfaction.
9 ways to improve quality in medical device product development