Powerful quality analytic insights in our latest product launch
Qualio's latest round of product upgrades has been released!
We're very excited to not only tweak and enhance our supplier and document management functionality, but to launch our brand-new Analytics area too.
The big theme of this release is visibility.
From diving into visual quality data breakdowns to exploring a document's comment history at a glance, we've made it easier than ever for you to access the day-to-day insights you need to do your vital work.
Here's what's arriving!
Table of Contents
Analytics
Before ⬅️
Customers had to export Qualio data then insert it into a pivot table for visual presentation and analysis.
For some of our larger customers, the time and effort required to process and present data exports for management review sessions could be considerable.
Now ✅
Our new Analytics area surfaces instant, digestible visual breakdowns of your document, training and event management activity.
Drill into key system metrics, from cycle times to trends and task status, to keep things moving, allocate resources effectively, and spot and fix bottlenecks and weaknesses.
Enjoy an intuitive visual display of the data you need to see, and present it easily for audits and management reviews without any extra processing work.
And take the temperature of your business at a glance: spot overdue actions, trends and blockages, then take smart, data-driven action to maximize your quality and get audit-ready.
Qualio Analytics helps you make quality everyone's responsibility by driving accountability across your business.
"Great tool." "Useful and user-friendly." "I love it!"

- Analytics beta users' feedback
Coming soon ➡️
Our first Analytics release covers Qualio Documents, Training and Events.
Analytics for Suppliers will be coming in a future release!
Documents
Before ⬅️
User comments added during document collaboration work weren't saved after resolution, preventing the full context of document evolution being gleaned in future reviews.
The commenting UI sometimes made it difficult to differentiate between different types of suggestions, such as deletions, format changes or insertions.
Now ✅
We've made user comment histories persistent even after comments are resolved and closed out.
Dive into the complete comment history for any document with a click, to trace the context and timeline of that document's previous updates.
And we've overhauled and color-coded all the elements of our comment UI to make it instantly apparent what type of comment is being made.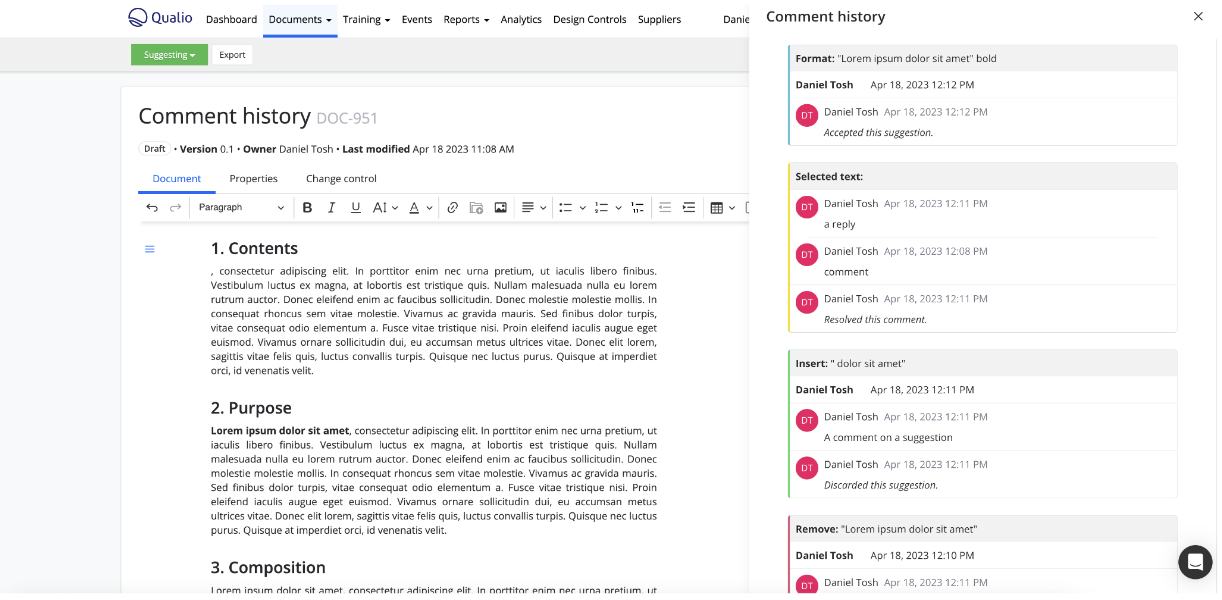 Suppliers
Before ⬅️
Permissions for Suppliers could only be updated by contacting Qualio customer support.
Now ✅
Grant or remove user permissions in the Suppliers area independently and in seconds.
Enjoy full, transparent control of your Suppliers userbase without having to ask us!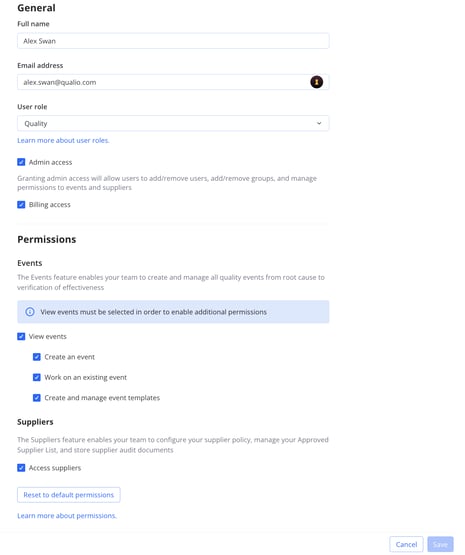 Watch the webinar
Learn more about Analytics and our other product enhancements in our launch train showcase webinar recording!