What are the 5 best options for nonconformance management software in 2023?
The right investment in nonconformance management software can make a good regulated company into a great one.
Choose the right software and you can streamline and master your non-conformance monitoring and fixing processes. Suboptimal non-conformance management, on the other hand, brings skyrocketing costs, recurring issues and defects, FDA warning letters and even regulatory fines.
The 'cost of conformance' is an operating cost for organizations in FDA-regulated industries such as life science. Edward Chung defines conformance costs as the activities required to ensure a product conforms to quality requirements and avoids failure. These include the costs of building quality into processes, appraisal costs, and prevention costs.
The right software can empower your organization to prevent expensive non conformances, streamline conformance management and improve your quality processes.
Our own product includes non-conformance management, so we have an obvious bias! But here are a few options in addition to Qualio we would recommend assessing for your nonconformance software scoping journey.
Table of Contents
What is nonconformance software?
In a nutshell, nonconformance management software provides a digital framework for the identification and management of nonconformances within the context of your quality management system (QMS).
A non-conformance can also be known as a nonconformity or a defect. It's any deviation from an expected process or result in your organization.
Example non conformances include:
Documented procedures not being followed
Employees not being fully trained
Manufactured product exceeding its variance parameters
Not adhering to GxP
The more nonconformances your business experiences, the less trusted, standardized, reliable and quality-centric it will be.
Regulators like the FDA audit regulated companies to look for nonconformances. If they find them, they issue a Form 483 telling you what needs fixing.
The FDA's inspection observations database is therefore a great place to look to find out where companies most commonly trip up, and which non conformances the FDA notes most often.
Read our guide to the MDSAP's nonconformance grading system for inspiration of how to score your nonconformances
Although it's theoretically possible to manage your nonconformances using legacy quality management tools like paper and spreadsheets, quality-centric regulated companies are embracing software as a faster, stronger and more efficient way to treat their non conformances.
Rather than manually populating spreadsheets with completed actions, or filing onerous and leaky CAPA paper records, digitized non-conformance management offers automated and standardized processes that cut out admin and allow issues to be fixed more quickly.
Non-conformance software should include all features and functionality necessary to identify and resolve your internal and external nonconformance issues.
These include support for identification, remedial action, root cause identification and CAPA, including the generation of corrective actions to fix your identified defects.
Any reputable nonconformance software should give you the flexibility to configure your own remediation steps, allowing you to fix your nonconformances in the way that makes the most sense and impact for you.
Your non-conformance software system should provide a clear and logical database of your nonconformances, allowing at-a-glance visibility of which issues have been fixed, which CAPA steps are in progress, and so on.
And the most mature and modern nonconformance software offerings, such as Qualio, even offer API integration with your other business tools like Salesforce - allowing customer issues and non conformances to flow instantly into your eQMS for fixing and close-out.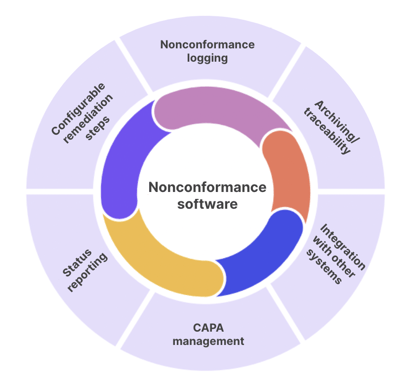 A nonconformance management software may be a standalone solution or a component of a broader QMS software system.
But regardless of whether it's a point solution or part of a suite, nonconformance software should address your operational risks and allow stakeholders to browse non-conformance notifications, reminders and escalated issues related to your defects and nonconformances.
Nonconformance management software: why you need it
It's simple: if you get faster and better at fixing non conformances with a digital software system, your company gets stronger.
Mistakes get fixed and don't recur.
Your product gets safer, more effective and more likely to secure regulatory approval.
And your processes get wastage, defects and weaknesses ironed out of them.
The right nonconformance software can therefore deliver multiple operational benefits to your company, including:
A safer and more effective product
Faster entry to market
Lower cost of poor quality (COPQ)
Improved consistency
Stronger collaboration and mistake-fixing
Better risk response
Stronger compliance
RELATED READING: 13 bottom line-boosting benefits of a quality management system
The 5 best nonconformance management software systems in 2023
Intelex is an environmental health and safety application (EHS) designed for compliance with OSHAS 18001 and CAPA in numerous fields, including organizations with complex requirements such as water quality management, waste management, and permit management. The solution includes support for documents, training, audits, inspections, and risk assessment, including a comprehensive CAPA suite to address nonconformance issues.
Pros
Highly sophisticated and extensible platform for multiple industries
Provides multi-lingual support for global organizations
Adoption may require custom development using Intelex developers
Easy-to-learn reporting module and incident workflow features
Cons
Frequently requires customization or configuration to meet industry requirements or use cases
Extensible platform necessitates clear solution design
Some users on Software Advice report minor user interface (UI) frustrations
One implementation partner on Software Advice recommends Intelex for the needs of "complex corporations" in multiple industries due to the platform's extreme potential for customization and configuration to meet many different use cases and potential to act as a robust solution for environmental health and safety. Free trials of Intelex are available by request.
Chances are, you've heard of IQVIA QMS--the parent brand behind Pilgrim Quality Solutions and SmartSolve® Nonconformance Management software. This SaaS application for nonconformance management is designed to create automation in risk-focused conformance management by managing quality, suppliers, and regulatory risk. Pilgrim includes workflows, document management, process management, analytics, and validation features.
Pros
Offers flexible workflow configuration to meet the needs of small or large organizations
Comprehensive, easy-to-use documentation for self-service
Intuitive user interface and dashboard features
Users report satisfaction with customer support experience
Cons
Workflows can quickly become "cumbersome" according to user reviews
Users report limited implementation, data validation, and training support
Limited functionality without the purchase of full QMS product
Users say data quality and change control issues resulting from a non-normalized database
Pilgrim Quality Solutions may be an appealing option for organizations with the internal resources necessary for data validation who want nonconformance management software as part of a comprehensive QMS suite. Product demos are available.
Qualityze is an eQMS cloud solution which, according to the vendor, is adopted by manufacturing customers of all sizes in many different highly regulated industries including automotive, defense, and logistics. Qualityze offers a comprehensive eQMS suite of products, including management features for nonconformance, CAPA, change, audits, training, and documentation. Nonconformance features are defined as "the ability to identify and document an issue" and "analytics." Pricing is transparently posted online beginning at $20 per user per month.
Pros
Online user reviews report fast time-to-implementation and intuitive software
Built on Salesforce
Efficient, streamlined workflows and simplicity
Closed-loop management processes
Cons
User reviews report the need for additional feature expansion
Limited online user reviews
Qualityze may be the right solution for your organization if you are searching for simple nonconformance software as part of a cloud-based for use in a highly regulated manufacturing field and you're willing to work closely with the vendor to determine goodness-of-fit based on client success stories at organizations which resemble your own. Qualityze offers a demo and a 1-week free trial to prospective clients.
Verse is an integrated solution for EHS and good manufacturing practices (GMP) which is categorized as total quality management (TQM) software for organizations in highly regulated industries.
There are several versions of Verse, including Verse for Life Sciences organizations. Verse for Life Sciences is designed to create an "audit-ready" state with features for handling complaints, corrective action, risk management, and compliance. Software reviews online which address solution pros and cons are focused primarily on Verse Standard, as opposed to implementations of Verse for Life Sciences.
Pros
Users report the solution offers excellent value for the cost
A wide array of modules and rich features
Provides automation for enterprise quality systems and processes
Cons
Users report implementations ran significantly longer than expected due to poor support
One user reported a failed implementation due to poor vendor support
A third user reported poor communication with the support team
Verse may be worth exploration if your organization is seeking a solution specifically designed for life sciences. The vendor offers a free, customized demo.
Qualio is an all-in-one (QMS) designed as a single, efficient, and automated cloud platform for organizations in pharma, life sciences, and medical device industries.
Qualio offers comprehensive QMS features which include training, document management, closed-loop quality, product development, and quality event analysis, including nonconformances.
Customers are empowered to proactively address quality events like deviations, non conformances and customer complaints with features for investigation, root cause analysis, outcome validation, and closure. Qualio's nonconformance features also allow organizations to assign CAPA-related tasks, track progress, monitor quality trends, and link conformance-related activities.
Pros
User reviews report simplicity and ease of configuration
Described by adopters as "the perfect software for startups and young organizations."
Customers report real operational benefits such as slicing a full 3 days from every single nonconformance resolution, compared to previous ways of working
Integrates with Salesforce to pull reported customer issues straight into your eQMS for remediation
Simplifies compliance with audit-ready reporting
Users report satisfaction with making feature and improvement requests to the support team
One adopting organization reported the business benefits of "swift" SOC certification, increased customer trust, and bottom-line growth
Cons
Users report an occasional need to conduct sophisticated data reporting in external business intelligence tools
Qualio may be the right choice for your organization if you are a small to midsize life sciences company looking to establish a quality-driven culture and scale your non-conformance system as you grow.
Download our datasheet to learn more about
Creating a culture of quality with your nonconformance system
Failure to discover quality issues and product deviations can result in recurring non conformances which bring regulatory risk, erosion of customer trust and reputational damage.
Conformance costs are part of doing business in any quality-driven, highly regulated industry. But a smart nonconformance management software investment can enable you to build conformance management, identification and resolution into your business processes and manage costs and quality closely and proactively.
Book a demo with us to see our