How Much Is the FDA Medical Device Registration Fee in 2020?
The FDA medical device registration fee for 2020 has been announced, and it's no surprise that it's increased. FDA medical device fees have risen an average of 6% across the board for the fiscal year 2020, running from October 1, 2019 to September 30, 2020.
The FDA medical device registration fee is up 7%, which is down just a bit from the 10-year average increase of 9.5%.
These fees change from year to year, sometimes by thousands of dollars, so it's difficult to budget for the next few years. To help you plan for the future, we've taken a look at fee changes over the past decade and estimated what the fees will be through 2026.
How Much Is the FDA Medical Device Registration Fee in 2020?
The FDA medical device registration fee for 2020 is $5,236, which accounts for an increase of 7% over 2019. The full 2020 fee schedule for medical device manufacturers has been released here.
Premarket Application is $340,995 (increase of 6%)
510(k) Premarket Notification Submissions are $11,594 (increase of 6%)
Full-fee Applications are $340,995 (increase of 6%)
De Novo Classification Requests are $102,299 (increase of 6%)
180-Day Supplements are $51,149 (increase of 6%)
Panel-Track Supplements are $255,747 (increase of 6%)
Real-Time Supplements are $23,870 (increase of 6%)
513(g) Request for Classification Information is $4,603 (increase of 6%)
Annual Reporting on a Class III Device is $11,935 (increase of 6%)
30-Day Notice is $5,456 (increase of 6%)
Who Must Register, List, and Pay the Annual Registration Fee
The FDA publishes comprehensive guidelines here, but in general, any company that is involved in the production and distribution of medical devices that are intended to be sold commercially in the U.S. must pay the annual fee — including devices that are intended for export only.
Additionally, most companies that are required to register must also list the devices and the activities performed on those devices as outlined in Title 21 CFR Part 807.
Plan Ahead: Approximated Annual Establishment Registration Fees
When we look back at the Annual Establishment Registration Fees from 2010 to 2020, we can see that:
The average increase in the fee is about 9.53%
The highest increase during that time was 31.01%
The biggest decrease during that time was 12.81% (decreases only happened in 2012 and 2017)
If we estimate the fee using the average increase percentage, by 2026, you could expect to pay $9,043.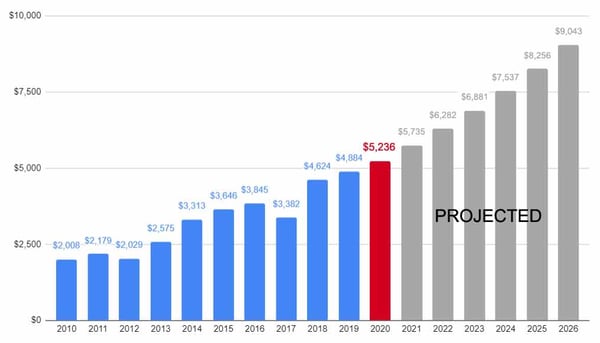 The Deadline for Registration
According to the FDA's website:
All existing medical device facilities should complete the Fiscal Year 2020 (FY 2020) registration process between October 1, 2019 and December 31, 2019. New medical device facilities must make payment and submit the registration and listing information within 30 days of beginning an activity or putting a device into commercial distribution.
You must pay your Device Facility User Fee prior to completing your annual registration for FY 2020. If paying online, you should allow 2-3 business days for the payment to be processed and for your Payment Confirmation Number (PCN) to be assigned. If paying by check or wire transfer, please allow 7-10 business days for your payment to be processed and for your PCN to be assigned.
FDA Medical Device Registration Details
For answers to most of the common questions regarding paying for annual registration fees, refer to the FDA User Fees Help Website located here: https://userfees.fda.gov/OA_HTML/main-furls.htm
Save Money by Avoiding Noncompliance Fees
You can't change the fees you have to pay the FDA, but you can save money by not paying fees for compliance problems.
You can learn from the mistakes that other companies make that result in warning letters and compliance issues. These include:
CAPA violations that accounted for nearly one-third of all FDA 483 Observation Letters issued in 2018.
Inadequate purchasing controls that resulted in one out of six medical device manufacturers receiving FDA 483 citations last year.
Errors in complaint procedures which were the second most common reason for FDA 21 CFR 820 warnings being issued in 2017.
Learn more in: 5 Common Medical Device Regulatory Compliance Problems Faced in 2019
Those are just a few of the issues that our eQMS system is designed to help you avoid. At Qualio, we want to help you build a culture of quality in your company — one that benefits you, your customers, and your bottom line.
Schedule a demo of our software and let's talk about your unique needs and challenges and see how we can help you succeed.