How Much Is the FDA Medical Device Registration Fee in 2022?
For the fiscal year of of 2022, the Food and Drug Administration (FDA) medical device registration fee rates increased by 2.5% from 2021. Considering it increased 6% from 2019 to 2020, this is good news for medical device companies. In FY 2022, which goes from October 1, 2021, to September 30, 2022, that fee is $5,672. In the previous year, it was $5,546.

Predicting the cost of registering your medical device can be tough, as the fees change from year to year, and increases aren't always steady. Let's take a look at fee changes from the past decade so you can be best prepared for FY 2022 and the years to come.
How Much Is the FDA Medical Device Registration Fee in 2022?
The FDA medical device user fee for 2022 is $5,672. However, there are other application fees medical device manufacturers should be aware of when they're working on their budgets. All fees increased by 2.5% for 2022.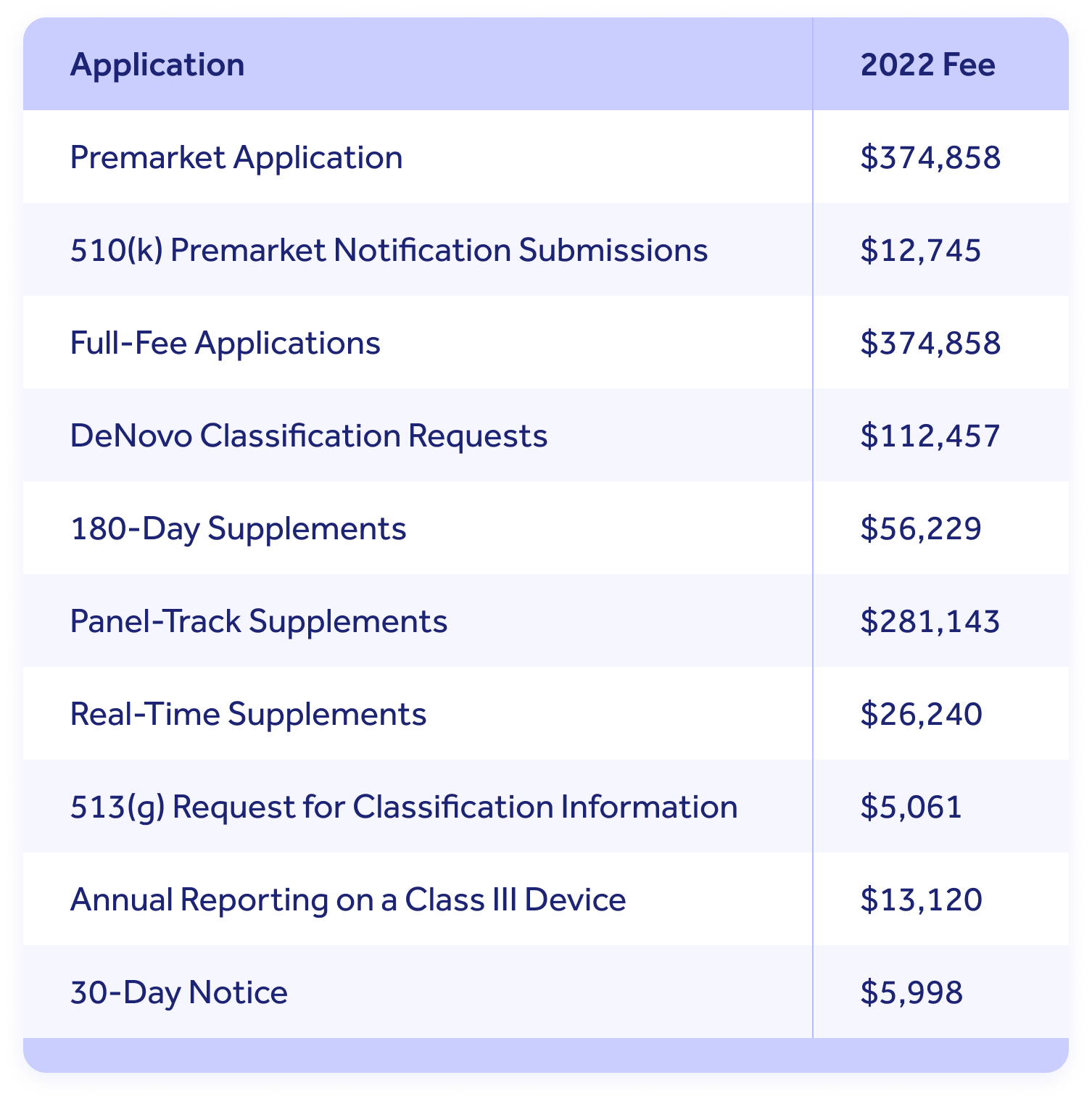 Who Must Register, List, and Pay the Annual Registration Fee?
The FDA publishes comprehensive guidelines here, but in general, any company that is involved in the production and distribution of medical devices that are intended to be sold commercially in the U.S. must pay the annual fee — including devices that are intended for export only.
Additionally, most companies that are required to register must also list the devices and the activities performed on those devices as outlined in Title 21 CFR Part 807.
This is different for small business fees, according to the FDA's site. For all small business submissions, except a 30-day notice and a 513 (g) request, the fee is 25% of the standard fee. For 30-day notices and 513 (g) requests, the fee is 50% of the standard. Small business determination is based on the total amount of gross receipts and sales. If revenue is less than $100,000,000 for the previous fiscal year, then a business can be eligible. They may also be eligible for a first premarket application waiver if gross receipts and sales are no more than $30,000,000.
Plan Ahead: Approximated Annual Establishment Registration Fees
When we look back at the Annual Establishment Registration Fees from 2010 to 2020, we can see that:
The average increase in the fee is about 9.53%
The highest increase during that time was 31.01%
The biggest decrease during that time was 12.81% (decreases only happened in 2012 and 2017)
If we use that data to estimate the fees for 2026, then you should expect to pay somewhere around $7,715—but make sure you leave some wiggle room just in case the amount increases more than what's anticipated.
What Is the Deadline for Registering Medical Devices with the FDA?
If you plan to register your device by September 30, 2022—the end of FY 2022—then you have to pay the FY 2022 registration fee. This fee applies to all medical devices registered between October 1, 2021, and September 30, 2022.

Paying the fee is only the first step in the process. Registration isn't complete until you receive confirmation from the FDA. Give yourself time to pay the fee, as payment confirmation times can vary based on payment type:
Electronic payments:

Confirmation can be received as quickly as 24 hours

Paper check:

After receipt via mail, confirmation can take up to seven business days

Wire transfer:

This option is for foreign companies that don't have access to credit cards or U.S. bank accounts. The FDA does not currently say how long this confirmation takes, but they note you'll be responsible for paying all fees associated with the wire transfe

r.
FDA Medical Device Registration Details
If you have questions during the registration process for your medical device, the FDA provides online resources to help, but here are some of the commonly asked questions according to the FDA User Fees Help website.
What are the main steps in the registration process?
Paying the fee on the FDA's site

Get your payment identification number (PIN) and payment confirmation number (PCN) from the FDA

Log into the

FDA Unified Registration and Listing System

(FURLS) to either register your device or send in your annual registration
How can you get help during the registration process?
This site gives the information you need to complete your registration, but if you still need assistance, you can contact the FDA via email at reglist@cdrh.fda.gov or call them at 301-796-7400.
My PIN says it's in "entered" status. What does that mean?
There are three status types for your PIN: entered, booked, or canceled.
Entered means the payment has either not been made or processed

Booked means the payment was received

Canceled means your order was canceled; PINs can only be canceled if they're in Entered status
Save Money by Avoiding Noncompliance Fees
You can't change the fees you have to pay the FDA, but you can save money by not paying fees for compliance problems.
You can learn from the mistakes that other companies make that result in warning letters and compliance issues. These include:
CAPA violations that accounted for nearly one-third of all FDA 483 Observation Letters issued in 2018.
Inadequate purchasing controls that resulted in one out of six medical device manufacturers receiving FDA 483 citations last year.
Errors in complaint procedures which were the second most common reason for FDA 21 CFR 820 warnings being issued in 2017.
When the FDA issues a Form 483 violation, you are responsible for fixing the issue. If you don't, you'll get a warning letter and could face seizure, injunction, or prosecution and fines. One way to help avoid common violations is by using a quality management system, where you can automate tasks, track manufacturing processes, and monitor your design history files all in one place.
Learn more in: 5 Common Medical Device Regulatory Compliance Problems
Make all of your medical device creation processes easier with Qualio
From conception to registration, Qualio can help throughout every step of the process of building and launching a medical device. Our quality management system was designed with life science companies in mind and can step in to automate tasks, generate reports, and so much more. In addition, we also offer Qualio Plus and Plus Audit services, which give you direct access to regulatory experts who can assist you throughout the process. Contact us today to see Qualio in action.