What is eQMS Software Validation?
Before we dive into the specifics of electronic quality management system (eQMS) software validation, let's take a step back and briefly discuss why you would even want eQMS software in the first place.
Companies still using paper-based and legacy systems for their quality management processes are only making their jobs harder — and increasing risk for the organization and the patients who use their medical devices.
With these types of outdated systems, you'll often have disconnected spreadsheets, documentation, and disjointed systems that lead to:
Frustrating rework
Increased risks
Missed project deadlines
By implementing and validating eQMS software within your organization, you can avoid the common problems that come with legacy systems.
Keep reading for a top-line overview of what eQMS software validation is — and, as a bonus — we'll give you a rundown of the FDA's new Computer Software Assurance Model.
What is eQMS Software Validation?
eQMS software validation is the critical first step toward eQMS software adoption and implementation. It's the process and documentation of ensuring the solution meets the requirements of the FDA and other governing bodies.
When validating your eQMS, you'll need to determine if it passes Installation Qualification (IQ), Operational Qualification (OQ), and Performance Qualification (PQ) requirements.
Your company will need to validate Qualio in order to comply with ISO guidelines and FDA regulations. To make it easier on your end, we provide a simple and easy-to-use validation pack that will guide the validation efforts.
When you're validating, you will need to look at three separate requirements:
Installation Qualification (IQ) to see if your servers are installed and properly configured. The FDA defines IQ as "establishing confidence that process equipment and ancillary systems are compliant with appropriate codes and approved design intentions, and that manufacturer's recommendations are suitably considered."
Operation Qualification (OQ) to ensure that your product works as intended. The FDA defines OQ as "establishing confidence that process equipment and sub-systems are capable of consistently operating within established limits and tolerances."
Performance Qualification (PQ) to make sure the product performs as expected. The FDA defines PQ as "establishing confidence through appropriate testing that the finished product produced by a specified process meets all release requirements for functionality and safety."
Let's dive into each of the components of eQMS software validation in more detail.
Components of eQMS Software Validation
The process of performing eQMS software validation involves four different components. These components include:
Conducting a vendor audit. Use this as an opportunity to assess vendor's software and development testing practices. By understanding and gaining confidence in the vendor's methods, you'll have the flexibility to leverage test efforts the vendor is already performing — rather than recreating them.
Building change controls. A change control protocol helps you manage system changes, assess proposed changes, and test those changes.
Performing a risk assessment. Use this as an opportunity to evaluate software changes, then compare those changes to the company's core business processes to identify areas of impact and risk.
Referencing vendor documentation. Leverage vendor documentation to assist during the software validation process. With Qualio, you'll enjoy a streamlined process for new customers that takes you through every step — from the basic setup of your eQMS to platform training for our administrators.
As a Qualio customer, you'll be onboarded in three phases:
Validation. We'll help you determine whether Qualio can help your company comply with relevant guidelines and requirements.
Migration. We'll collect and migrate your existing quality documents to Qualio. For first-time eQMS users, Qualio provides turnkey procedures, forms, and templates, ensuring an easy transition.
Training. We offer your team training on compliance best practices, software implementation, audit support, and regulatory processes. Our training is ideal for teams looking for additional guidance on regulatory processes.
Our Onboarding Plan:
Bonus: What is the Computer Software Assurance Model?
The Computer Software Assurance Model (CSA) is a new approach to Computer System Validation (CSV) that was previously enforced by the FDA.
CSA provides numerous benefits — such as reducing product risk and improving patient experiences. As a result, the FDA has been forced to rethink software validation and create new guidelines.
The most significant difference between the CSV and CSA is the approach. CSV approaches risk minimization and mitigation by the adoption of validation methodologies — such as waterfall, agile, or scrum.
With CSA, risk is minimized and mitigated by applying critical thinking and developing a new framework that ensures quality, patient safety, and data integrity. The benefits of CSA over CSV include:
Renewed focus on software quality
Reduced amount of documentation requirements
Increased automated and unscripted testing with an emphasis on quality assurance, patient and product safety, and data integrity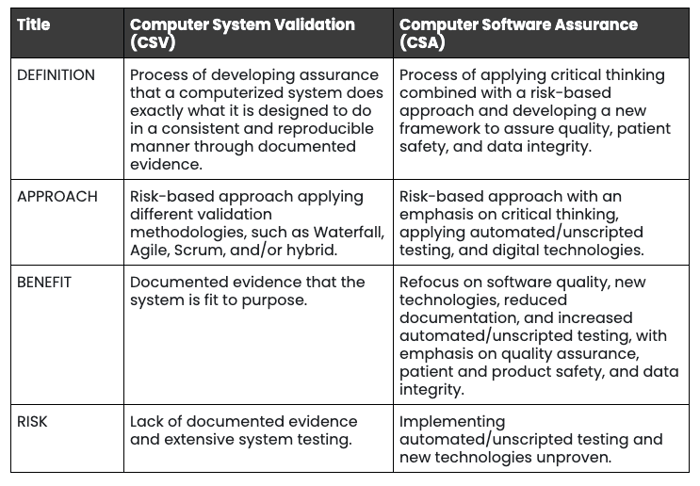 With the FDA releasing new guidelines to increase automation and technology adoption, your company will need to invest in an agile eQMS if you don't have one already.
As you search for the right eQMS solution, you'll need to ensure it passes the FDA's software validation requirements.
Invest in an Industry-Leading eQMS System
As an industry-leading eQMS provider, we've helped hundreds of life science organizations streamline system validation, adoption, and implementation.
We're confident we can help you, too.
Request your free demo today to find out if Qualio can optimize your organization's approach to quality management. Reach out when you're ready to help implement your new eQMS, and we'll give you a hand throughout the entire process.
"The user interface for this program is great. It's all-round easy to use (much more so than other EQMS systems I've used). I love that it's web-based, which is great when you're working from home. It's simple to navigate the program and creating, reviewing and approving documents is relatively painless." — Theo S., QC Microbiology Supervisor
Has COVID-19 impacted your supply chains and caused your company to rely on remote work to keep your business going?
Watch our webinar to learn how to maintain productivity and improve your quality management system while working remotely.