Regulated businesses are realizing the powerful benefits that an eQMS offers. But they don't always consider how to weave digital quality management into their operational plans, leaving eQMS investments as an afterthought or - worse still - a frantic last-minute response to their regulatory audit findings.
This webinar breaks down how to organically integrate electronic quality management into your business strategy, pinpointing the perfect time to digitize your quality approach and set your business up for long-term success.

Learning Objectives:
Learn the optimal point in your business journey to ditch paper and spreadsheets and move to an eQMS
Explore when a QMS and eQMS become unavoidable steps on your business pathway
Dive into common mistakes businesses make with their evolution to digital quality


Who should attend:
Quality Assurance
Regulatory Affairs
R&D
Clinical Operations
Executives/Directors
Product Managers
Speakers:



Eric Day
Director of Quality Assurance
https://www.linkedin.com/in/eric-day-83318b25/
Expression Manufacturing LLC, a subsidiary of Expression Therapeutics Inc.
eday@expressiontherapeutics.com

Eric received a BS Degree from Miami University. He has over 25 years of experience in Quality Assurance, Records Management and Training and Development within the Pharmaceutical Industry. His work experience includes: cGCP and cGMP compliance, regulatory agency audits, IRB audits, sponsor audits, investigative site audits, internal system audits, root cause analysis, trial master file records management, source data collection and review, SOP development, and staff training. Eric has been at EMLLC since June 2020 where he is the Director of Quality Assurance.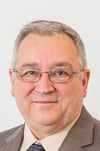 William Swaney
President
https://www.linkedin.com/in/william-swaney-08a9a78/
Expression Manufacturing LLC, a subsidiary of Expression Therapeutics Inc.
wswaney@expressiontherapeutics.com
Assistant: Drew Backer
Email: dbacker@expressiontherapeutics.com

Senior biotechnology professional with over 15 years experience in biopharmaceutical manufacturing. Competent in the manufacture, testing, certification, and use of viral vectors & expanded autologous bone marrow derived human mesenchymal stem cells for use in early phase I/II clinical trials. Relevant experience includes basic molecular biology techniques, cell culture, manufacturing process development, development and qualification of quality control assays, regulatory support, quality assurance, and management. Successful leader, team builder and motivator. Effective in distilling complex situations or procedures of a technical, regulatory, or business nature to a defined set of core issues which can be readily addressed in an action plan. Excellent communication skills between both subordinates and senior levels of management. Strategic thinker with a strong sense of identifying key opportunities and critical core tasks to be accomplished. Recognized leader in a team environment. Fast learner, pragmatic, and goal oriented. Broad technical expertise, especially in the areas of process development, Tangential Flow Filtration (TFF), mammalian cell culture, viral vector production platforms, operation of Wave Bioreactor, and required quality assurance and regulatory attributes for cell and gene therapy products.