Qualio starts 2022 the right way at the G2 Spring Awards
Qualio has continued to build our successful presence on the technology review platform G2 by placing first in 4 key areas in the Medical QMS category of G2's Spring Awards 2022.
Over 5 million software buyers visit G2.com each month to read authentic reviews about thousands of software products and professional services.
And over 1.5 million G2 reviews have been created by real software users across the globe, including Qualio customers.
G2's Spring Awards 2022 celebrates leading vendors across key software categories, including medical quality management, based upon the feedback their customers provide.
Qualio has been ranked 1st in 4 key areas of G2's Spring Awards 2022 Medical QMS category:
1. Momentum Grid
G2's Momentum ranking combines growth figures for employees, social/web presence and G2 reviews with customer satisfaction ratings to produce a Momentum Grid score.
Qualio combined a satisfaction score of 93 with a Momentum score of 77 to generate a winning Momentum Grid score of 83, easing past competitors Arena and Greenlight Guru.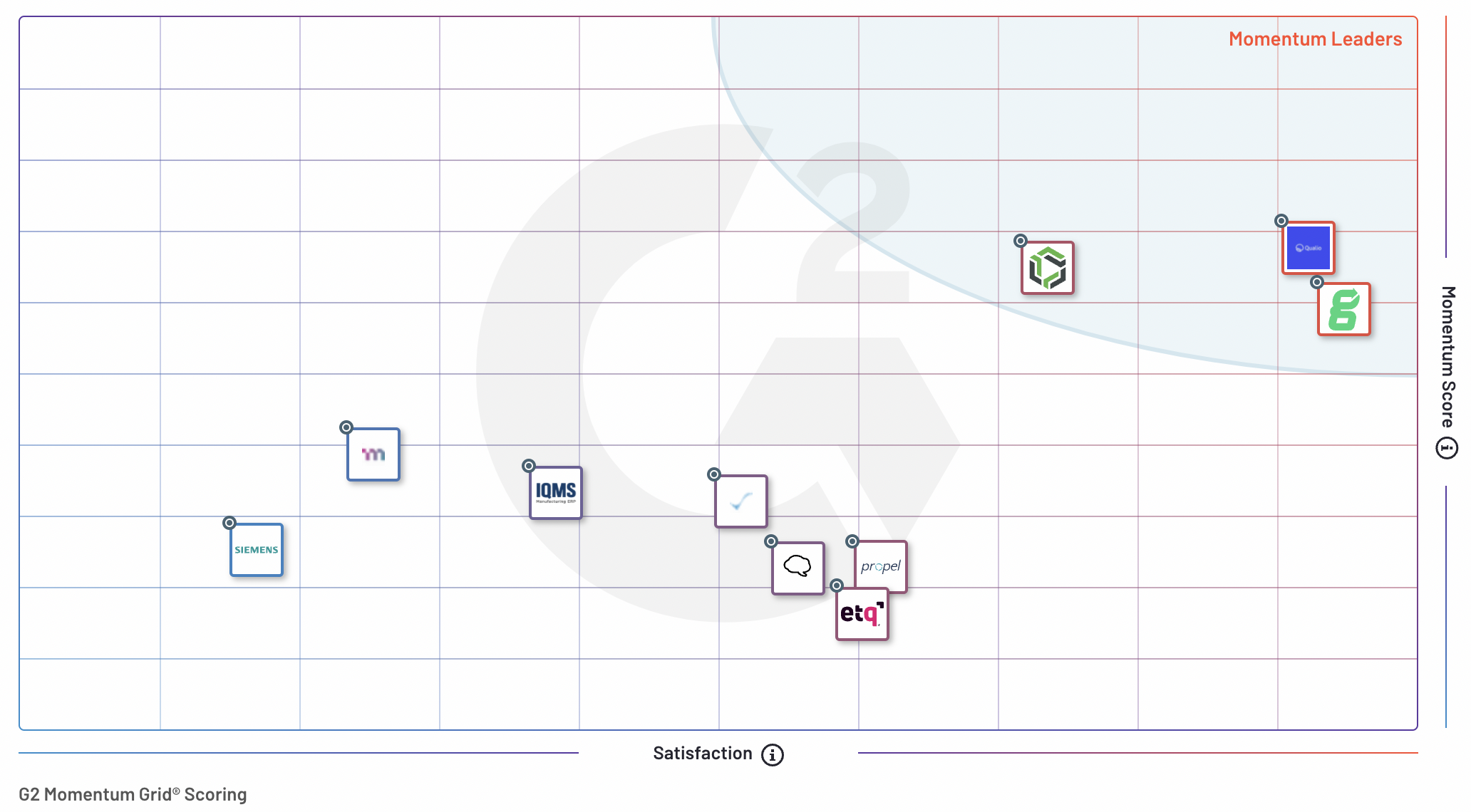 2. Implementation Index
The Implementation Index combines reviews of implementation speed, method, ease of setup, user adoption, and overall implementation satisfaction.
With our focus on rapid, high-quality setup, Qualio took the winning Implementation Index spot with a score of 8.54.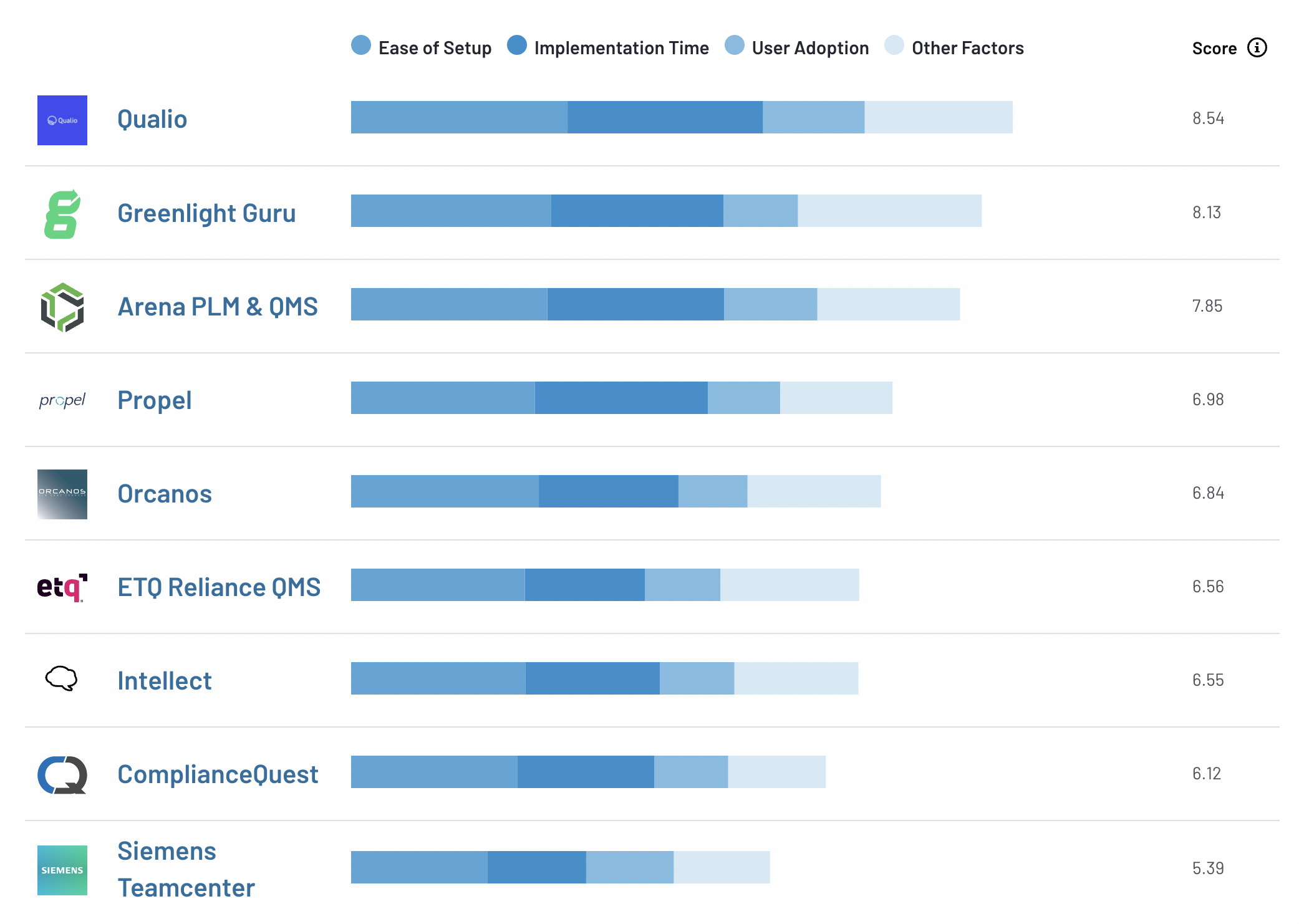 3. Usability Index
Qualio is designed to make quality management easy, intuitive and automatic for our customers.
So it was rewarding to place first on G2's Usability Index with a score of 8.85.
The Index is calculated by combining customer feedback on ease of use, ease of admin, user adoption, and how closely the product matches specific customer requirements.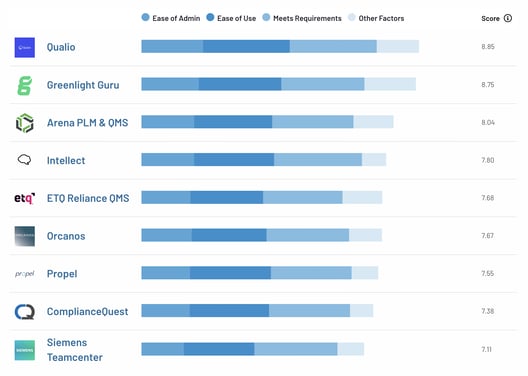 4. Results Index
None of this would matter if we didn't also deliver tangible positive results to our customer base.
Our winning score of 8.43 on G2's Results Index reflects our success in this area.
Based on customer reviews of likelihood to recommend, ease of working with the vendor, meeting requirements and delivering ROI, Qualio was ranked as the most impactful medical quality management software system.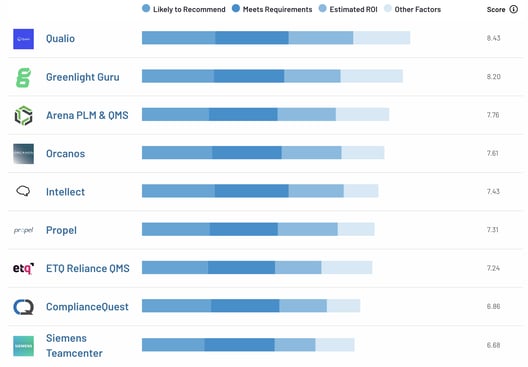 Other accolades
Within these broader awards, Qualio was ranked as leader in a number of key user metrics, including:



Qualio continues to be ranked as the easiest-to-use medical QMS software on the market heading into 2022: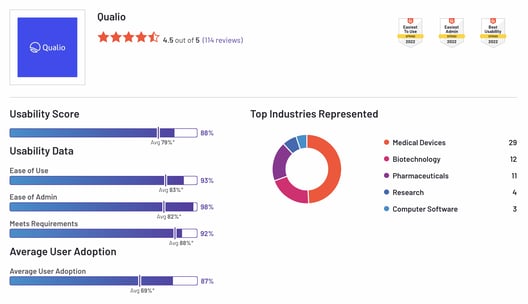 Our success at the G2 Awards couldn't have been achieved without the honest testimony of our customers.
We received a string of glowing reviews which helped us beat our competition in the medical QMS sector, including:
"Qualio is the best QMS cloud-based system I've ever seen."

- Paul H., Senior VP of Ops, Tech Service & Quality,

Advantice Health
"A game-changer for a paper-heavy QMS. Qualio is a breath of fresh air."

- Gareth Q., Director of Quality, iMIX
"The perfect QMS for a start-up."

- Drew M., Director of Quality, ECM Therapeutics
What to do next
On the hunt for an eQMS for your life science business?
Start your search the right way with our guide to the 12 things you absolutely must ask before you buy.