5 Staggering Medical Device Recall Statistics That Should Concern Everyone
Faulty medical devices not only endanger patient lives, they can also mean the death of your organization.
Take the A.H. Robins company, for instance. The recall and damages of their Dalkon Shield birth control device resulted in a bankruptcy filing for the massive 6,000 employee manufacturer. If a single recall can take down a company that big, you can imagine what might happen to a smaller organization.
Let's look at some medical device recall statistics and explore ways in which you can avoid these potentially catastrophic mistakes.
5 Alarming Medical Device Recall Statistics
A medical device manufacturer experiences an average 10% drop in share price after a single, major product recall event, according to the McKinsey Center for Government. Reputational damages following a major event can further contribute to "serious, long-term value destruction." In the past 10 years, medical device quality issues have caused 83,000 patient deaths. Device failures that cause serious harm or patient deaths have become an industry crisis.
The FDA has responded with new efforts to create traceability via unique device identification (UDI). In November 2018, the agency announced they would be modernizing the 510(k) device clearance pathway to mitigate many risks to patients. The result is a more rigorous FDA oversight of clinical safety data for a small percentage of devices on the 510(k) pathway, especially when substantial equivalence applications are based on a device approved in 2009 or earlier.
Learn if your Class 2 medical device is affected in 4 Reasons Overhauling FDA 510(k) is a Great Idea.
The following medical device recall statistics point to a public health issue. It's time for manufacturers to take quality seriously, starting with an understanding of the industry crisis. Recall trends are an alarming snapshot of the industry's quality issues.
1. Recalls Jumped 71% in 2018 and 2019 vs. the Previous Two Years
409.5 million medical device units were recalled in 2016-2017, averaging 58.19 million units per quarter. In 2018 and the first two quarters of 2019, that average shot up to 99.33 million units recalled per quarter, or 595.98 million in just 18 months' time. That represents a 70.69% percent increase in the average number of units recalled per quarter.
Number of medical device recalls in the U.S. by quarter from Q3 2015 to Q2 2019 (in million units).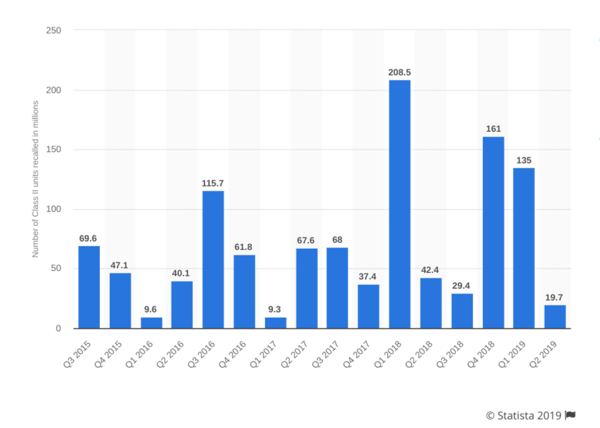 Image credit: Statista

There was an enormous recall spike in Q1 2018, with 208.5 million units recalled—the highest recall rate since 2005. However, this wasn't due to a single widespread recall. Instead, 343 distinct products were recalled.

The slight drop from 2018 to 2019 isn't a signal manufacturers should be confident, either. According to one research report, FDA inspections and resulting recalls slowed in early 2019 due primarily to the government shutdown.
2. Software Issues Are the Leading Cause of Medical Device Recalls
Researcher Michael Good tells Radiology Business that software issues are the number one reason for recalled products. In a recent quarter, 23% of recalls were caused by different types of software failures, including "software anomalies, false results, and network connection issues," per Good. Mislabelling was a close second, representing 21% of recalls in the same quarter. Throughout 2018 and 2019, other leading causes included machine failures, manufacturing defects, and quality issues.
Five years ago, the leading cause of recall were device design issues and product control. According to analysts, the trend toward software issues reflects the increasing complexity of medical device software. However, recalls certainly aren't exclusively technical.
3. Over 50% of Recalls Are Nationwide
55% of medical device recalls are nationwide. Recalls of products with international distribution represented 36% of the total. In an increasingly global device market, manufacturers are more likely than ever to face global responsibility when a device fails.
Recalls which are spread across multiple regions or more than one country are more logistically challenging than concentrated recalls, especially if the manufacturer lacks effective tracking systems. A costly recall can become unmanageable if the manufacturer can't track unique product identifiers or customer complaints. Issues also can't be resolved or investigated without visibility into the supply chain.
The right time to prepare for a recall isn't after a product failure. Manufacturers should remain compliant with all regional requirements, and implement Enterprise Quality Management Systems (eQMS) to track suppliers, products, and customers.
4. On Average, the FDA Issues 1.5 Recalls Each Week
The FDA issues a statement for each device recall. In a recent three-month period, 18 devices were recalled, or an average of 1.5 products recalled each week.
A 2018 CDRH report stated that since 2007, the FDA has increased its number of domestic device inspections by 46%. In the same time period, there has been a 243% increase in international device inspections.
Some of the recall growth in recent years can be attributed to sheer volume. There are more devices on the market today. Compared to 2007, the FDA regulates significantly more manufacturers and products. However, industry growth isn't the full story. Product recalls are growing at a much faster rate than FDA inspections, indicating a very probable growth in quality issues.
5. Life-threatening Class I Recalls Increased 9,811% Between 2017 and 2018
FDA device recalls are classified according to patient risk, in Class I, II, or III. Recall classes are not the same as Device Classes 1, 2, or 3. The agency assigns a recall class based solely on patient risk. For example, a Class 3 Medical Device could be subject to a Class I recall.
Class I: A "reasonable chance" of serious health problems or death
Class II: A product "may cause" a temporary or reversible health problem, or a slight chance of serious health problems or death.
Class III: A product "not likely" to cause any health problem or injury.
Life-threatening Class I recalls have increased since 2016. Between 2016 and 2017, there was a 64.76% increase in device unit recalls, from a quarterly average of 310,158 units to 511,017 units. Between 2017 and 2018, percent growth skyrocketed to over 50 million units per quarter, representing 9,811% year-over-year growth. This massive increase is largely caused by 186 million Class I unit recalls in Q1 2018.
Some of these serious recalls aren't necessarily a sign that manufacturers are guilty of massive failures. Instead, some of the most serious recalls are attributable to innovation. According to a Harvard Business School study, med-tech innovations have added five years to life expectancy. However, the rate of med-tech innovation means devices are more complex than ever and have a greater capacity for failure.
The 2017 Abbott pacemaker recall is an excellent illustration of how innovation can increase severe risks among approved products. After discovering the pacemakers could be hacked to drain the pacemaker battery or malfunction, Abbott voluntarily recalled 500,000 units. The event spurred conversations about cybersecurity and medical device safety. While the severity of recalls in recent months is certainly a cause for concern, it's partially attributable to the fact innovation rates are at historic highs.
How You Can Ensure Quality and Avoid Recalls
These alarming medical device recall statistics show why you want to avoid a product recall. Device failures can cause serious harm to patients and tank your company. In some cases, recalls can be the result of unforeseen issues with complex, interconnected products like the Abbott pacemaker. In many other cases, manufacturers may sacrifice consistency and quality for speed-to-market.
It's time for device manufacturers to "drive quality and reliability throughout the value chain," as McKinsey has stated. Quality needs to be a focus throughout the device product lifecycle. The solution is in better systems for quality management, especially at small, agile companies who need to establish systems of risk management during product development.
Qualio is the first cloud-based QMS created for medical device startups and scale-ups, in accordance with FDA and ISO best practices. You can adopt agile risk mitigation tools with Qualio's features for proactive response and closed-loop quality, so you can balance speed, innovation, and patient safety.
If your life sciences company has 5-500 employees and is ready to leverage quality as a competitive advantage, get a demo of Qualio today to learn how we can help enable your success and keep your organization from adding to these medical device recall statistics.