The Top 4 ISO 13485 Gap Analysis Templates: Pros and Cons
Can your medical device company pass a surprise audit? If you said "Of course we can!" then you'd be in the minority.
A recent survey showed that only 38% of medical device professionals were "very confident" they could pass a surprise audit.
So if you're part of that underconfident 62%, then it's time to make a change.
Creating a culture that's centered around quality can keep you audit-ready 24/7/365 and give you a competitive advantage that can help you win your market.
We've reviewed the best ISO 13485 gap analysis templates to help you pick the right one so that you can gauge your company's quality practices vs. the standard. Once you've identified the gaps, you can begin to close them and make substantial improvements in your organization.
The Pros and Cons of the 4 Best ISO 13485 Gap Analysis Templates
ISO 13485:2016 is the international standard for Quality Management Systems (QMS) used by organizations involved in the manufacturing, servicing, distribution, and disposal of medical devices.
If you hold an ISO 13485:2016 certification, then you are recognized as being able to manufacture medical devices that meet or exceed industry standards.
Holding this certification can help open new markets for your business and build trust with your customers.
A gap analysis can help your quality managers determine if your QMS is fully aligned with the ISO 13485:2016 standard. After you complete the analysis, you should know how ready you are to (hopefully) pass a third-party ISO certification audit.
What ISO 13485 gap analysis template should you use? Here are some of the top choices in the marketplace.
1. The 13485 Store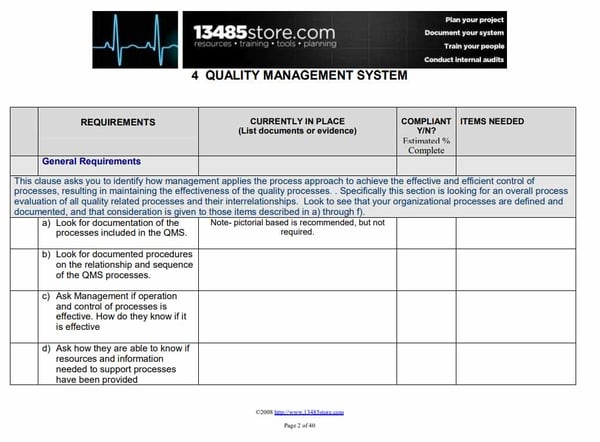 Pros:
The 60-page checklist covers every section of an ISO 13485 Medical Device Quality Management System.
It is provided in Microsoft Word format to make editing easy.
It includes guidance on what to look for to evaluate your current processes and compliance.
The checklist has space for personal notes.
The template links to additional supporting information for certain clauses.
It stipulates that six procedures are required and they are highlighted in yellow in this checklist.
Cons:
It's not free - but it does come with technical support for your purchase.
Purchase:
The cost for the checklist is $39, and it can be purchased at: https://13485store.com/13485-2016-compare-products/checklists-other-tools/13485-gap-analysis/
2. Safety Culture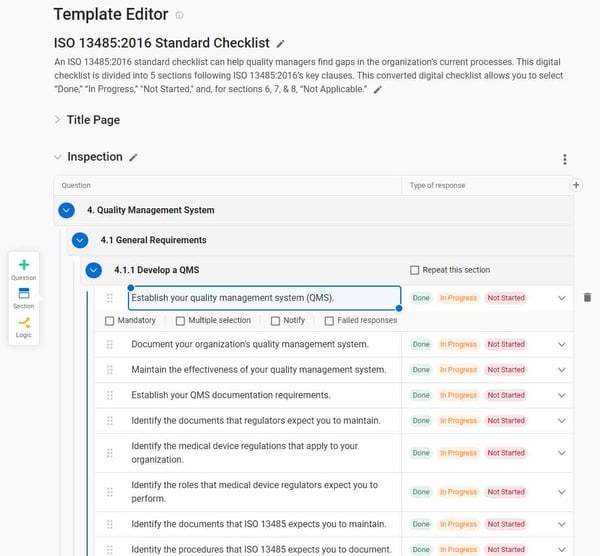 Pros:
There are two checklist template builders available — ISO 13485 Audit Checklist and ISO 13485 Standards Checklist.
The template editor is interactive and easy to use.
Both checklists are available for free.
The standards checklist is conveniently divided into five sections that follow ISO 13485 key clauses.
The standards checklist will allow you to select "done," "in progress," "not started," and "not applicable" for various sections.
Cons:
You can only use this checklist if you create a free iAuditor account.
You will have to use your mobile device and iAuditor App to conduct your audit.
Download:
Both checklists can be downloaded for free at: https://safetyculture.com/checklists/iso-13485/
RELATED READING: An ISO 13485 Risk Management Plan Example You Can Steal and Use
3. 13485 Academy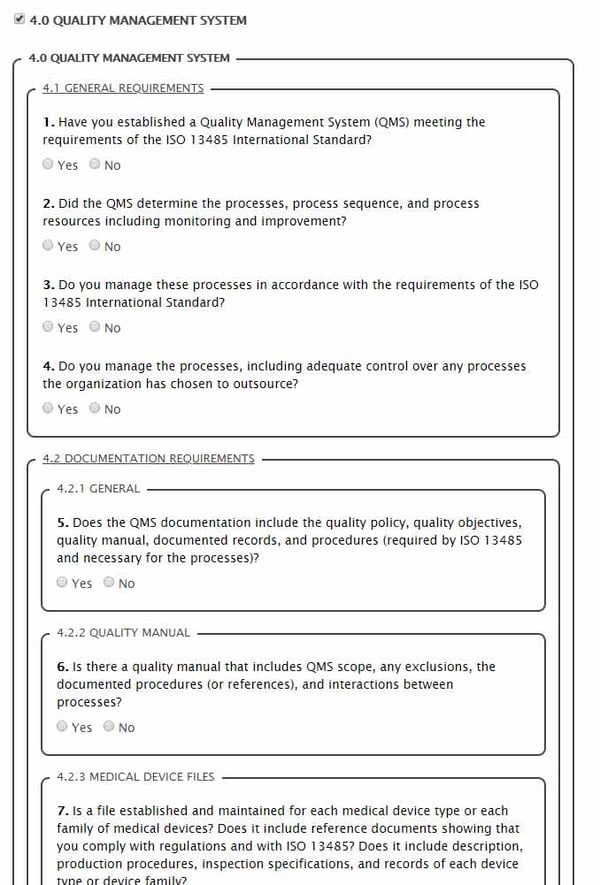 Pros:
It's relatively easy to complete with simple yes and no answers.
You can save your progress, so you don't have to complete it all in one sitting.
Sections 4, 5, 6, 7, and 8 are all covered.
Cons:
The checklist is only available on their website.
There's no additional clarification or documentation for the sections and questions.
Access:
This checklist is provided on the Advisera website for free use at: https://advisera.com/13485academy/iso-13485-gap-analysis-tool/
4. Praxiom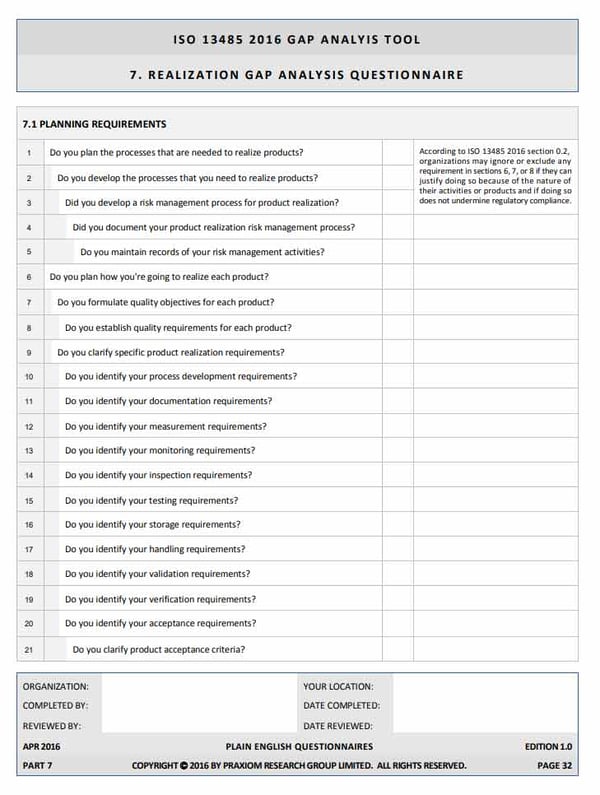 Pros:
At 99 pages long, this is a very comprehensive template.
They provide a free sample of most of section 7, so you can see how detailed it is before purchasing the full checklist.
Both a PDF and MS Word version are provided.
Cons:
It says that it's easy to understand, but based on what the free sample shows, that seems questionable.
They say to use this checklist to develop a quality management compliance plan, however, they don't seem to provide any additional assistance in reading your results.
Purchase:
The sample analysis tool can be downloaded for free while the full version is available for purchase for $175. You can find more information and links to both the sample and paid version here: https://www.praxiom.com/iso-13485-gap.htm
Qualio Quality Score — For When You Need More Than Templates
You need a gap analysis template that will break the ISO 13485:2016 regulations down enough for you to be able to really assess your processes properly. There's a level of detail that you need to have in your templates before it's worth your time.
Templates and checklists are great for identifying if you have a problem, but they can't help you solve it.
As the provider of the best ISO 13485 QMS software for startups and scale-ups, we understand that you need both tools and real human support to adopt a culture of quality in your company. (You can learn more about our solution here.)
So if you're serious about putting quality first, then let's get started.
Step #1: Use our free self-assessment Quality Score tool — it's only 20 questions, and you can complete it in 5 minutes or less.
Our self-assessment will help you quickly see how you stack up against best practices and give you some actionable and specific ways that you can improve your quality management.
You can start your assessment here: https://offers.qualio.com/get-your-quality-score
Step #2: Take advantage of the free consultation at the end.
When you complete the assessment, you'll be offered a free consultation to discuss your results. We highly recommend that you take advantage of that opportunity to have a live discussion with an expert from our team.
Our expert will be able to help you understand your results and develop a plan for improving quality in your organization.