Qualio now offers industry-leading high availability
Reliable tools are a top priority for life sciences companies. When you're bringing transformative new drugs, therapeutics, and medical devices to market, you shouldn't be worried about the availability of your systems.
That's why we're thrilled to announce that Qualio now offers industry-leading availability thanks to our new horizontally scalable cloud-based infrastructure and microservices architecture.
A new standard for quality software
While high availability has been a cornerstone of consumer services like Amazon and Netflix, it is not the standard for quality professionals. At Qualio, we believe that quality software should meet the expectations of everything on the internet and shouldn't be lagging behind.
After all, quality software plays a pivotal role in taking products to market. In order for life sciences companies to bring products to market as quickly, safely, and cost-effectively as possible, the quality software they rely on needs to be continuously available.
Our mission is to enable life sciences organizations to launch and scale life-saving products. By rearchitecting our software to deliver high availability, we continue to deliver on this promise.
What does high availability mean for Qualio users?
Qualio's newly built high available platform means you can use the application productively whenever and wherever you want. And you'll also get access to new features faster thanks to the new microservices-powered architecture, which also strengthens your security stance.
This architecture ensures the stability of the features people are already using, and, at the same time, allows us to push new things into the environment without compromising the tools and features you're using today. We no longer need maintenance windows, and we don't have to schedule downtime to push out updates. So, whenever you want to use Qualio, it'll be there waiting for you.
SaaS applications like Qualio are always made up of individual parts that all need to work together. While each of these parts has its own function, they also come with their own set of unique performance, availability, and security challenges. High availability means we've designed Qualio in a way that allows us to get the most from each of these components, and at the same time, minimize any of these potential challenges.
The diagram below shows how, at a high level, we have thought through and will accomplish these goals. Qualio has always been a cloud native application, and we leverage many of the benefits that come along with modern day cloud hosting such as using multiple availability zones for redundancy and easily keeping up to date on software components and security patches. Additionally, we leverage cloud-native components and architecture patterns wherever possible as these are industry best practices that allow our engineering teams to focus their energy on what matters most - creating the world's best quality operating system.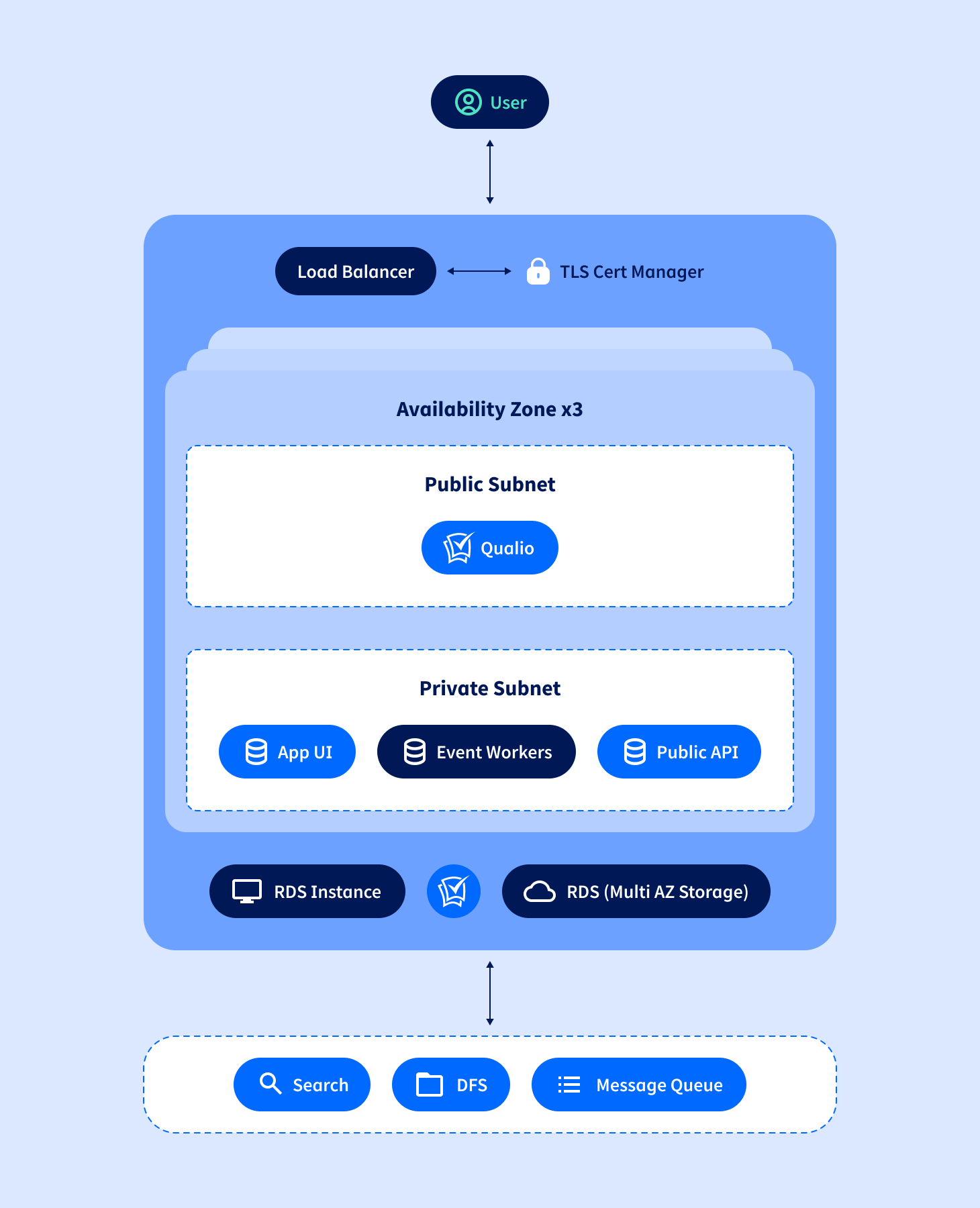 A commitment to continuous improvement
The overhaul of our architecture and introduction of high availability support our ultimate vision: building the quality operating system.
Looking ahead, we are further building out our API infrastructure and integrations to enable you to connect Qualio to the other tools your team uses every day. In turn, you'll be able to work where and how you want to work — something that's increasingly important in the era of remote work and distributed teams.
We hope that the introduction of high availability coupled with our future plans will make it easier than ever for life sciences companies to bring game-changing products to market without delay, helping improve health outcomes for patients around the world. Stay tuned as our engineering team will delve into more detail about these topics in future posts.
To learn more about why today's leading life sciences companies trust us for quality management, check out Qualio.